Almond Carrot Kheer (Brain Food)
Almond Carrot Kheer Recipe: A Delicious and Nutritious Dessert for Festive Occasions.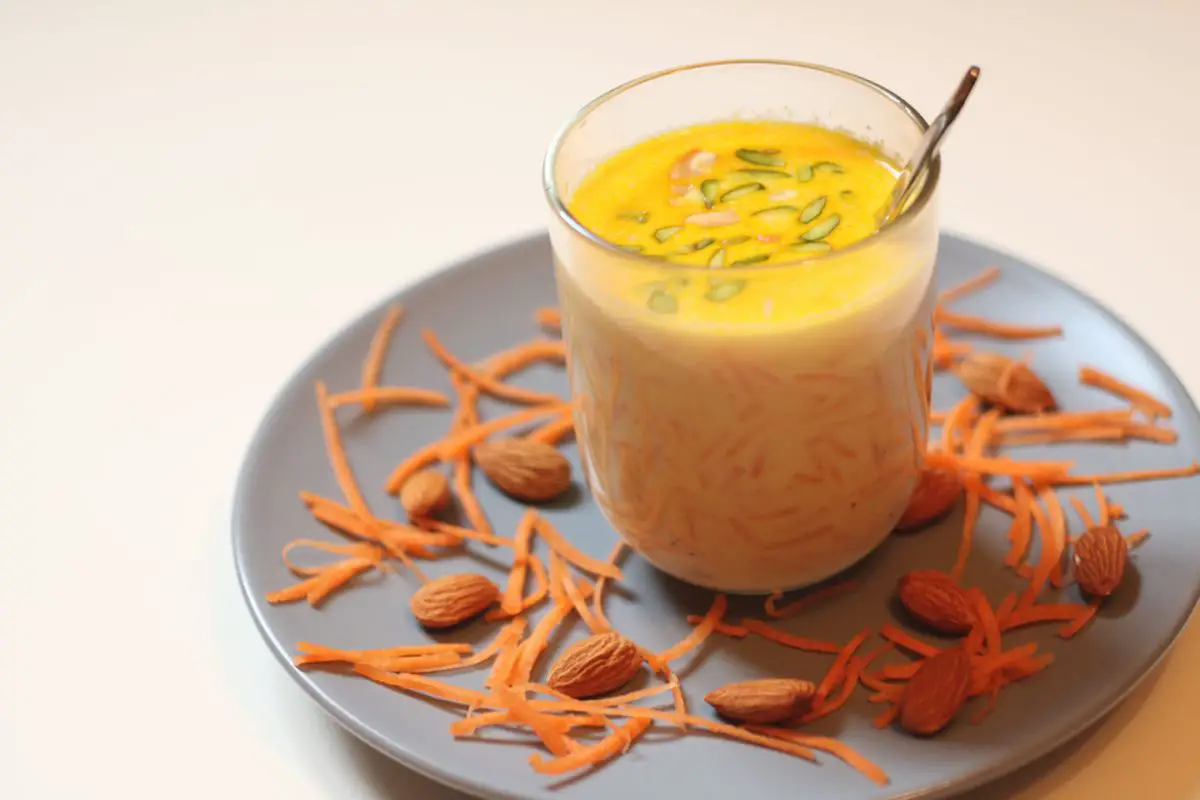 Almond Carrot Kheer Recipe: A Delicious and Nutritious Dessert for Festive Occasions
Introduction: Almond Carrot Kheer is a delicious Indian dessert that combines the nutty and creamy texture of almonds with the brain-protecting antioxidants of carrots. This dessert is not only tasty but also packed with nutrients that help prevent cognitive decline.
Recipe: To make this delicious dessert, start by heating full-fat milk in a pan and adding grated carrots to it. Let it simmer for a few minutes until the carrots are cooked. Then, add ground almond powder and sugar to the pan and stir until the sugar dissolves. Finally, add some cardamom powder and let the mixture simmer for a few more minutes.
Tips: For a richer and creamier kheer, use full-fat milk instead of low-fat milk. Also, instead of grating the carrots, you can cut and grind them in a blender before sautéing and cooking them for 5 minutes.
Conclusion: Almond Carrot Kheer is a perfect dessert for any festive occasion. It not only satisfies your sweet tooth but also provides essential nutrients that are good for your brain. Give it a try and share your comments with us.
Badam Kheer is also one of my kid's favorite healthy drink. So try it out this also!
Almond Carrot Kheer (Brain Food) 2016-11-30 06:59:37  
Almond Carrot Kheer (Brain Food)
Serves 2
Prep Time: 00:10
Cook Time: 00:15
Total Time: 00:25
Ingredients
200 g Carrots
30 nos. Almonds
3 cups Milk
2 tsp Ghee
1 tbsp Cashews and Pistachios
2 & 1/2 tbsp Sugar
A pinch Salt
1/8 tsp Cardamom Powder
A pinch (optional) Saffron
Instructions
Wash, peel and then grate the carrots.
Soak the almonds in hot water for 5 to 10 mins. Wash it with cold water because it will help you to peel off skin easily. Pat dry with kitchen tissue.
Then place almonds in a blender and grind until a fine powder without adding water, keep it aside.
Heat a heavy bottomed non-stick pan over medium heat, add in ghee, fry the cashews till golden brown, remove from the pan and reserve it for garnishing.
In the same pan add grated carrots and salt, saute well for 2 mins until its raw smell goes.
Then add milk, bring it to boil. When it starts to boil add almond powder and whisk it continuously for 1 minute.
Now close the lid and cook it for 8 to 10 mins over low heat or until it becomes slightly thick.
Then add sugar, cardamom powder and saffron, mix well.
Switch off the heat, Let it cool and garnish it with cashews and pistachios.
By Santhi Therese
The Indian Claypot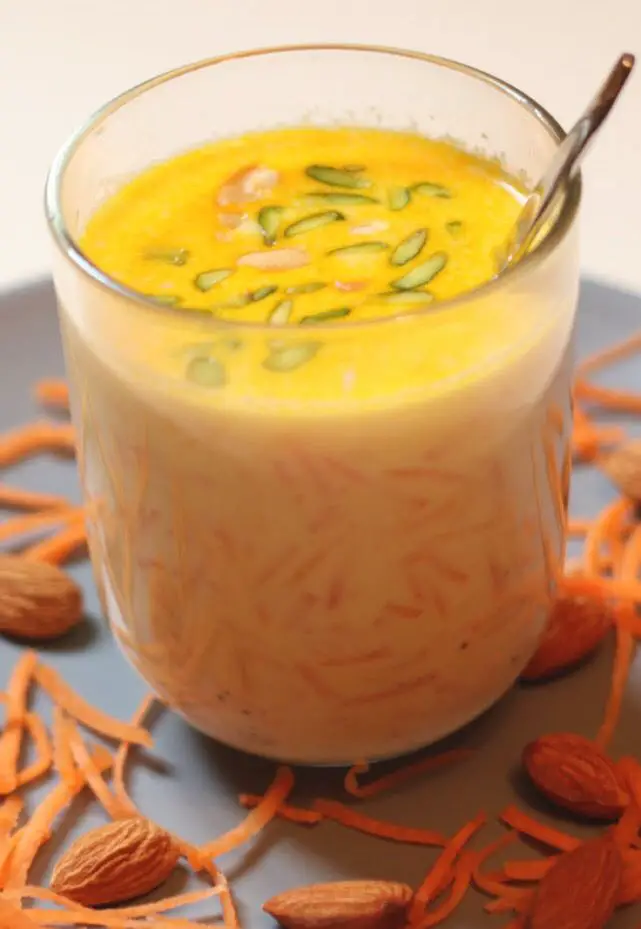 You may also like my other brain foods posts and recipes like Lemon Honey Glazed Salmon, Okra Stir Fry, Spicy Grilled Salmon, Top 10 Brain Foods that improve your memory, Dark Chocolate Nut Balls (Brain Food), Vallarai Rice (Brain Food), Carrot, Almond and Walnut Cake (Brain Food), Carrot And Coconut Juice (Brain food), Creamy Avocado And Strawberry Smoothie (Brain Food), Tangy and Spicy Salmon Fillet (Brain Food), MIxed Berry Smoothie (Brain Food), Brahmi Dal Fry (Brain Food) / Vallarai Paruppu Kootu .