Blueberry Puff Pastry Tarts
Blueberry and Green Apple Puff Pastry Tarts Recipe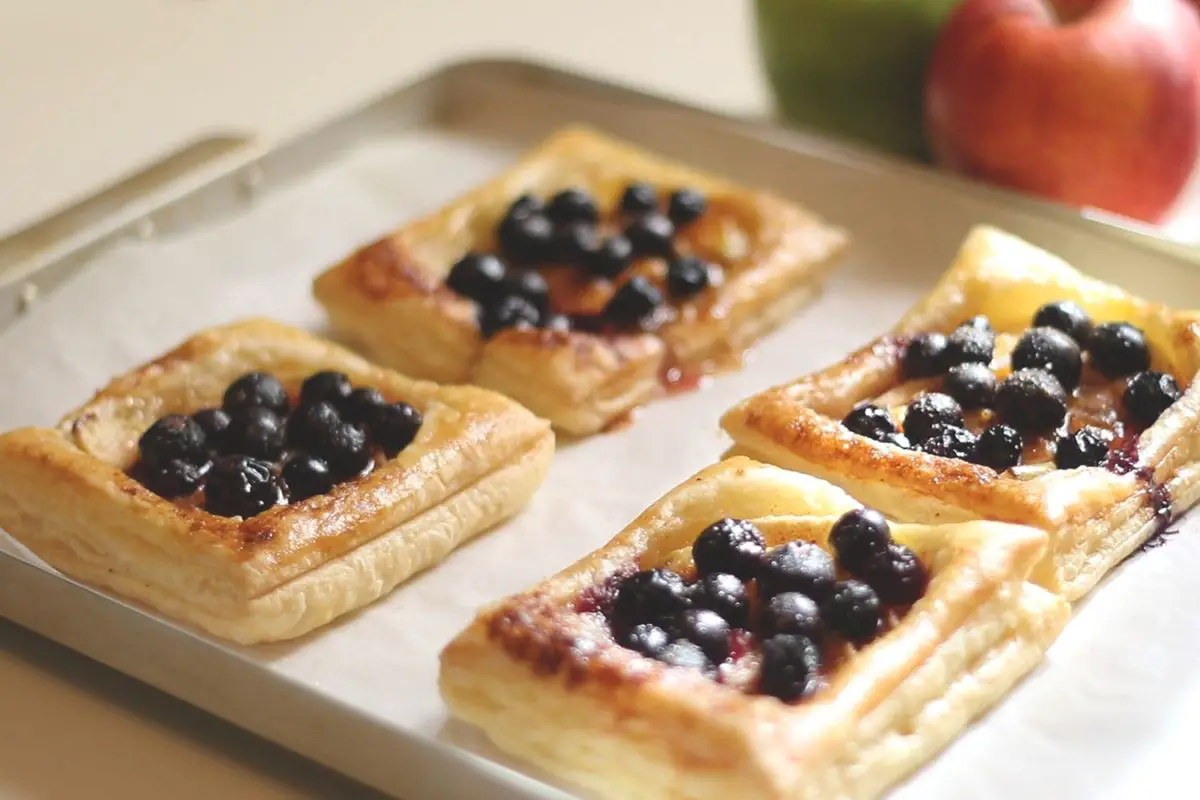 Blueberry and Green Apple Puff Pastry Tarts Recipe
Blueberry Puff Pastry Tarts have always been a family favorite dessert. Not only are they delicious, but blueberries also play an important role in mental health. In addition, green apples are packed with vitamins, minerals, proteins, and fiber. So, why not combine these two amazing ingredients to make a healthy and tasty snack that your kids will surely love?
Tips:
Keep an eye on the tarts while they are baking to avoid overcooking and charring.
You can also experiment with other fruits such as strawberries or raspberries.
Serve the tarts with a dollop of whipped cream or vanilla ice cream for added flavor.
Blueberry and Green Apple Puff Pastry Tarts are a perfect combination of healthy ingredients and a delicious snack. By following the tips mentioned above, you can make these tarts easily and enjoy them with your family and friends. So, try out this recipe and share your comments with us!
You may also like  Cream Cheese Puff Pastry Tart.
Blueberry Puff Pastry Tarts 2017-11-17 00:41:08
Serves 4    
Prep Time   00:15        Cook Time   00:30        Total Time   00:45                      
Ingredients:
4 square frozen puff pastry sheets, thawed
1 green apple
1/2 cup blueberries
20 grams butter
2 tbsp white sugar
1/2 tsp ground cinnamon
2 tbsp peach jam
1 tsp water
one egg, lightly beaten for egg wash          
Preparations
First of all, Preheat oven to 220 degrees C.
Second, peel, core and then cut the green apple into thin slices.
3. Third, In a small bowl, mix together sugar and cinnamon powder until combined and keep it aside. Finally, in another small bowl, whisk together peach jam and water until combined and set it aside.          
How to Make Tarts
Place 4 thawed puff pastry squares on a parchment-lined baking sheet.
Then pierce some holes only in the center of each puff pastry by using a fork. Don't pierce the borders.
Then place 4 to 5 apple slices on each tart base. Sprinkle some cinnamon sugar over the apple slices.
Then cut the butter into 8 small pieces and place two pieces on each tart and again sprinkle some cinnamon sugar on top.
Bake it for 10 mins at 220 degrees C in the preheated oven until puffed.
Then remove from the oven and brush some peach jam over the apples.
Place 8 to 10 blueberries in each tart.
Again sprinkle some cinnamon sugar over the blueberries.
Brush the corners of the puff pastry with the egg wash by using a brush.
Bake at 180 degrees for about 20 mins or until tarts crisp and golden.
Remove from the oven and place on a wire rack to cool. Serve Warm!         By Santhi Therese    The Indian Claypot https://theindianclaypot.com/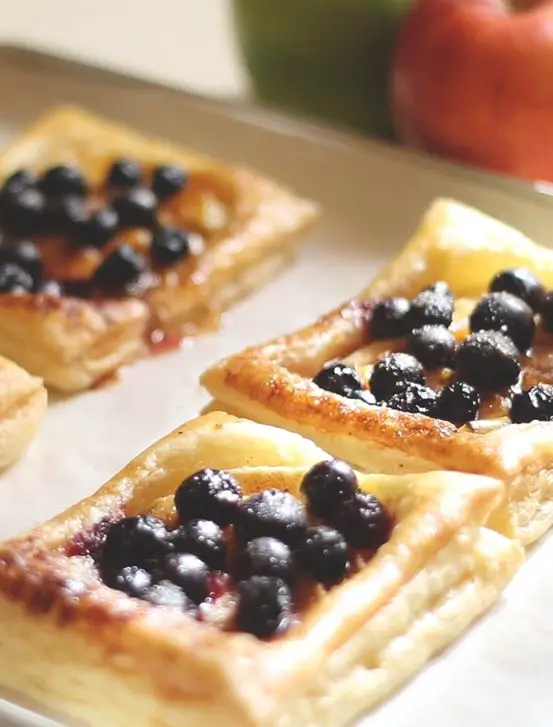 You may also like my other Healthy Snacks posts and recipes like Easy Bruschetta Recipe, Sweet Paniyaram with Idli / Dosa Batter, Oats Chocolate Brownie Recipe, Ragi Aval Sweet Kozhukattai, Instant Wheat Flour Sweet Appam, Mysore Bonda Recipe, Pottukadalai / Fried Gram Murukku Recipe, Wheat Butter Cookies, Fried Gram / Pottu Kadalai Urundai, Baked Chakli/Murukku, Green Gram Payasam/Kheer, Black Gram Laddu, Moong Dal Susiyam, Banana Oatmeal Cookies, Microwave Chocolate Mug Cakes, Homemade Peanut Butter, Vazhaipoo Vadai, Eggless Raspberry Pudding, Raspberry Bread, Coconut Sweet Bun .