Easy Cashew Chicken
Get Ready to Savor a Delicious Indian Twist on a Classic Chinese Dish: Cashew Chicken.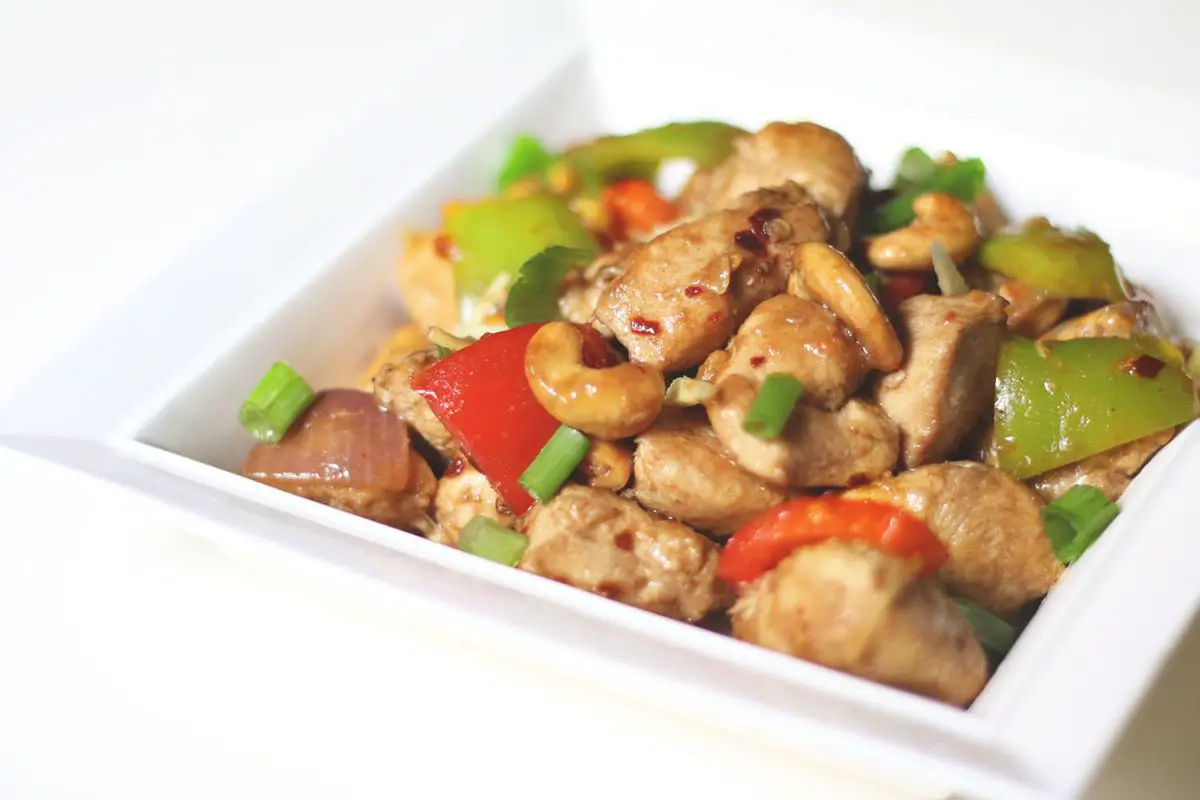 Get Ready to Savor a Delicious Indian Twist on a Classic Chinese Dish: Cashew Chicken.
Cashew chicken is a beloved dish in Chinese cuisine, and now you can enjoy it with a delectable Indian twist! The soft and chewy soy sauce-glazed chicken combined with crunchy bell peppers creates a mouth-watering taste sensation that's perfect for a healthy lunch.
Give this recipe a try and let us know what you think in the comments below!
To help you make the perfect cashew chicken, here are a few tips. Firstly, consider using chicken breasts as they are loaded with protein. However, you can also use boneless thigh pieces if you prefer. Secondly, stir-fry the bell peppers until they're fragrant, but be careful not to overcook them – the veggies should still be crunchy. Finally, feel free to adjust the quantity of sauce to your liking.
So, what are you waiting for? Whip up this delicious and healthy dish for your next lunch and treat your taste buds to a unique fusion of Chinese and Indian flavors. Have you tried this recipe? Share your thoughts in the comments!
You may also like my other chicken recipes such as Grilled Chicken, Hyderabad Chicken Biryani, Chicken 65, Chicken Meat Balls, Spicy Chicken Steak, Tangy and Spicy Chicken Steak, Oven Baked Chicken Drumsticks, Chicken Korma, Oven Fried Chicken, Orange Chicken, Pineapple Chicken and Butter Chicken Masala.
Easy Cashew Chicken 2017-05-19 02:45:54
Easy Cashew Chicken
Serves 3
Prep Time: 00:20
Cook Time: 00:10
Total Time: 00:30
Ingredients
450 grams Boneless and skinless chicken breast pieces
1 inch finely grated Fresh ginger
1 small, diced Green bell pepper
1 small, diced Red bell pepper
50 grams, diced Onion
15 whole Cashew nuts
2 tbsp, divided Olive oil
For marination:
2 tsp Corn flour
1 tsp Soy sauce
1 tsp Balsamic grape vinegar
Pinch Salt
For Sauce:P
1/2 tbsp Oyster sauce
3 tbsp Water
1/2 tsp White pepper
1/2 tsp Sugar
1 tsp Red chili flakes
1 tsp Sesame oil
1 tbsp, chopped Green onions for garnishing
Instructions
Wash and then cut the chicken breast into 1-inch pieces. Pat dry with paper towels and marinate with the ingredients given under 'Marination', set it aside for 15 mins.
In a small bowl, mix all the sauce ingredients until combined and set aside.
Heat a non-stick pan with 1 tbsp of olive oil. When the oil heats, add cashews and fry until they become golden brown, remove them from the heat and keep it aside.
In the same pan, add marinated chicken pieces and stir-fry them until they turn white in color or half cooked, remove them and set aside.
In the same pan, add the remaining 1 tbsp of olive oil, when the oil heats, add grated ginger, diced onion and bell peppers. Stir fry until a nice aroma comes from the green peppers.
Then add half cooked chicken pieces and give a quick stir. Also add the sauce and stir continuously until the chicken is cooked and well coated with the sauce.
Furthermore, add salt and pepper if needed.
Finally, add the cashew nuts and give a quick stir, remove from the heat, garnish the cashew chicken with green onions and serve hot with fried rice or noodles.
By Santhi Therese
The Indian Claypot
You may also like my other Chicken Recipes posts and recipes like Chicken Varuval, Pallipalayam Chicken Fry, Crispy Chicken Strips, Schezwan Chicken, Penne Pasta with Minced Chicken, Chicken Schezwan Noodles, Chicken Curry Recipe, Chicken Fajitas, Methi Chicken, Chicken Meatball Curry, Healthy Chicken Salad bowl, Green Chili Chicken, Chicken Cutlets, Chicken Hakka Noodles, Sweet and Sour Pineapple Chicken, Butter Chicken Masala, Chicken Alfredo Pasta, Chicken Tacos with Mango Salsa, Sweet Corn Chicken Soup, Grilled Chicken Burger .