Chicken 65
"Try this Delicious Chicken 65 Recipe for Your Next Indian Restaurant Visit"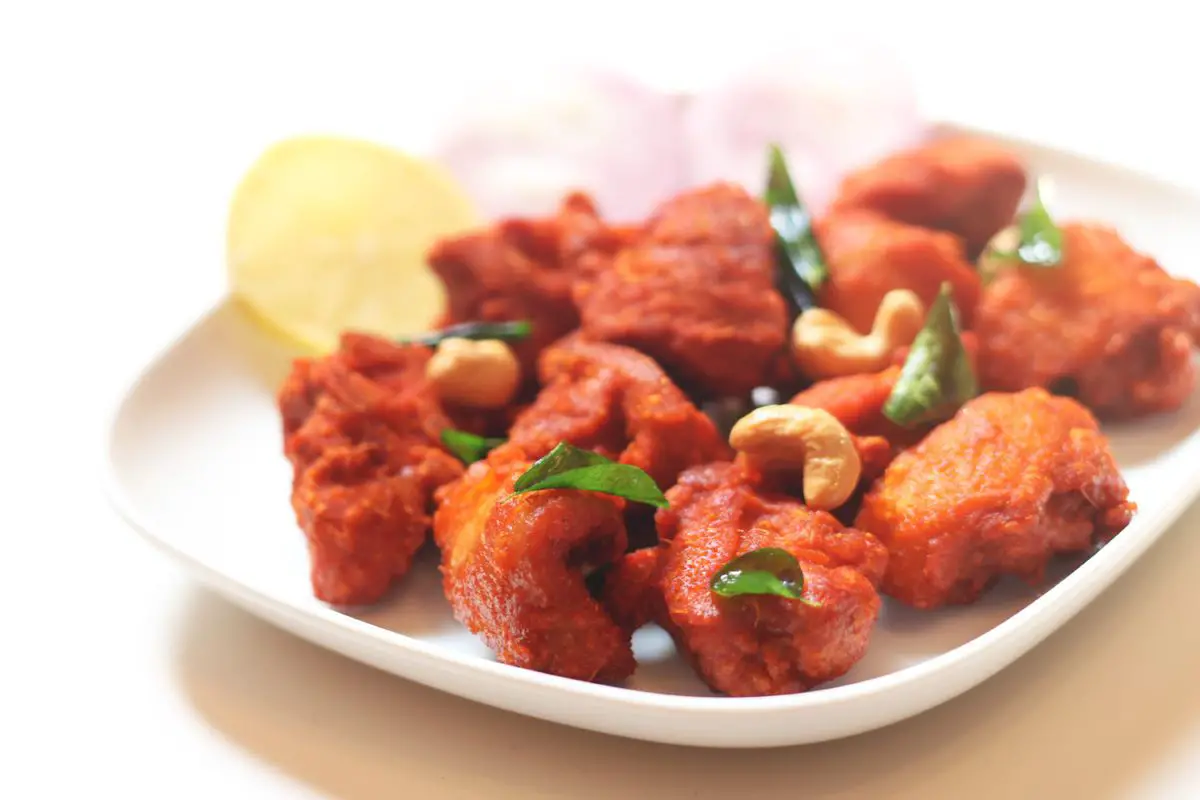 "Try this Delicious Chicken 65 Recipe for Your Next Indian Restaurant Visit"
When we visit an Indian restaurant, Chicken 65 and Paneer 65 (cottage cheese) are our go-to starters. Chicken 65 is a spicy, deep-fried chicken dish that originates from Chennai, India. If you're a fan of this popular dish, I'm excited to share my crispy Chicken 65 recipe with you today.
Before I get to the recipe, I want to share some tips for preparing this tasty chicken 65. There are many ways to make chicken 65, each with its own unique twist. For instance, in Andhra-style chicken 65, yogurt is used for both marination and seasoning instead of egg. You can also omit the egg and use yogurt instead when marinating the chicken.
While you can use store-bought masala for this dish, I recommend making your own at home with ingredients commonly found in Indian kitchens. Here, I've used a restaurant-style dry chicken 65 recipe that is popular in Tamil Nadu, particularly in Madurai and Chennai. This dish can be prepared with boneless or bone-in chicken and is best served with lemon and onion slices.
To make this dish even more delicious, sprinkle some lemon juice over the fried chicken and serve with onion slices. Just be careful when frying the curry leaves, as the water content can cause the oil to splatter. Be sure to dab the leaves with a tissue before frying.
So, why not try making this delicious chicken 65 recipe at home for your next Indian restaurant-inspired meal? Don't forget to share your comments and let me know how it turns out!
You may also like my other starters recipes Paneer 65, Crispy French fries, Potato wedges, Golden Fried Prawns Crispy baked potato fries and Baby Corn Fry
Chicken 65 2016-12-04 08:23:17
Chicken 65
Serves 2
Prep Time: 01:00
Cook Time: 00:15
Total Time: 01:15
Ingredients
For Marination:
300g chicken (boneless thigh pieces)
1 tsp ginger garlic paste
2 tsp red chili powder
1/4 tsp turmeric powder
1/4 tsp cumin powder
1/2 tsp garam masala powder
1 tsp lemon juice
1 egg white
2 tbsp corn flour
1 tbsp rice flour
1/2 tsp salt
pinch food color (optional)
For Frying:
one handful curry leaves
10 cashew nuts
enough oilto fry
Instructions
Mix all the ingredients for marination in a wide bowl until well combined and set aside for about one hour.
Meanwhile, heat oil in a pan over medium heat.
When the oil heats, fry the curry leaves till crisp and set aside for further use.
Then fry the cashews until browned and remove from the oil.
And then add chicken pieces in batches and fry them until cooked through.
Once they turn into golden brown or crisp, remove them from the heat.
Finally, garnish them with fried curry leaves and cashews.
Now tasty chicken 65 is ready to serve. Serve it with onion and lemon wedges.
By Santhi Therese
The Indian Claypot
You may also like my other Chicken Recipes posts and recipes like Chicken Varuval, Pallipalayam Chicken Fry, Crispy Chicken Strips, Schezwan Chicken, Penne Pasta with Minced Chicken, Chicken Schezwan Noodles, Chicken Curry Recipe, Chicken Fajitas, Methi Chicken, Chicken Meatball Curry, Healthy Chicken Salad bowl, Green Chili Chicken, Chicken Cutlets, Chicken Hakka Noodles, Sweet and Sour Pineapple Chicken, Butter Chicken Masala, Chicken Alfredo Pasta, Chicken Tacos with Mango Salsa, Sweet Corn Chicken Soup, Grilled Chicken Burger .