Chicken Alfredo Pasta
Are you looking for a quick and delicious mid-week meal for your family? Look no further than our Chicken Alfredo Pasta recipe!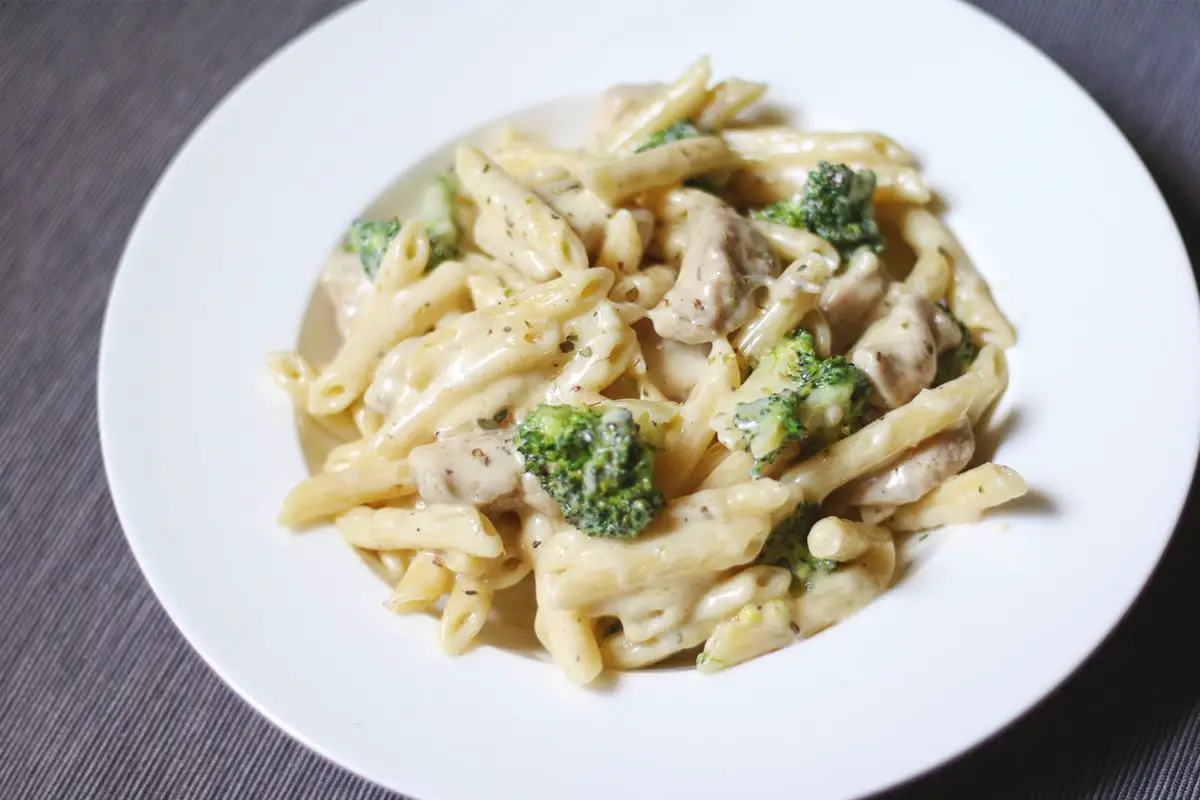 Delicious Chicken Alfredo Pasta Recipe with Creamy Sauce and Veggies
This classic and easy-to-cook Chicken Alfredo Pasta recipe is a perfect mid-week meal that your family will love. Made with cream cheese, heavy whipping cream, grated parmesan and mozzarella cheese, this dish is loaded with chicken breast and broccoli florets in a silky creamy sauce. Try this recipe with shrimp or add any veggies of your choice. Don't forget to follow our tips for the perfect Chicken Alfredo Pasta!
Are you looking for a quick and delicious mid-week meal for your family? Look no further than our Chicken Alfredo Pasta recipe! This classic Italian dish is easy to cook and loaded with flavor.
First, cook the pasta until al dente. Be sure not to overcook it! Then, saute the marinated chicken until no longer pink, and juices run clear for about 4 to 5 mins. Next, add the broccoli florets and cook for an additional 3-4 minutes.
To make the creamy sauce, combine cream cheese, heavy whipping cream, grated parmesan cheese, and mozzarella cheese in a separate pan. Add garlic and oregano for a delicious flavor. Stir continuously until the cheese has melted and the sauce is silky and smooth.
Combine the cooked pasta, chicken and broccoli with the creamy sauce and toss until everything is coated. Serve hot and enjoy!
This Chicken Alfredo Pasta is a crowd-pleaser and a perfect mid-week meal that you can get on the table in just 30 minutes. Try it out and share your comments below!
You can also try my Tomato Tagliatelle Pasta, Chicken Sweet Corn Pasta, Red Sauce Pasta and White Sauce Pasta.
Chicken Alfredo Pasta 2017-10-22 06:42:26
Chicken Alfredo Pasta
Serves 2
Prep Time: 00:10
Cook Time: 00:25
Total Time: 00:35
Ingredients
For Alfredo Sauce:
1 tbsp Butter
1/2 cup Heavy Whipping Cream
30 g Cream Cheese
2 tsp finely chopped Garlic
1/4 tsp Garlic Powder
1/2 tsp Dried Oregano
1/4 tsp Pepper Powder
Pinch Salt
1/4 cup grated Parmesan Cheese
3 to 4 tbsp grated Mozzarella Cheese
For pasta:
100 g Penne Pasta
8 cups Water
As needed Salt
1 tsp Oil
For Cooking Chicken:
1 tbsp Olive Oil
2, cut into 1 inch pieces Boneless Chicken Breasts
1/2 tsp Black Pepper Powder
1/4 tsp Salt
1/2 tsp Garlic Powder
1 cup Broccoli Florets
Instructions
Marinate the chicken with other ingredients and set aside for 30 mins.
Then steam cook broccoli florets on microwave high for 2 mins or until cooked.
Meanwhile, boil water in a pan, when the water starts to boil, add pasta, oil, and salt.
Cook the pasta until al dente, tender but still slightly firm.
Then drain the water and rinse with cold tap water and keep it aside.
Heat a pan with oil, add the marinated chicken and stir fry them for 3 to 5 mins or until browned, over medium heat and keep it aside.
In a wide non-stick pan, add butter, heavy whipping cream and cream cheese, cook over medium heat and whisk until melted.
Then add finely chopped garlic, pepper powder, garlic powder, oregano, and salt, continue to whisk until smooth.
Then add the grated parmesan cheese.
Bring it to simmer and cook until it starts to thicken.
Then add the cooked chicken, pasta and broccoli and toss well until well combined.
Also add mozzarella cheese, mix well until incorporated.
Finally, season with pepper, salt, and oregano.
By Santhi Therese
The Indian Claypot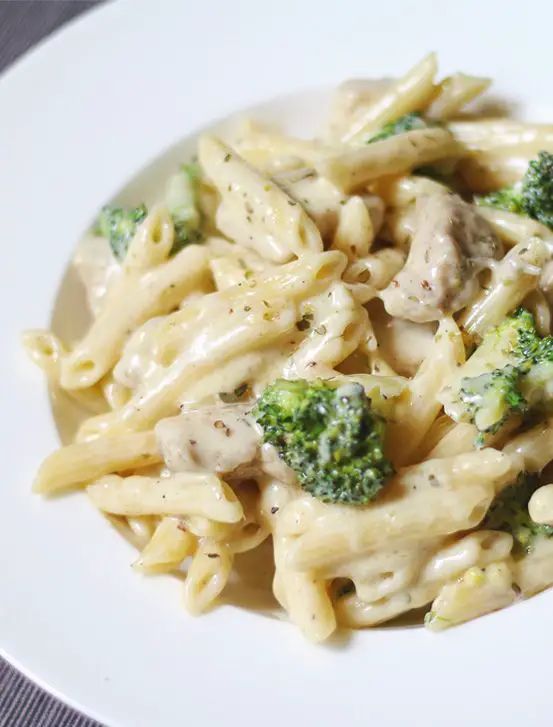 You may also like my other Chicken Recipes posts and recipes like Chicken Varuval, Pallipalayam Chicken Fry, Crispy Chicken Strips, Schezwan Chicken, Penne Pasta with Minced Chicken, Chicken Schezwan Noodles, Chicken Curry Recipe, Chicken Fajitas, Methi Chicken, Chicken Meatball Curry, Healthy Chicken Salad bowl, Green Chili Chicken, Chicken Cutlets, Chicken Hakka Noodles, Sweet and Sour Pineapple Chicken, Butter Chicken Masala, Chicken Tacos with Mango Salsa, Sweet Corn Chicken Soup, Grilled Chicken Burger, Chicken Talumein Soup .