Chicken Fajitas
Wholesome and Flavorful Chicken Fajitas to Brighten Your Day!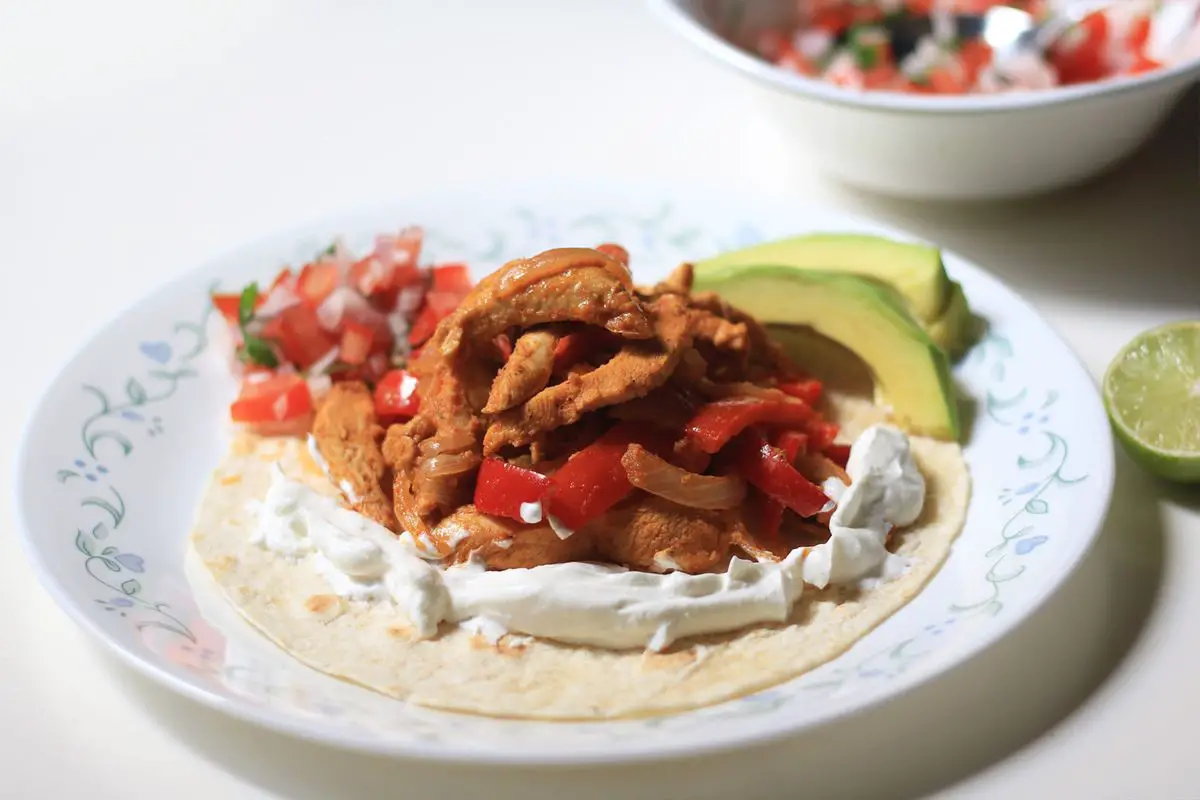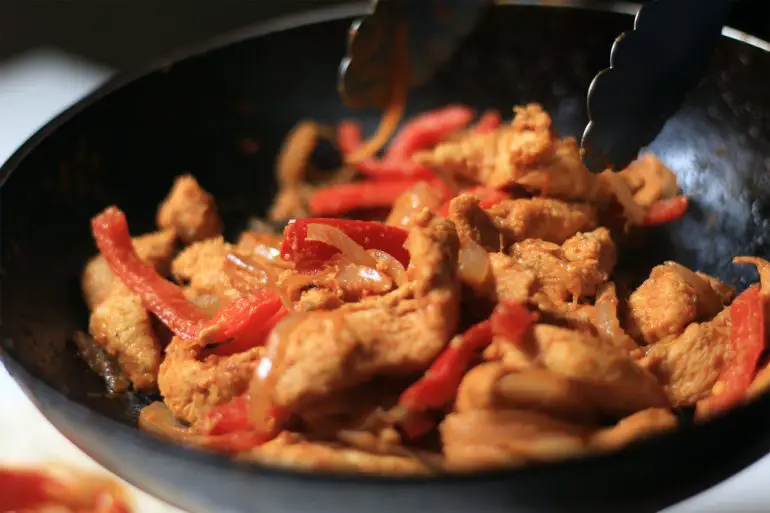 Vibrant Delight: Wholesome and Flavorful Chicken Fajitas to Brighten Your Day
Are you in need of a culinary pick-me-up? Look no further than these Chicken Fajitas that promise to add a burst of color and flavor to your day. But there's more to it than just the delightful taste – these fajitas also boast health benefits and can be whipped up in mere minutes. If you've just wrapped up a workout and are on the hunt for a speedy yet nutritious meal to recharge, you've found your match! Don't hesitate, give it a shot, and don't forget to share your culinary journey in the comments below. Your feedback is greatly appreciated!
A Fusion of Flavor and Health
Prepare to embark on a taste adventure that's not only satisfying to your taste buds but also kind to your health. These Chicken Fajitas offer a harmonious blend of spices, tender chicken, and a rainbow of colorful vegetables. With each bite, you'll be treating yourself to a medley of nutrients that nourish both body and soul.
Effortless and Quick: The Beauty of Chicken Fajitas
The allure of this dish lies not only in its flavors but also in its simplicity. In just a matter of minutes, you can go from chopping ingredients to savoring a plate of sizzling Chicken Fajitas. This swift preparation makes it an ideal choice for those moments when you're craving something delicious but are short on time. Plus, it's a wonderful option for post-workout rejuvenation, providing your body with the nutrients it craves after an active session.
Share Your Culinary Tale
After you've dived into the world of Chicken Fajitas, don't keep your experience to yourself! Your thoughts, comments, and even modifications are all welcome in the comments section. Did you add a unique twist? Swap in a favorite veggie? We're eager to hear about it. Your input not only enriches the discussion but also encourages fellow readers to embark on their own culinary escapades.
Tips for Fajita Perfection
As a bonus, let's delve into some helpful tips to take your Chicken Fajitas to the next level. Firstly, consider utilizing a trusty cast iron skillet for optimal results. Its even heat distribution and retention can elevate your fajitas to new heights. However, if a cast iron isn't in your kitchen arsenal, a heavy-bottomed non-stick pan is a solid alternative.
Secondly, let your creativity shine by incorporating a variety of capsicum colors. By introducing different hues of bell peppers, you'll not only amplify the visual appeal of your fajitas but also add a nuanced flavor dimension to the dish.
In Conclusion
With the promise of a colorful and wholesome delight, these Chicken Fajitas are your ticket to a vibrant mealtime experience. Their ease of preparation and health benefits make them a go-to choice for busy days or post-workout refueling. So, seize the opportunity to savor this tantalizing dish and share your culinary triumphs in the comments below. Together, we'll celebrate the joy of good food and creative exploration in the kitchen. Your journey into the world of flavorful fajitas starts here!
Finally, you may also like my other chicken recipes such as Green Chili Chicken,  Grilled Chicken, Hyderabad Chicken Biryani, Chicken 65, Chicken Meat Balls, Spicy Chicken Steak, Tangy and Spicy Chicken Steak, Oven Baked Chicken Drumsticks, Chicken Korma, Oven Fried Chicken, Orange Chicken, Pineapple Chicken and Butter Chicken Masala.
Chicken Fajitas 2018-06-02 07:08:25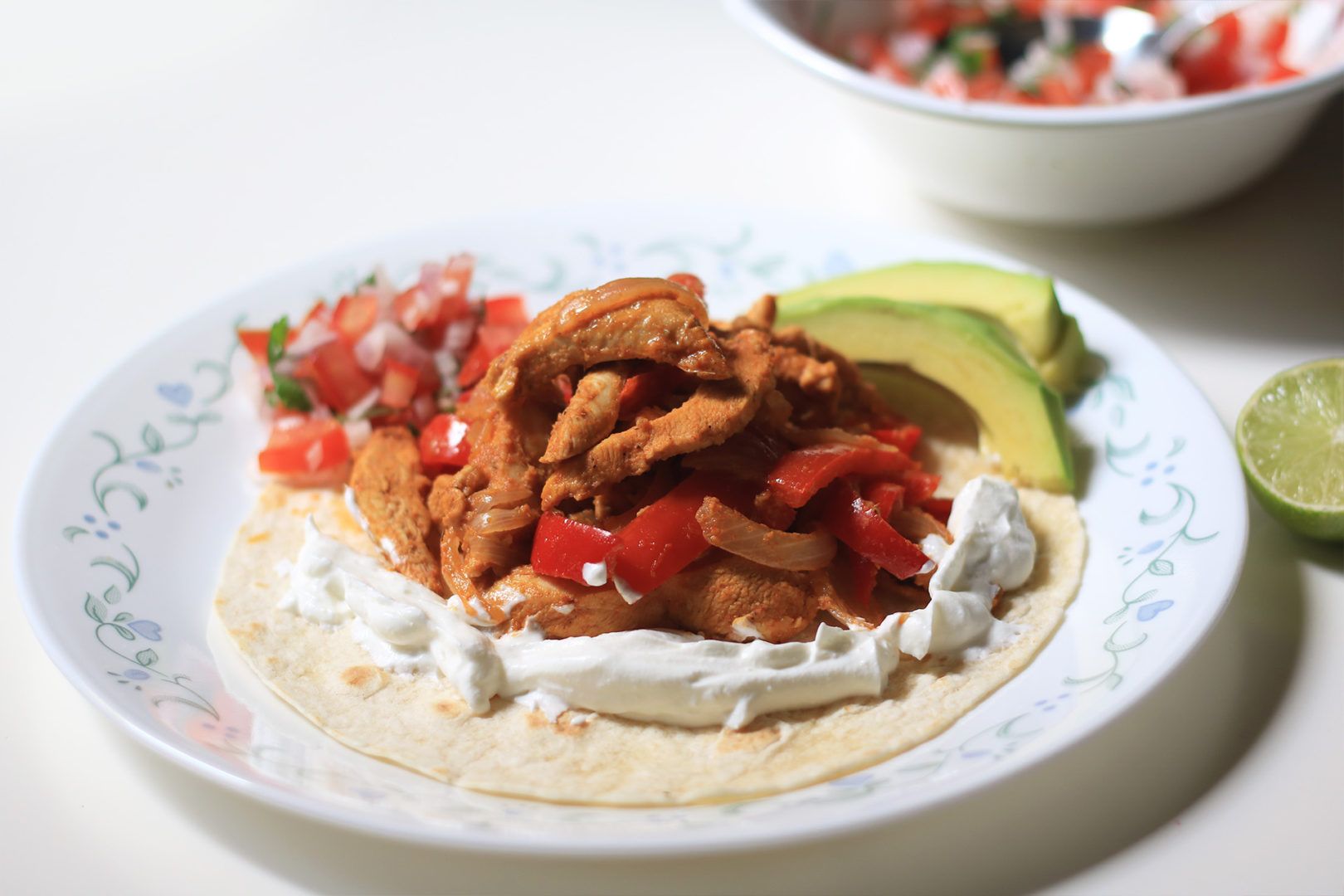 Chicken Fajitas
Serves 2
Prep Time: 00:20
Cook Time: 00:20
Total Time: 00:40
Ingredients
2 skinless chicken breasts
1 medium sized red onion
1 medium sized red capsicum
1/4 tsp ground cumin
1 tsp red chili powder or smoked paprika
salt as needed
1/2 lime
1 tbsp olive oil
3 tortillas
100g sour cream
1 avocado, sliced
1 medium sized red onion
150g tomatoes,
1 green chili
3 tsp fresh lemon juice
1/4 cup finely chopped coriander leaves
pinch of salt
Instructions
Firstly, halve, deseed and slice the capsicum into thin strips.
Then peel, halve and finely slice the onion.
Finally, slice the chicken lengthwise into long strips just like capsicum.
Place the chicken, onion and capsicum in a wide bowl.
Then add ground cumin and chili powder, the juice of half a lime, 1 tbsp of olive oil, pepper powder and salt, mix well until incorporated and keep it aside for 10 mins or so while you make your salsa.
For the salsa, finely chop the onion, tomato, and green chili. Then add lemon juice, salt and chopped coriander leaves in a small bowl, mix until combined and set aside for 10 minutes for further use.
Meanwhile, heat a pan over high heat.
Place the marinated chicken, capsicum and onion onto the pan by using tongs and cook for 6 to 8 mins or until the chicken cooked through.
Turn the chicken and others in between, so that they don't get burnt.
Meanwhile, toast the tortillas on a dry frying pan and place them on a serving plates.
Now place the chicken and vegetables straight from the the hot pan over the tacos.
Serve with sour cream, avocado slices and the lovely fresh salsa.
By Santhi Therese
The Indian Claypot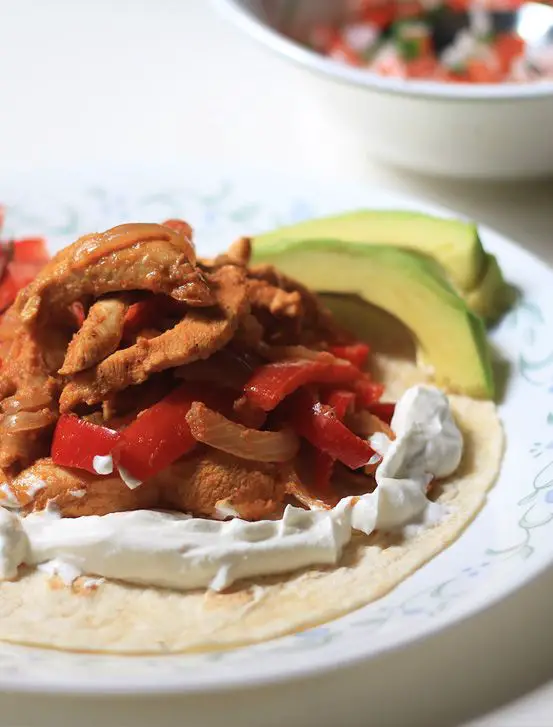 You may also like my other Chicken Recipes posts and recipes like Ponnusamy Chicken Varuval, Pallipalayam Chicken Fry, Crispy Chicken Strips, Schezwan Chicken, Penne Pasta with Minced Chicken, Chicken Schezwan Noodles, Chicken Curry Recipe, Methi Chicken, Chicken Meatball Curry, Healthy Chicken Salad bowl, Green Chili Chicken, Chicken Cutlets, Chicken Hakka Noodles, Sweet and Sour Pineapple Chicken, Butter Chicken Masala, Chicken Alfredo Pasta, Chicken Tacos with Mango Salsa, Sweet Corn Chicken Soup, Grilled Chicken Burger, Chicken Talumein Soup .