Stuffed Chicken Meatballs
Chicken and Spinach Stuffed Meatballs are a healthier and delicious twist on the classic mutton meatballs that are popular in Tamil Nadu.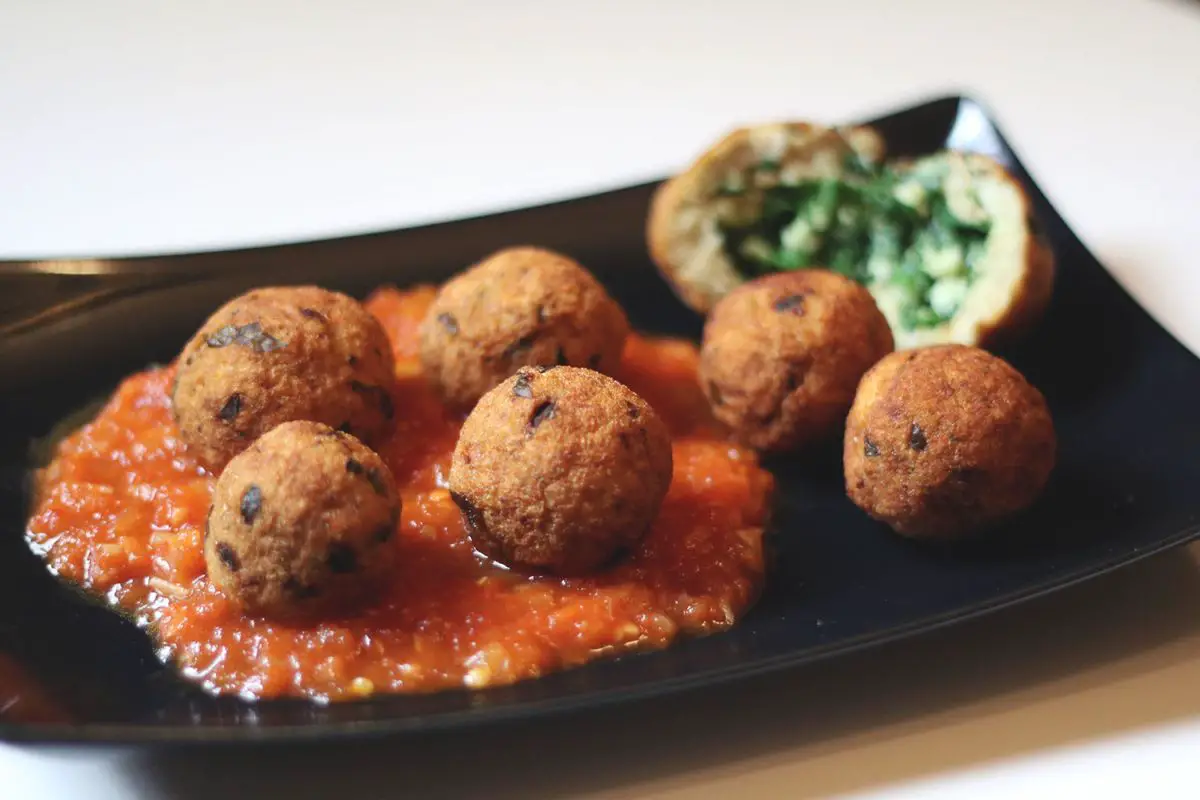 Chicken and Spinach Stuffed Meatballs are a healthier and delicious twist on the classic mutton meatballs that are popular in Tamil Nadu. Chicken is a leaner protein than mutton, and by adding spinach and cottage cheese to the mix, these meatballs are even more nutritious. Not only are they easy to prepare, but they are also perfect for a quick and satisfying meal. So why not give this recipe a try and share your thoughts with us!
To make these meatballs even more perfect, here are some suggestions. Firstly, for this recipe, we use chicken breasts, but minced chicken can be used as well. Chicken breast is a great option since it is low in fat and high in protein. Secondly, if you don't have fried grams, you can use besan flour as a binding agent. Finally, we recommend serving these meatballs with a homemade sweet and sour tomato sauce to take the flavor to the next level.
You may also like my other chicken recipes such as Chicken Kebab, Kadai Chicken, Spicy Chicken Steak and Oven Fried Chicken.
Stuffed Chicken Meatballs 2017-01-25 04:25:34
Stuffed Chicken Meatballs
Serves 3
Prep Time: 00:15
Cook Time: 00:10
Total Time: 00:25
Ingredients
250 grams Chicken Breast or minced chicken
2 tbsp Grated coconut
1/2 tbsp Fried gram
1 inch Cinnamon stick
1 tsp Fennel seeds
3 Cloves
3 Green chilies
1 inch Ginger
4 Garlic pods
1/2 tsp Red chili powder
1/4 tsp Turmeric powder
1/2 tsp salt or as needed
1 handful Chopped coriander leaves
to deep fry Oil
For stuffing:
1/2 cup Finely chopped spinach leaves
25 gram Grated paneer or cottage cheese
A pinch Salt and pepper
Instructions
For ground chicken:
Clean the chicken properly, then pat dry with the help of kitchen tissue and cut them into small pieces.
Place 1/2 tbsp of a fried gram, cloves, cinnamon stick and fennel seeds in a mixer jar and grind until powdered, keep it aside.
Then add green chilies, ginger and garlic in the same mixer jar and grind until coarsely, keep it aside.
Finally, place the chicken pieces in the mixer jar and grind it by using the pulse button about 2 to 3 times.
How to make stuffed chicken meat balls:
In a wide bowl add together the minced chicken. powdered fried gram, grated coconut, green chilly mixture, red chili powder, turmeric powder, chopped coriander leaves and salt, mix well until combined.
Divide the mixture into equal parts and make balls.
Meanwhile, in a separate bowl, add finely chopped spinach, grated cheese or paneer, salt and pepper and mix well until incorporated.
Then flatten the meatballs and place the spinach stuffing in the center and again roll it like a ball.
Repeat the same procedure for the remaining balls also.
Meanwhile heat a pan with enough oil over medium heat, fry the balls until they turn golden brown.
Serve chicken meatballs hot with tomato sauce or tomato gravy.
How to make sweet and sour tomato sauce:
Heat a pan with olive oil or butter, add finely chopped garlic and onion, stir-fry until they turn into golden brown, then add tomato puree, chili flakes, salt and sugar, stir continuously until raw smell leaves.
When the gravy becomes thick add some water, bring it to boil.
Notes:
You could use minced chicken, but I prefer to use chicken breast because it is fat-free and at the same time protein rich also.
By Santhi Therese
The Indian Claypot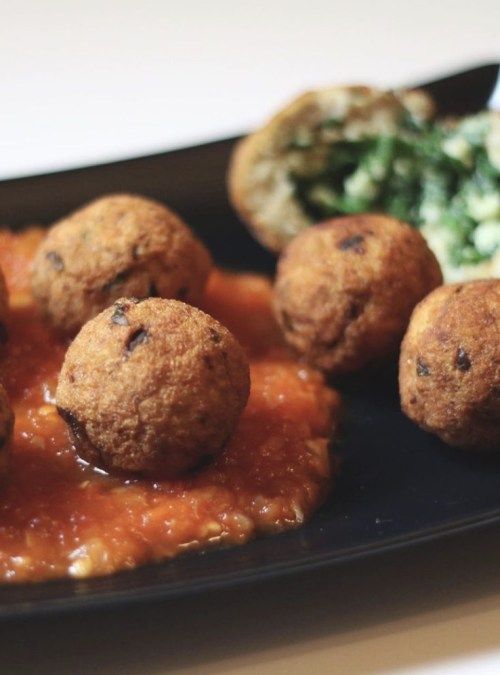 You may also like my other Chicken Recipes posts and recipes like Chicken Varuval, Pallipalayam Chicken Fry, Crispy Chicken Strips, Schezwan Chicken, Penne Pasta with Minced Chicken, Chicken Schezwan Noodles, Chicken Curry Recipe, Chicken Fajitas, Methi Chicken, Chicken Meatball Curry, Healthy Chicken Salad bowl, Green Chili Chicken, Chicken Cutlets, Chicken Hakka Noodles, Sweet and Sour Pineapple Chicken, Butter Chicken Masala, Chicken Alfredo Pasta, Chicken Tacos with Mango Salsa, Sweet Corn Chicken Soup, Grilled Chicken Burger .