Chicken Salad with Dijon Mustard Sauce
Discover my all-time favorite lunch salad recipe: Chicken Salad with Dijon Mustard.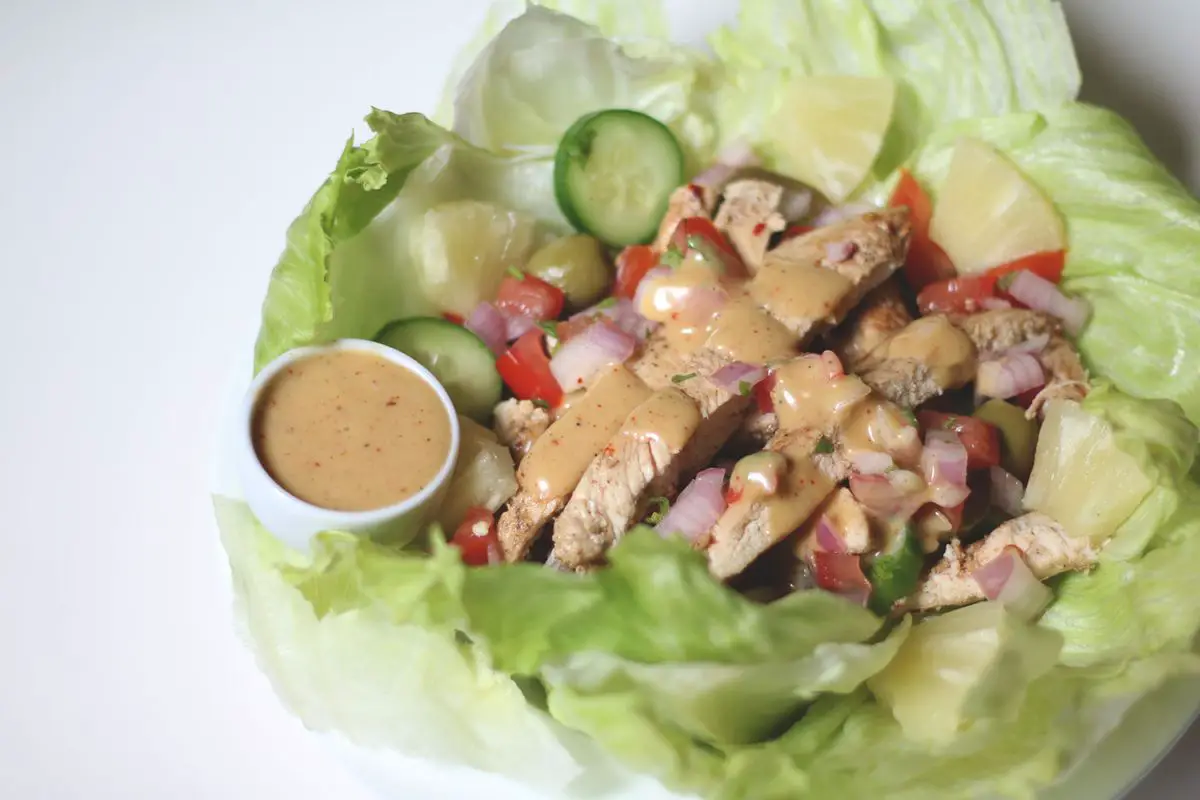 Discover my all-time favorite lunch salad recipe: Chicken Salad with Dijon Mustard. Not only is it deliciously tasty, but it's also packed with high-quality protein, making it the perfect choice for health-conscious individuals.
The secret ingredient to this amazing salad is the Dijon Honey Mustard dressing. It elevates the flavor profile of the dish to new heights, making it anything but bland. This creamy and delectable dressing will make you want to come back for seconds.
Not only does this chicken salad taste amazing, but it's also loaded with healthy ingredients that will give your body the nutrition it needs. It's a refreshing combination of flavors that will satisfy your taste buds and leave you feeling full and satisfied.
Here's a quick tip for making this recipe even easier: Poach some boneless skinless chicken breasts or thighs in salted water for the salad. Using chicken breasts is an excellent choice because they're loaded with protein. Additionally, you can also use leftover chicken from a roast chicken for this salad.
If you want to add more nutrition to this recipe, feel free to toss in your favorite salad veggies. Trust me; they'll taste amazing with the Dijon Honey Mustard dressing.
Try out this recipe today and let me know what you think in the comments below. You won't regret it!
You may also like Chicken Tacos  and Veg Paneer Tacos
Chicken Salad with Dijon Mustard Sauce 2017-08-27 05:14:25
Chicken Salad with Dijon Mustard Sauce
Serves 3
Prep Time: 00:35
Cook Time: 00:05
Total Time: 00:40
Ingredients
2 boneless chicken breast pieces
1/2 tsp black pepper powder
to taste salt
1/2 tsp garlic powder
2 tsp fresh lemon juice
2 tbsp olive oil
For Salsa:
1 medium-sized red onion
100 grams tomato
1 green chili
2 tsp lemon juice
3 tbsp chopped coriander leaves
For Honey Mustard Sauce:
1/4 cup fat-free mayonnaise
1/4 cup Dijon mustard
3 tbsp honey
1 tbsp white vinegar
1/4 tsp paprika
to taste salt
For Salad:
1/2 cup sliced cucumber
1/2 cup pineapple slices
10 olives
6 jalapenos
6 to 8 medium-sized lettuce leaves
Instructions
Combine all the ingredients given under 'for sauce' in a bowl and whisk until well combined. Refrigerate until ready to serve.
Clean and then cut the chicken breast horizontally into 2 pieces. Marinate the chicken pieces with pepper powder, salt, garlic powder and lemon juice, set it aside for 30 mins.
Chop all the salsa ingredients finely.
In a small bowl, add chopped onion, tomatoes, green chili, coriander leaves, lemon juice and salt mix well until incorporated and keep it aside.
Heat a pan with 2 tbsp of olive oil over medium heat. When the oil heats, add the marinated chicken and fry until both sides become light golden brown. It takes only 5 mins. Cool it for few mins. and then cut the chicken pieces into stripes.
In a wide bowl or plate, arrange lettuce leaves as shown in the picture. Then arrange cucumber, pineapple slices, olives, jalapenos, salsa and chicken over the lettuce. Finally, pour some sauce on top of the chicken salad. Enjoy!
By Santhi Therese
The Indian Claypot
You may also like my other Chicken Recipes posts and recipes like Chicken Varuval, Pallipalayam Chicken Fry, Crispy Chicken Strips, Schezwan Chicken, Penne Pasta with Minced Chicken, Chicken Schezwan Noodles, Chicken Curry Recipe, Chicken Fajitas, Methi Chicken, Chicken Meatball Curry, Healthy Chicken Salad bowl, Green Chili Chicken, Chicken Cutlets, Chicken Hakka Noodles, Sweet and Sour Pineapple Chicken, Butter Chicken Masala, Chicken Alfredo Pasta, Chicken Tacos with Mango Salsa, Sweet Corn Chicken Soup, Grilled Chicken Burger .