Chicken Tacos with Mango Salsa
A mouth-watering combination of spicy chicken and sweet mango salsa that will leave you craving for more.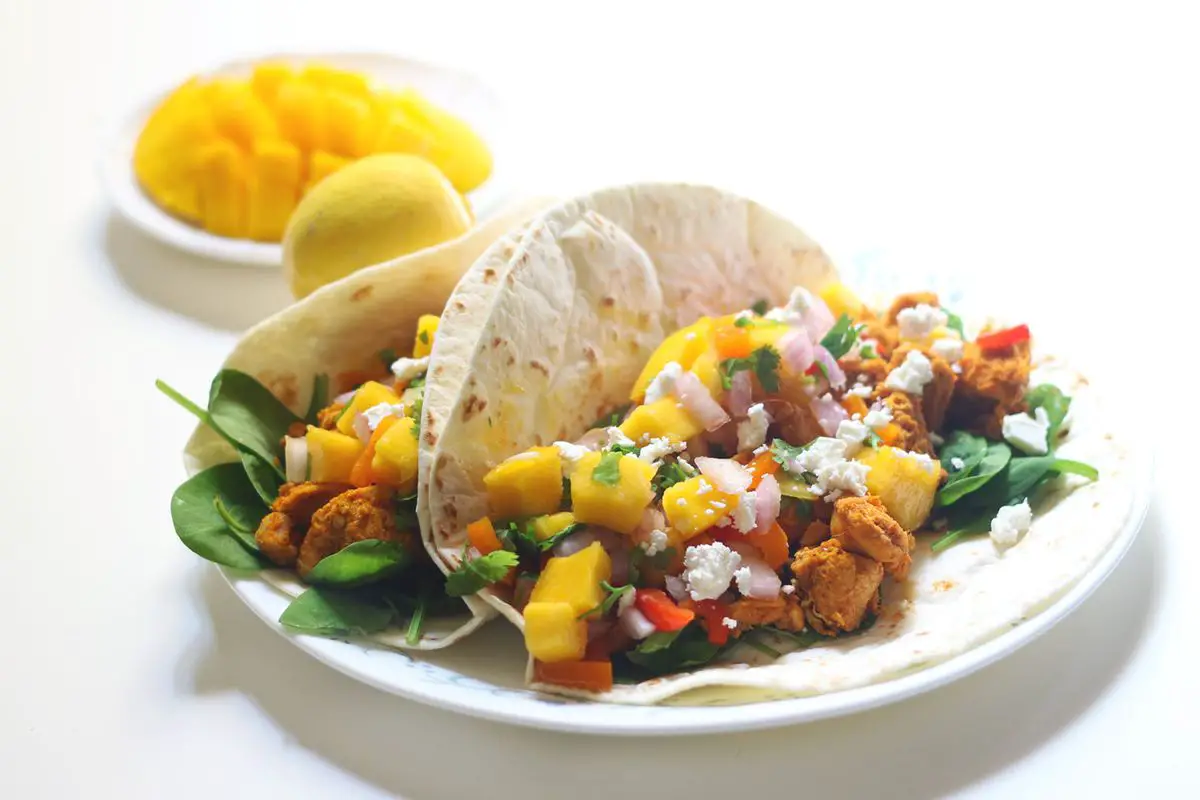 Get ready to take your tacos to the next level with this Indian-style twist! Introducing Spicy Chicken Tacos with Mango Salsa – a mouth-watering combination of spicy chicken and sweet mango salsa that will leave you craving for more. Not only does this recipe taste amazing, but it is also packed with high-quality protein and essential vitamins.
One of the best things about this recipe is how quick and easy it is to make. Even when you're feeling tired, you can whip up these delicious tacos in just a few minutes. And if you're not a fan of mango, you can always swap it out for some juicy pineapple slices instead.
To make these tasty tacos, start by using fresh, ripe mangoes for the most flavorful salsa. Opt for fleshy mango varieties like Alphonso to avoid any stringy bits that may get stuck in your teeth. Next, be sure to toast your tortillas until they are lightly charred on both sides for extra flavor and texture.
When it comes time to assemble your tacos, start by placing the cooked tortilla on a plate and layering on some baby spinach leaves. Then, add your spicy chicken pieces and top everything off with the delicious mango salsa and some crumbled feta cheese. Trust us, these Spicy Chicken Tacos with Mango Salsa will quickly become your new favorite lunch option!
Maybe sweet stuff may not be your thing, then try out the Chili Chicken Taco! If you're not feeling like having chicken today, then try out these Paneer Tacos.
Chicken Tacos with Mango Salsa 2017-10-20 01:29:37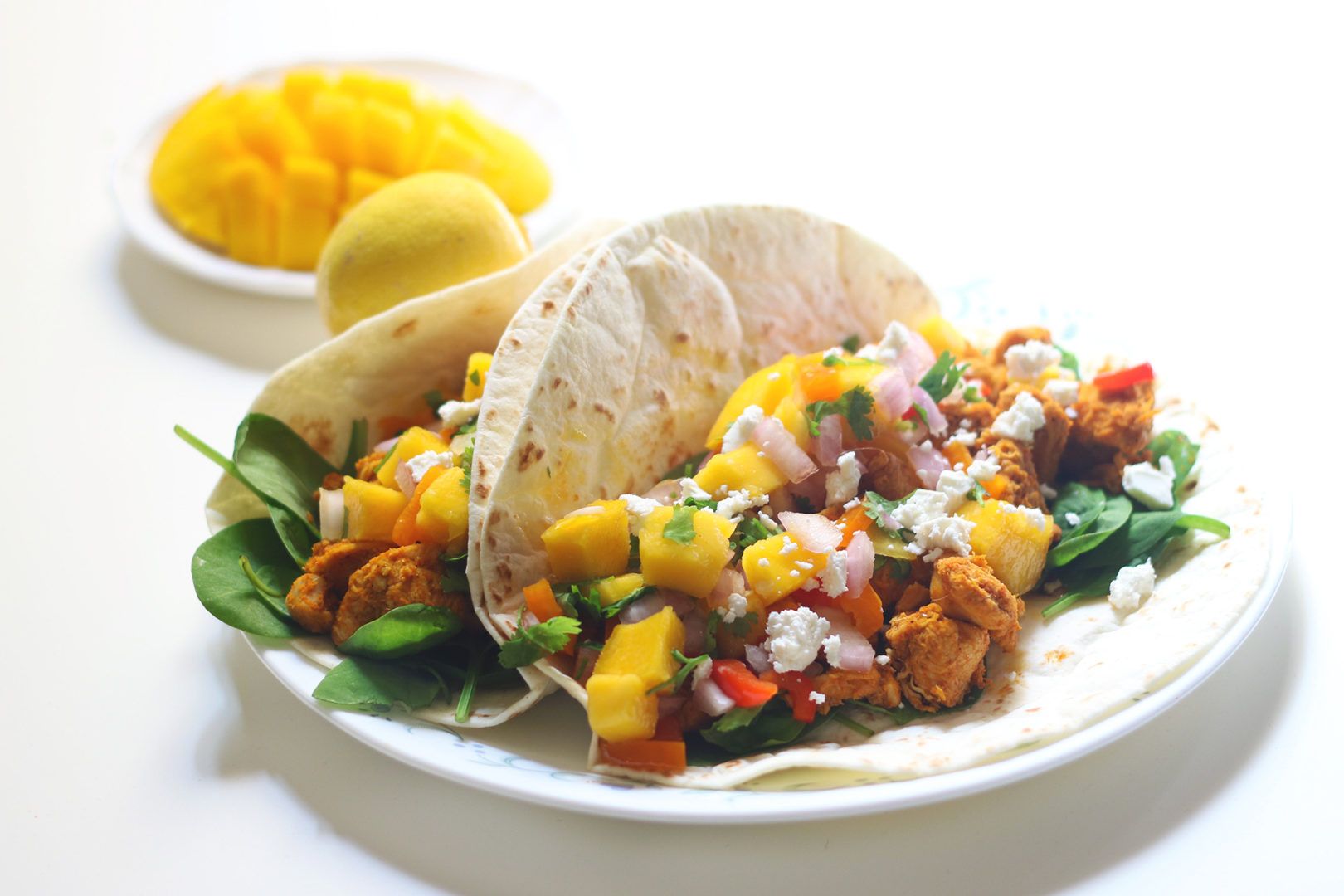 Chicken Tacos with Mango Salsa
Serves 3
Prep Time: 00:30
Cook Time: 00:10
Total Time: 00:40
Ingredients
3 boneless chicken breast pieces
2 teaspoon ginger, garlic paste
1&1/2 tablespoon lemon juice
1&1/2 teaspoon red chili powder
1/4 teaspoon turmeric powder
1/2 teaspoon garam masala powder
as needed salt
1 tablespoon olive oil
1 medium sized red onion
1/2 cup chopped red and orange capsicums
finely chopped green chili
1 tablespoon fresh lemon juice
1/4 cup finely chopped coriander leaves
1 diced ripe mango
to taste salt
4 corn tortillas
2 cups baby spinach
12 or as needed, crumbled feta cheese cubes
Instructions
Marinate the chicken pieces with other ingredients until well combined, set aside for about 30 mins.
Heat a non-stick pan over medium heat, add oil. When oil heats up, add marinated chicken pieces and fry for 3 mins.
Then flip the chicken pieces and fry until both sides are browned, and keep it aside.
Meanwhile, in a bowl, combine together all the ingredients given under 'For Mango Salsa', mix well until well combined and set aside for 10 mins.
Heat a non-stick pan over medium heat, then place the tortilla and toast both sides until cooked, for few seconds.
In a serving plate, place the cooked tortilla and then spread the baby spinach leaves then add chicken pieces, mango salsa and finally add crumbled feta cheese.
By Santhi Therese
The Indian Claypot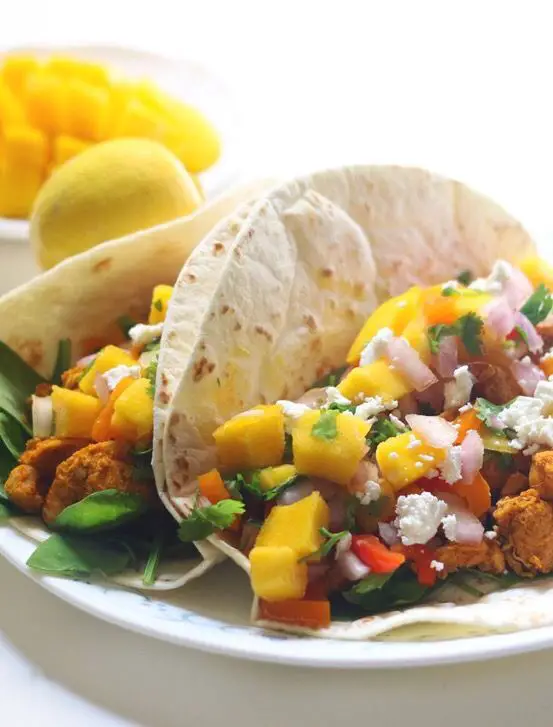 You may also like my other Chicken Recipes posts and recipes like Chicken Varuval, Pallipalayam Chicken Fry, Crispy Chicken Strips, Schezwan Chicken, Penne Pasta with Minced Chicken, Chicken Schezwan Noodles, Chicken Curry Recipe, Chicken Fajitas, Methi Chicken, Chicken Meatball Curry, Healthy Chicken Salad bowl, Green Chili Chicken, Chicken Cutlets, Chicken Hakka Noodles, Sweet and Sour Pineapple Chicken, Butter Chicken Masala, Chicken Alfredo Pasta, Sweet Corn Chicken Soup, Grilled Chicken Burger, Chicken Talumein Soup .