Chocolate Chiffon Cake
Celebrate this Christmas week with a beautiful and elegant dessert - Chocolate Chiffon Cake!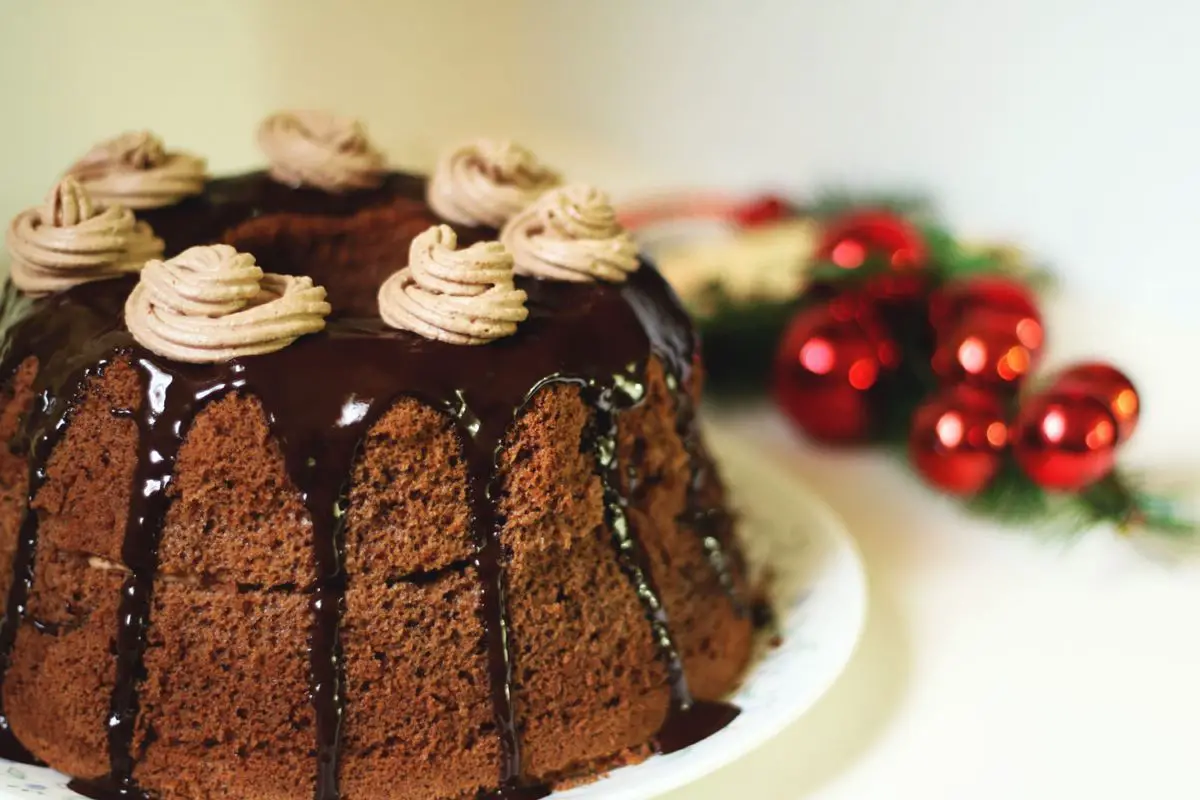 Celebrate this Christmas week with a beautiful and elegant dessert - Chocolate Chiffon Cake! This butter-less cake is simple to make and has a wonderfully chocolaty flavor. Plus, because of the oil, it stays moist and soft even when refrigerated. For an extra special treat, drizzle some hot chocolate over it and pair it with your favorite ice cream. Trust me, this dessert is sure to impress your guests!
To make the perfect chocolate chiffon cake, here are a few tips. Firstly, if you don't have cake flour, then you can make your own. So 2oog of sifted cake flour can be substituted with 170g of sifted all-purpose flour plus 30g of corn flour. This cake flour gives the delicate texture to this chocolate chiffon cake.
Secondly, separate the eggs and bring them to room temperature before making the batter. This will help the egg whites to reach their full volume when beaten, which is important for achieving the right texture. Adding cream of tartar is optional, but it can help to increase the volume and stiffness of the egg whites.
In this recipe, I use superfine sugar because it dissolves easily into the batter. To make your own superfine sugar, grind 1 & 1/2 cup (300 gm) of white sugar in a mixie or food processor for about 30 – 60 seconds or until finely ground.
Finally, the batter should be baked in an UNGREASED 10-inch TUBE PAN. This allows the batter to cling to the sides of the pan as it bakes, which helps the cake to rise properly. The tube also lets hot air circulate so that the heat can reach the center of the cake.
If you don't have corn syrup for the chocolate glaze, don't worry. You can make a thick sugar syrup by heating 1/4 cup of sugar with 2 tbsp of water and 1 tsp of lemon juice, stirring continuously. When it becomes thick, remove it from the heat and add 2 tbsp of this sugar syrup instead of 1 tbsp of corn syrup for the glaze.
So go ahead, give this Chocolate Chiffon Cake recipe a try and let me know how it turned out in the comments below!
You may also like Orange Chiffon Cake, Vanilla Sponge Cake, Yogurt Lemon Cake, Coffee Cake, Pineapple Cake and Red Velvet Cake.
Chocolate Chiffon Cake 2016-12-09 05:56:54
Chocolate Chiffon Cake
Serves 10
Prep Time: 00:30
Cook Time: 00:55
Total Time: 01:25
Ingredients
For Chocolate Chiffon Cake:
200g (2 cups) sifted cake flour
300g (1&1/2 cups) white sugar
7 egg whites
6 egg yolks
1/4 cup (25g) unsweetened cocoa powder
2 tsp baking powder
1/4 tsp baking soda
1/2 tsp salt
1/2 cup any flavorless oil
3/4 cup, at room temperature instant coffee or water
1 &1/2 tsp vanilla essence
For Chocolate Glaze:
3 ounces (90 grams) semi sweet chocolate
2 tbsp (30g) butter
1 tbsp light corn syrup
For Mocha Filling:
3 to 4 tbsp powdered sugar
2 tbsp unsweetened cocoa powder
1/2 tsp vanilla essence
1 tsp instant coffee powder
1 cup (240 ml) cold heavy whipping cream
Instructions
Preparations:
Preheat the oven to 325 degrees F (165 degrees C).
Separate the eggs while they are still cold. Then place the egg yolks in one bowl and the whites (along with one extra egg white) in another bowl. Cover and bring them to room temperature.
Meanwhile, in a small bowl, mix 1&1/2 tsp of instant coffee powder with hot water and set aside to room temperature.
For Chocolate Chiffon Cake:
In a wide bowl sift the flour with cocoa powder, 3/4 cup (150g) sugar, baking powder, baking soda and salt.
In a separate bowl whisk together the egg yolks, oil, coffee and vanilla essence.
Make a well in the center of the flour mixture and add the wet mixture, whisk until smooth.
In the bowl of the electric mixer, with the whisk attachment, beat the egg whites until soft peaks form.
Gradually add the remaining 150g of sugar (one tbsp at once) beat continuously until stiff peaks form (in high speed). Switch off the electric mixer.
With a large rubber spatula or wire whisk, gently fold the egg whites (in three additions) into the batter just until blended.
Pour this batter into the UNGREASED 10-inch TUBE PAN and run a metal knife through the batter to get rid of any air bubbles.
Bake in the preheated oven for 55 to 60 mins or until a wooden skewer inserted into the center of the cake comes out clean.
Immediately after removing the cake from the oven, invert (turn upside down) the tube pan on a plate or a flat surface of the cup as to suspend the cake from the counter.
Let the cake cool completely before removing from the pan (about one hour).
To remove the cake from the pan, run a long metal spatula around the inside of the tube pan and center core.
Invert onto a greased wire rack and cake should fall right out. With a sharp knife cut the cake in half horizontally.
Place the bottom layer on the serving plate and spread with mocha filling cream and gently place the top layer on the filling.
Then pour the chocolate glaze over the top of the cake letting it flow down the sides.
Then place the mocha filling in a piping bag and pipe lovely swirls on the top of the cake. Cover and store this chocolate chiffon cake in the refrigerator for about 4 days.
For Mocha Filling Cream:
Place the mixing bowl and wire whisk in the freezer for about 15 to 30 mins.
After it cools, place all the ingredients minus the whipping cream, in the bowl.
Add 2 tbsp of cream and mix well.
Then add the rest of the cream and beat until stiff peaks form.
For Chocolate Glaze:
Melt the chocolate, butter and corn syrup in a stainless steel bowl placed over a saucepan of simmering water, stir well.
When it becomes liquid, remove from the heat and let it cool slightly.
By Santhi Therese
The Indian Claypot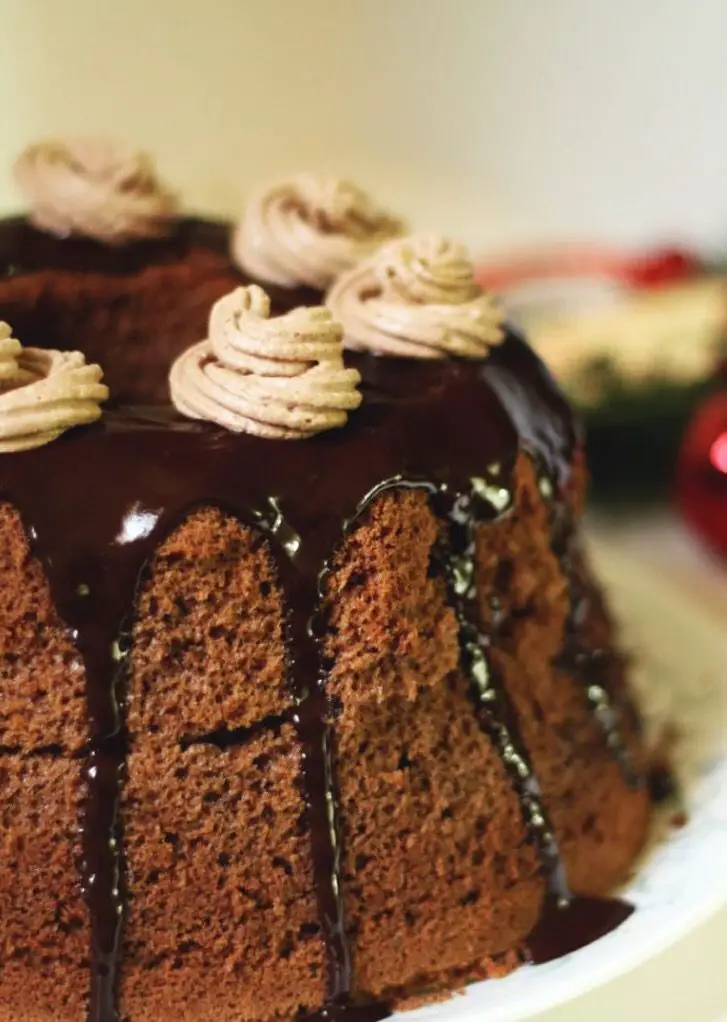 You may also like my other Christmas Cakes posts and recipes like Eggless Hot Cross Buns, Eggless Donut Recipe, Eggless Chocolate Cake Recipe, Eggless Ragi Chocolate Cake, Eggless Rava Cake, Eggless Banana Chocolate Cake, Eggless Strawberry Sauce Cake, Eggless Chocolate Cupcakes, Eggless Strawberry Cake, Eggless Apple Cake, Eggless Carrot Cake, Microwave Chocolate Mug Cakes, Eggless Orange Cake, Eggless Chocolate Marble Cake, Strawberry Streusel Coffee Cake, Christmas Plum Cake, Green Apple Streusel Cake, Meringue Cookies, Strawberry Fruit Fool, Red Velvet Cupcakes with Cream Cheese .