Chocolate French Toast
Looking for a decadent treat that's perfect for any time of day? Look no further than this delicious chocolate French toast recipe!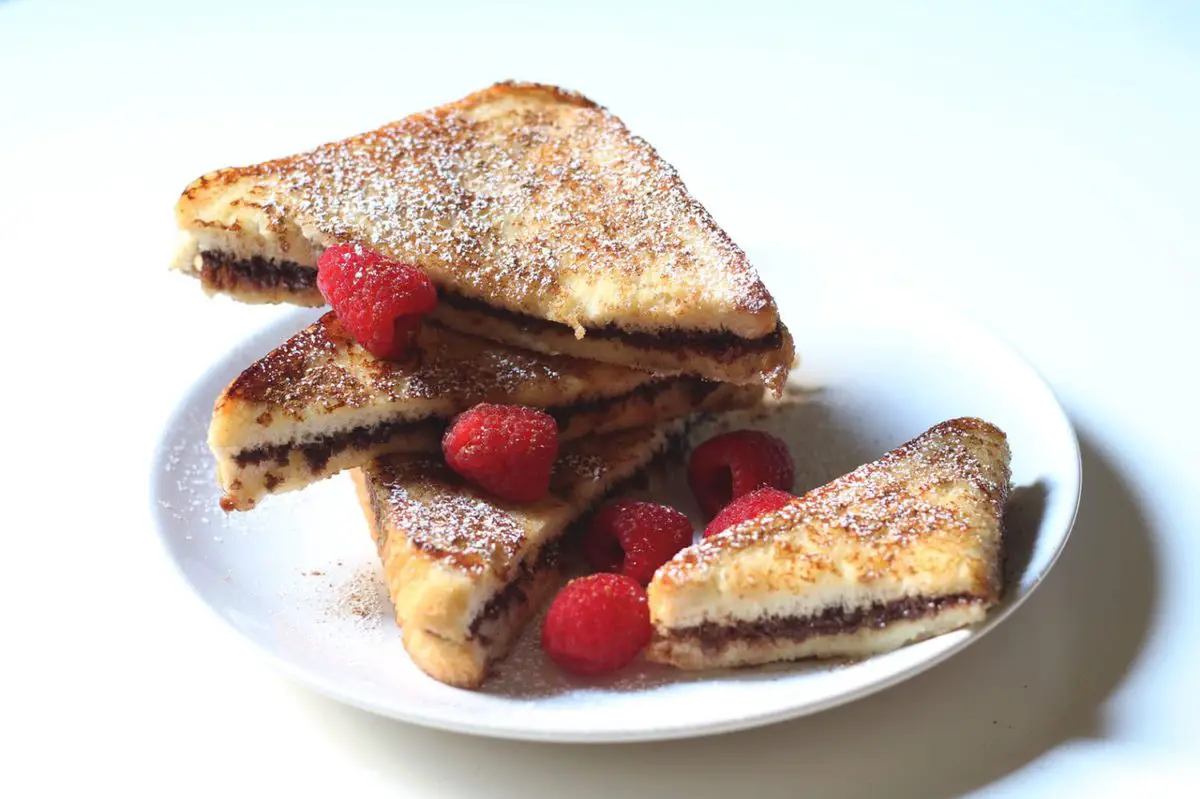 Looking for a decadent treat that's perfect for any time of day? Look no further than this delicious chocolate French toast recipe! With its rich, creamy Nutella filling, it's sure to satisfy your sweet tooth and leave you feeling utterly indulged.
I first tried this mouthwatering dish at a hotel breakfast in Dubai, where my kids fell in love with a jam-filled French toast. Inspired by their excitement, I decided to create my own version using everyone's favorite chocolate spread. The result? An irresistible treat that's as easy to make as it is to eat!
To start, simply whisk together eggs, milk, and a few other key ingredients to create the perfect custard for your bread. Then, dip your slices of bread into the mixture and cook them up in a pan until they're golden brown and crispy on the outside.
But the real star of the show? The generous layer of Nutella that you'll spread between each slice of French toast before serving. It's the perfect way to take this classic breakfast dish to the next level and indulge your sweet tooth like never before.
So why not give this delicious chocolate French toast recipe a try and see for yourself how easy it is to create a decadent treat that's sure to delight? Trust me, you won't be disappointed! And be sure to leave a comment and let me know how it turned out.
You may also like Bread Pudding Muffins and Bread Pudding.
chocolate French Toast 2018-02-09 05:55:21
Chocolate French Toast
Serves 3
Prep Time: 00:05
Cook Time: 00:15
Total Time: 00:20
Ingredients
6 bread slices
6 tsp nutella chocolate spread
1 tbsp butter
For French Toast:
1/2 cup milk
1 large egg, lightly beaten
1 tbsp sugar
1/2 tsp vanilla essence
For Garnishing:
powdered sugar and cinnamon powder for dusting
some fresh raspberries
Instructions
Spread 2 tsp Nutella chocolate spread onto one side of each of 2 slices, top each with another slice of bread to make 3 sandwiches and keep it aside.
Meanwhile, beat milk, egg (already lightly beaten), sugar and vanilla essence in a wide bowl until well combined.
Heat a nonstick pan over medium heat. Then soak each sandwich in the egg mixture until it is well coated.
Melt some butter on the Pan and place it on the hot pan and cook until browned.
Add 1/2 tsp butter on the top then flip the sandwich, cook until the other side is browned.
Remove from the heat and dust it with cinnamon powder and powdered sugar and finally, garnish it with some fresh raspberries.
Notes:
You can also spread some jam whatever you like instead of nutella for this recipe.
By Santhi Therese
The Indian Claypot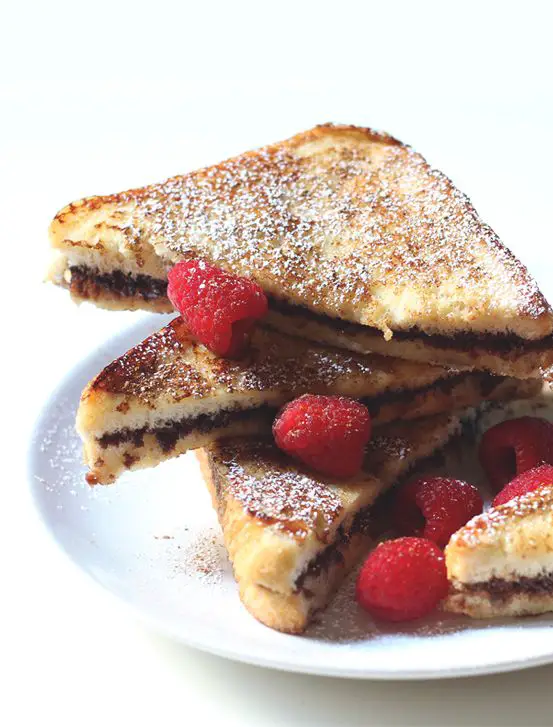 You may also like my other Healthy Breakfast posts and recipes like Appam Recipe, Thinai Sakkarai Pongal /Foxtail Millet Sweet Pongal, Healthy Breakfast Recipe, Kara Kuzhi Paniyaram with Idli/Dosa Batter, Oats Chocolate Brownie Recipe, Healthy Aval/Poha/Red Rice Flakes Breakfast Recipe, Ragi Aval Sweet Kozhukattai, Ragi Paal Kozhukattai, How To Make Soft Layered Chapati, Soft and Chewy Granola Bars, Vendhaya Kali, Strawberry Apple Smoothie, Pasi Payaru Aval Pongal, Homemade Granola Recipe, Moringa Adai Dosa Recipe, Ragi Puttu, Green Gram Payasam/Kheer, Whole Wheat Bread Recipe, Kavuni Arisi Sweet, Banana Oatmeal Cookies .