Coconut Chicken Curry with Potatoes
Experience the delicious taste of South India with this flavorful Coconut Chicken Curry recipe!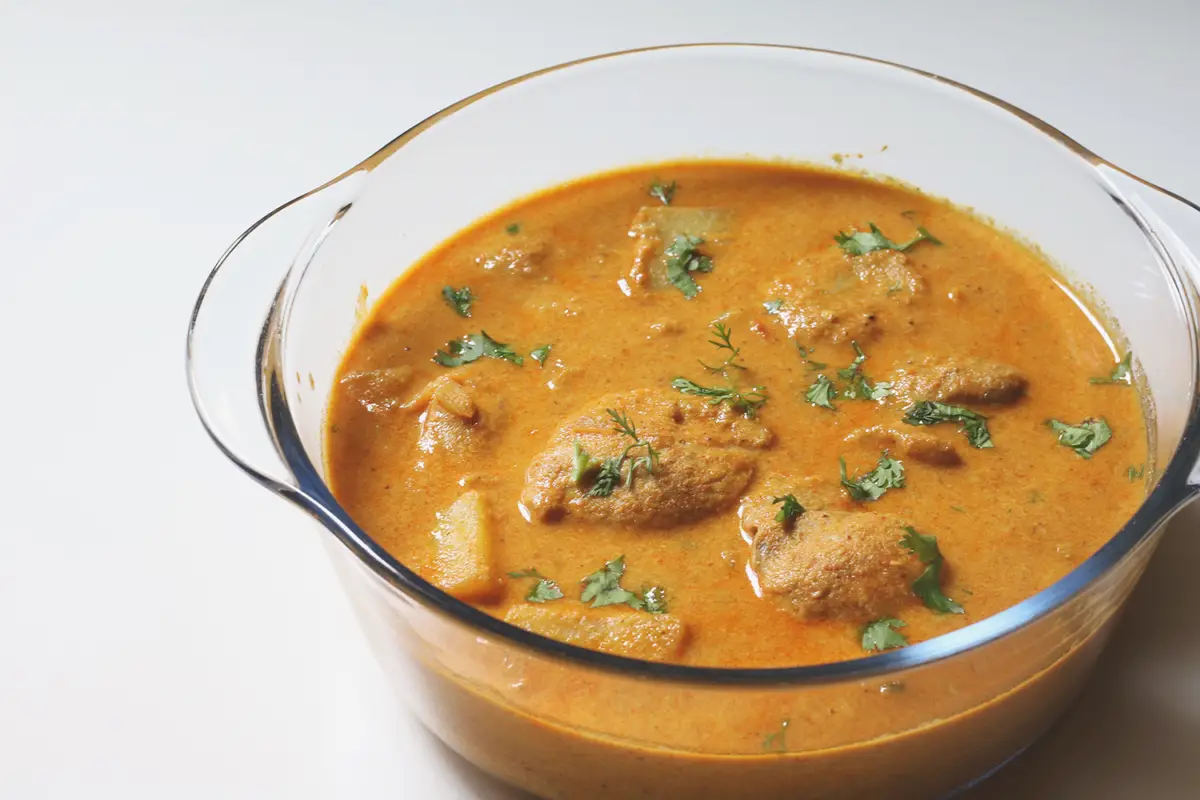 Experience the delicious taste of South India with this flavorful Coconut Chicken Curry recipe! Perfect for festive occasions and family get-togethers, this spicy dish is typically served with parathas and biriyani. And for vegetarians, simply replace the chicken with cauliflower for an equally tasty meal.
To ensure your dish turns out perfectly, follow these tips: start by grinding grated coconut and cashews with enough water to create a thick, smooth paste. This is a crucial step as it will give your curry its creamy texture and rich color. Finally, if the gravy is too thick, add some water and adjust the salt and spice to your liking.
Give this recipe a try and let us know how it turns out! Enjoy the mouthwatering flavors of Coconut Chicken Curry, a must-try dish for any South Indian cuisine lover.
I have already posted Vegetable Coconut Curry and Spicy Chettinad Chicken Curry on my blog. So try these out and share your comments!
Coconut Chicken Curry with Potatoes 2017-07-01 01:22:54
Coconut Chicken Curry with Potatoes
Serves 3
Prep Time: 00:15
Cook Time: 00:25
Total Time: 00:40
Ingredients
300g Boneless Chicken Thigh Pieces
150g Potatoes
1 large sized Onion
2 tsp Ginger and Garlic Paste
1 Green Chili
150g Tomatoes
1&1/2 tsp Red Chili Powder
1 tbsp Coriander Powder
1/4 tsp Turmeric Powder
1/2 tsp Garam Masala Powder
to taste Salt
1/2 cup Grated Coconut
6 Whole Cashews
as needed Water
2 tbsp Olive Oil
1/2 tsp Fennel Seeds
4 Cloves
1 inch Cinnamon Stick
1/2 Bay Leaf
1 tbsp, finely chopped for garnishing Fresh Coriander Leaves
Instructions
Clean and wash the chicken well. Then cut the chicken pieces into medium size.
Peel and cut the potatoes into medium size. Then boil potatoes with enough water and salt until half cooked, drain the water and keep it aside.
Chop onion and green chili finely.
Chop the tomatoes, and place them in a blender and blend until pureed.
Grind all the ingredients given under 'to grind' until a smooth paste.
Heat a pan with oil over medium heat.When the oil heats, fry all the ingredients given under 'to temper' and fry until spluttering.
Add finely chopped onions and green chilies, and fry until they turn into golden brown.
Add ginger and garlic paste, stir fry till the raw smell leaves.
Add red chili powder, coriander powder, turmeric powder, garam masala powder and salt (1/2 tsp), give a quick stir.
Add chicken pieces, stir continuously for 2 to 3 mins or until it changes its color.
Pour tomato puree and cook until its raw smell leaves.
Add potatoes and 1 cup of water, stir well, close the pan with a lid and cook it for about 10 minutes over low heat until they are fully cooked. Stir in between.
Add the coconut paste, stir well and cook it for another 5 mins in low heat and cover the pan with lid.
If the gravy is thick, add some water and adjust the salt and spice as needed.
When the gravy becomes slightly thick, (the oil separates from the gravy is the correct stage) switch off the heat and finally, garnish it with chopped coriander leaves.
By Santhi Therese
The Indian Claypot
You may also like my other Chicken Recipes posts and recipes like Chicken Varuval, Pallipalayam Chicken Fry, Crispy Chicken Strips, Schezwan Chicken, Penne Pasta with Minced Chicken, Chicken Schezwan Noodles, Chicken Curry Recipe, Chicken Fajitas, Methi Chicken, Chicken Meatball Curry, Healthy Chicken Salad bowl, Green Chili Chicken, Chicken Cutlets, Chicken Hakka Noodles, Sweet and Sour Pineapple Chicken, Butter Chicken Masala, Chicken Alfredo Pasta, Chicken Tacos with Mango Salsa, Sweet Corn Chicken Soup, Grilled Chicken Burger .