Coconut Chutney
Coconut chutney is one of the favorite accompaniments for south Indian breakfast dishes like idli, dosa, vada and pakoras. I learned the proportions of making this delicious chutney from my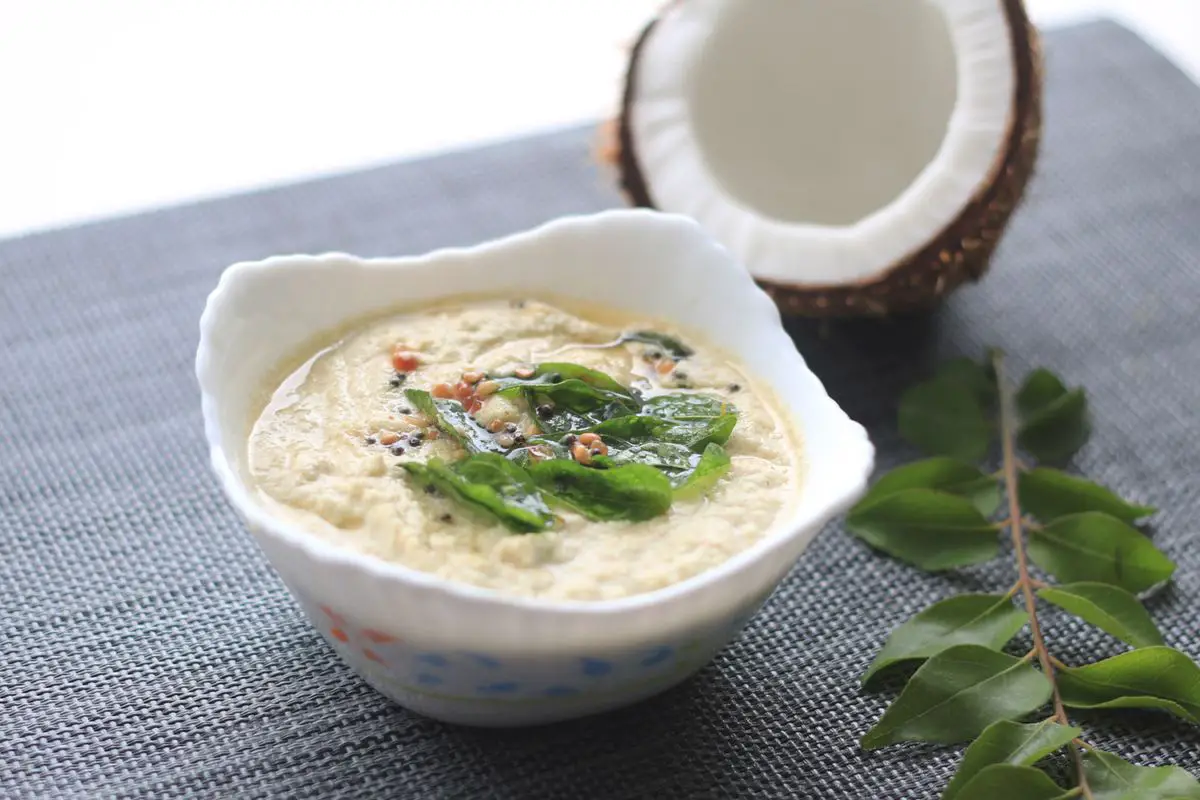 "Learn the Secrets to Perfect Coconut Chutney: Tips and Tricks for a Mouth-Watering Recipe"
Coconut chutney is a must-have accompaniment for any South Indian breakfast dish, such as idli, dosa, vada, and pakoras. It's a flavorful condiment that can elevate any dish to the next level. If you want to learn how to make the perfect coconut chutney, keep reading.
How to select the right coconut:
First things first, let's talk about selecting the right coconut. When you're at the market, make sure to choose a coconut that doesn't have any cracks on the shell and feels heavy and full. You can also hold it up to your ear and shake it to make sure there's water inside. There are two types of coconuts available: dark brown-shelled coconuts and white-shelled coconuts. The brown one is better for extracting coconut milk, while the white one is perfect for making chutney. Make sure to avoid coconuts with moldy or wet black spots on their eyes.
To make the perfect coconut chutney, there are a few tips and tricks you should keep in mind. Firstly, try to use white-shelled coconut for a nicer texture and taste. Secondly, be mindful of how much-fried gram (chana dal) you add to the chutney. If you don't have fried grams, you can substitute them with peanuts. If you add peanuts, you can also add some tamarind to the chutney, which will increase its shelf life.
It's important to consume the chutney within 5 to 6 hours of making it. If you need to store it for longer, keep it in the refrigerator and consume it within a day. If you're using desiccated coconut or coconut powder, use warm water while grinding the chutney, but fresh coconut gives the best taste.
I learned the proportions of making this delicious chutney from my Mom during my early years. My Father-in-law loves this recipe, and I make it every time I visit his home. You too can enjoy this mouth-watering chutney with your family. Follow these tips and tricks to make the perfect coconut chutney and take your breakfast to the next level!
You may also like Medhu Vadai, Vazhaipoo Vadai and Paruppu Vadai.
Coconut Chutney 2018-10-11 22:27:56
Coconut Chutney
Serves 1
Prep Time: 00:07
Cook Ti3e: 00:03
Total Time: 00:10
Ingredients
1/2 cup Fresh Coconut Slices
One handful Fried Gram/Roasted Channa Dal/Pottu Kadalai
2 to3 Green Chillies
1.2 inch Ginger
As per taste Salt
1/2 tbsp Sesame Oil
1 tsp Mustard and Urad Dal
1 spring Curry Leaves
Instructions
Place 1/2 cup of fresh coconut slices in a small mixie jar or blender.
Then add roasted channa dal, green chillies and ginger and grind until coarsely.
Then add 1/4 cup of water and salt and grind until smooth.
If unable to grind or it looks thick, then add some water and grind until smooth.
Transfer the coconut chutney to the serving bowl.
Meanwhile, heat a small pan with oil over medium heat.
When the oil heats, add mustard and urad dal and fry until spluttering.
Then add curry leaves until they become crisp.
Switch off the heat and immediately pour the tempering on the chutney and mix it well.
Serve this coconut chutney with idli, dosa, vadai or pakoda of your choice.
By Santhi Therese
The Indian Claypot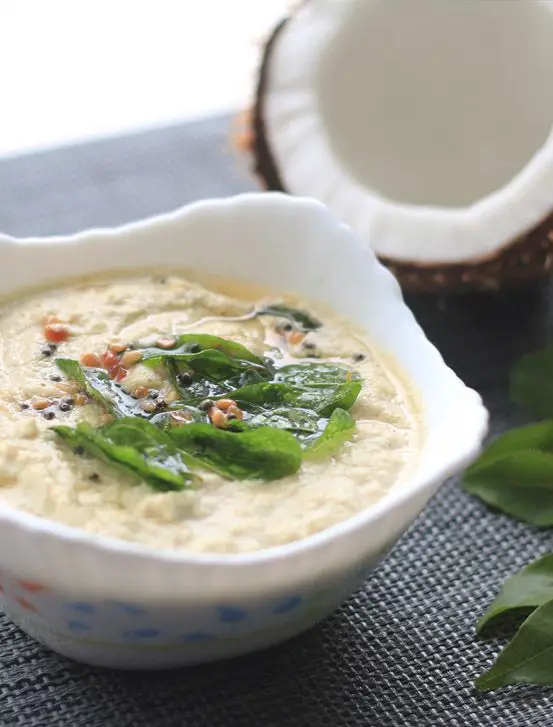 You may also like my other side dishes posts and recipes like Easy Stir Fry Vegetable Recipe, Idli Milagai Podi Recipe, Mango Pachadi, Tomato Sweet Pachadi, Mint Chutney, Vazhaithandu Poriyal, Avial Recipe, Mango Pachadi .