Blackberry and Walnut Coffee Cake (Brain Food)
Looking for a delicious and healthy treat? Try out my favorite coffee cake recipe!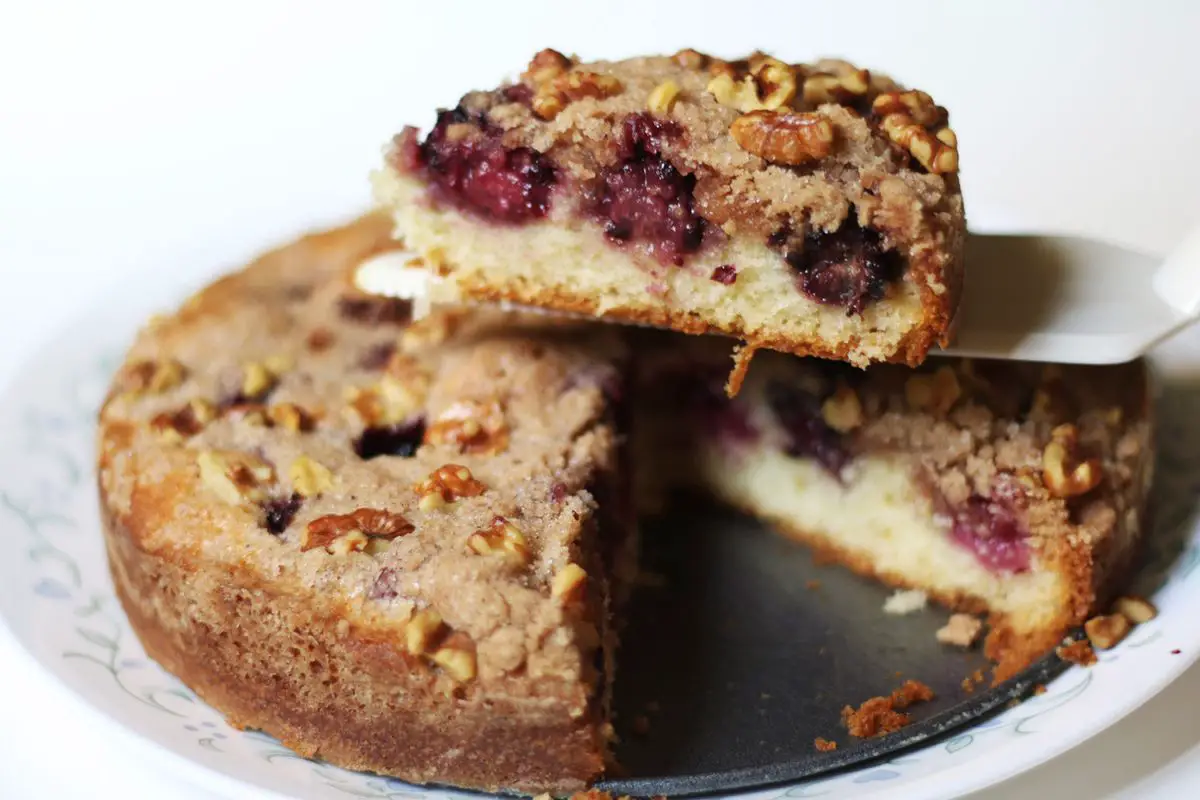 Looking for a delicious and healthy treat? Try out my favorite coffee cake recipe! This moist and flavorful cake is topped with a beautiful crunchy streusel topping and filled with brain-boosting blackberries and walnuts. It's the perfect afternoon snack with a cup of coffee or tea.
Most coffee cakes are made with sour cream, but I wanted a lighter texture, so I used a butter cake recipe with milk instead. If blackberries aren't in season, you can spread your favorite jam or fruit preserves over the batter instead.
To make this cake even more delicious and nutritious, I roasted the walnuts for added crunch and chopped them coarsely. Blackberries and walnuts are considered to be some of the best brain foods out there, so you can enjoy this cake guilt-free!
Don't hesitate to serve this coffee cake warm from the oven, at room temperature, or even cold. It's perfect for any occasion and is sure to be a hit with your family and friends. Try it out and share your comments!
You may also like my cake recipes such as Orange Chiffon Cake, Eggless Fruit Cake, Pineapple Cake, Indian Honey Cake and Chocolate Chiffon Cake.
Blackberry and Walnut Coffee Cake (Brain Food) 2017-05-07 05:37:23
Blackberry and Walnut Coffee Cake (Brain Food)
Serves 6
Prep Time: 00:15
Cook Time: 01:00
Total Time: 01:15
Ingredients
130 g all purpose flour
1 tsp baking powder
1/8 tsp salt
100 g white sugar
55 g unsalted butter
1 large egg
80 ml milk
1/2 tsp vanilla essence
1 cup fresh blackberries
40 g all purpose flour
65 g white sugar
1/2 tsp ground cinnamon
55 g unsalted butter
1/4 cup toasted walnuts
Instructions
Preheat oven to 180 degrees C. Then butter and flour an 8-inch springform pan.
Toast the walnuts in the oven for 8 mins or until a nice aroma comes and cool down for some time, then chop roughly.
In a wide bowl, mix together the flour, sugar and cinnamon powder until combined.
Then cut the COLD butter into small cubes and mix it with the flour mixture by using a fork until it becomes coarse crumbs and keep it in the refrigerator for further use.
In a bowl, whisk together the flour, baking powder and salt until combined and keep it aside.
In the bowl of electric stand mixer, with the paddle attachment, (or with a hand mixer) beat the butter until smooth and creamy.
Then add the sugar and beat until light and fluffy on medium-high speed for 2 mins. Scrape down the sides of the bowl by using a rubber spatula.
Then add the egg and vanilla essence and beat until combined.
Now add the flour mixture in three additions alternately with the milk in two additions, beat until just combined. (It starts and ends with flour)
Spread the batter onto the bottom, and slightly up the sides, of the prepared pan.
Then scatter the fresh berries over the cake batter and top with the streusel which we kept in the refrigerator.
Finally, spread the chopped walnuts over the streusel topping.
Bake it for about 60 to 70 mins or until the streusel is golden brown and a toothpick inserted in the center comes out clean.
Remove from the oven and place on a wire rack to cool slightly.
By Santhi Therese
The Indian Claypot
You may also like my other Healthy Snacks posts and recipes like Easy Bruschetta Recipe, Sweet Paniyaram with Idli / Dosa Batter, Oats Chocolate Brownie Recipe, Ragi Aval Sweet Kozhukattai, Instant Wheat Flour Sweet Appam, Mysore Bonda Recipe, Pottukadalai / Fried Gram Murukku Recipe, Wheat Butter Cookies, Fried Gram / Pottu Kadalai Urundai, Baked Chakli/Murukku, Green Gram Payasam/Kheer, Black Gram Laddu, Moong Dal Susiyam, Banana Oatmeal Cookies, Microwave Chocolate Mug Cakes, Homemade Peanut Butter, Vazhaipoo Vadai, Eggless Raspberry Pudding, Raspberry Bread, Coconut Sweet Bun .