Creamy Mushroom And Coriander Soup
Are you struggling to get your kids to eat their veggies? Look no further than this delicious and healthy Creamy Mushroom Soup recipe.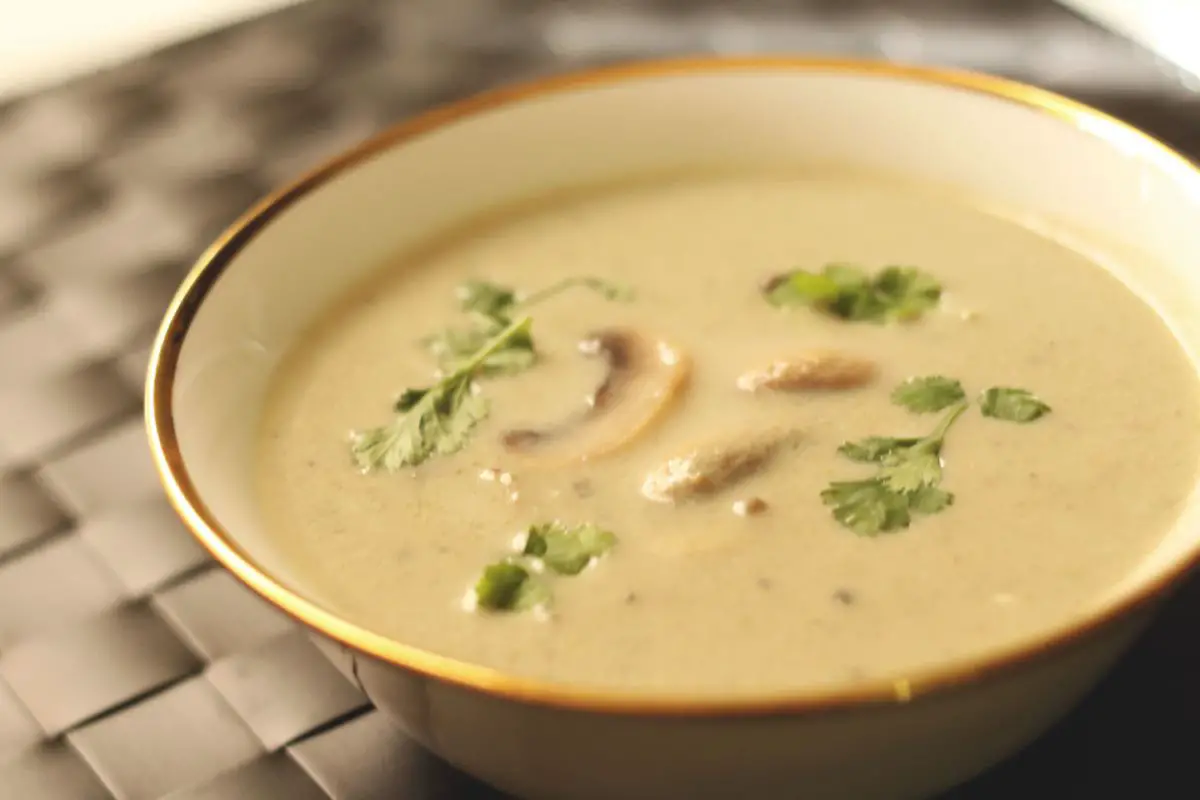 Creamy Mushroom Soup Recipe for Picky Eaters
Are you struggling to get your kids to eat their veggies? Look no further than this delicious and healthy Creamy Mushroom Soup recipe. Packed with vitamin D and iron, this soup is the perfect way to sneak in some extra nutrients.
But don't worry, even picky eaters will love this soup! Creamy and flavorful, it's the perfect comfort food for a chilly evening. And best of all, it's made with ingredients that are easy to find at your local grocery store.
To make this soup, start by sautéing some onions and garlic in a large pot. Once they're softened, add in sliced mushrooms and cook until they're tender. Next, add in some chicken or vegetable broth and let everything simmer for a few minutes.
Once the mushrooms are fully cooked, use an immersion blender to puree the soup until it's smooth and creamy. Finally, stir in some heavy cream and season with salt and pepper to taste.
In just a few simple steps, you'll have a delicious and healthy soup that your whole family will love. So why not give it a try and see for yourself? We'd love to hear your comments and see how you make this recipe your own.
You may also like my other soup recipes such as Chicken Talumein Soup and Sweet Corn Chicken Soup for non-vegetarians and Pumpkin Soup, Carrot Soup, Beetroot Soup, Cauliflower Soup, Broccoli Soup and Spinach Soup.
Tips for Making the Best Creamy Mushroom Soup:
If you're a fan of creamy mushroom soup, you know that the key to a delicious bowl lies in the quality of the ingredients. To help you make the best possible soup, we've gathered some tips and tricks to keep in mind when selecting and preparing your mushrooms.
Tip #1: Choose High-Quality Mushrooms When shopping for mushrooms, look for ones that are firm and plump. Avoid mushrooms that are slimy or spotted, as these are signs that they're past their prime. Additionally, check the underside of button mushrooms to make sure their gills are tightly closed.
Tip #2: Clean Your Mushrooms Properly Mushrooms grow close to the ground and can be a bit dirty when sold in the market. To clean them, use a damp cloth or paper towel to wipe each mushroom. You can lightly rinse them with cool water, but don't soak them, as mushrooms absorb water.
Tip #3: Reserve Some Cooked Mushrooms for Garnishing To add some extra texture to your soup, reserve a few cooked mushrooms to use as a garnish. This will give your soup a more visually appealing presentation.
Tip #4: Add Coriander Leaves for a Boost of Iron If you're looking to make your soup even healthier, consider adding some coriander leaves. Not only do they add a nice aroma, but they're also rich in iron.
By following these tips, you'll be well on your way to making a delicious and healthy bowl of creamy mushroom soup. Give them a try and let us know what you think in the comments!
Creamy Mushroom Soup 2016-11-24 07:53:45
Creamy Mushroom And Coriander Soup
Serves 3
Prep Time: 00:05
Cook Time: 00:15
Total Time: 00:20
Ingredients
250g button mushroom
1/4 cup fresh coriander leaves
50g onion
2 garlic pods
1/2 tsp black peppercorns
as needed salt
1 tbsp olive oil
1 tbsp butter
1 tbsp cream
Instructions
Cut onion and mushrooms lengthwise.
Chop the garlic roughly.
Heat a pan over medium heat, add olive oil and butter.
When the oil heats, add garlic, fry until browned.
Add onion, saute till they become transparent.
Add mushroom, coriander leaves, peppercorns and salt, saute well until the water oozes out from the mushrooms.
Reserve some mushrooms for further use (for garnishing).
Pour 2 cups of water, cover and bring it to a boil.
Reduce to a simmer for 10 mins or until mushrooms are fully cooked.
Let the soup cool for a few minutes then transfer it to the blender.
Blend in batches until smooth.
Return to the pan over low heat, add cream, stirring, cook until heated through. If it is too thick, add some hot water.
Garnish the soup with reserved mushrooms and coriander leaves.
Serve hot.
By Santhi Therese
The Indian Claypot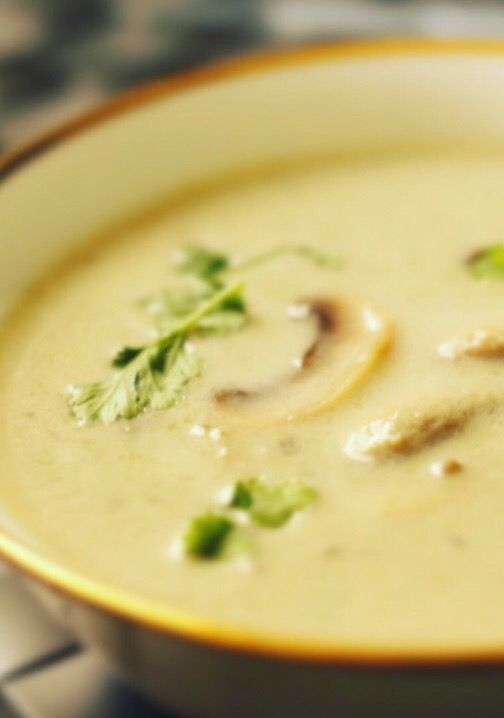 You may also like my other Soups posts and recipes like Tamarind Tomato Rasam, Pepper Mutton Soup, Creamy Tomato Soup, Pumpkin Carrot Soup, Spinach Soup, Cauliflower Soup, Beetroot Soup, Pumpkin Soup, Sweet Corn Chicken Soup, Broccoli Soup, Chicken Talumein Soup, Chicken Clear Soup, Creamy Carrot Soup .