Crispy French Fries
Are you a fan of crispy French fries? These delicious and crispy fries are perfect as a starter or as a snack any time of day.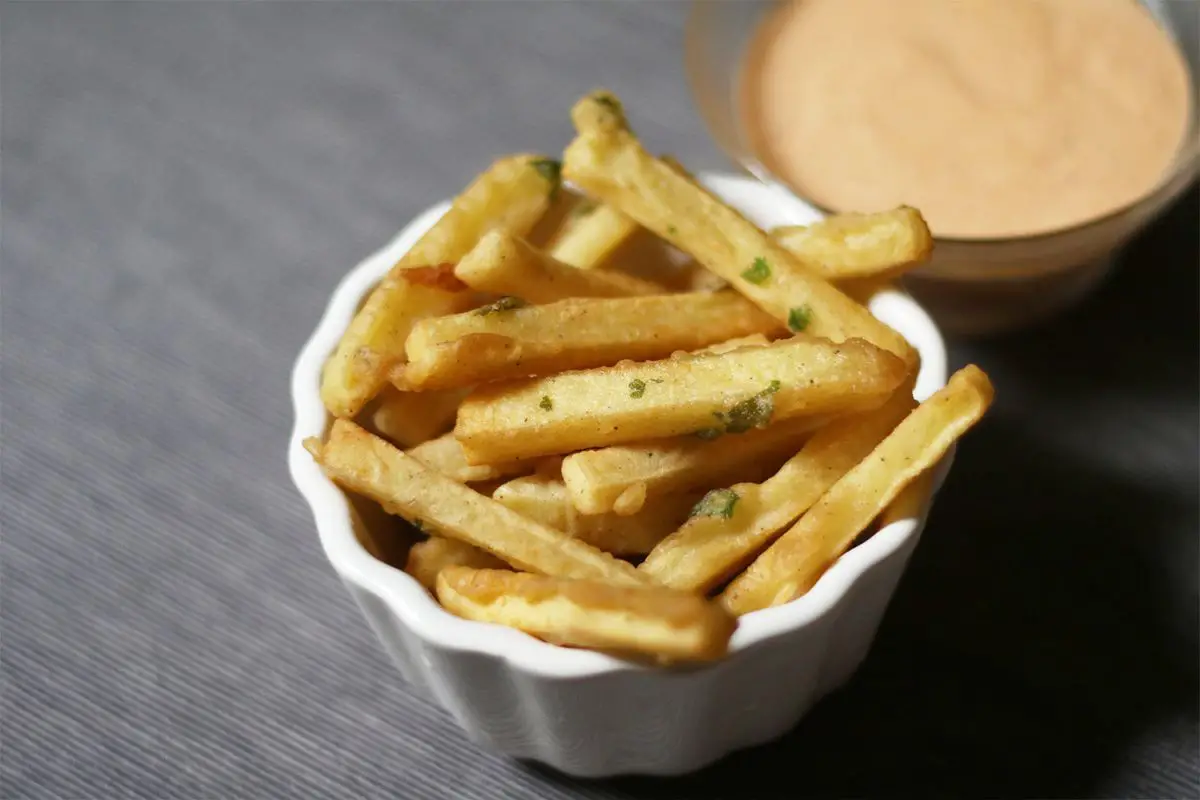 Are you a fan of crispy French fries? These delicious and crispy fries are perfect as a starter or as a snack any time of day. Serve them up with a creamy soup or surprise your kids with this crispy treat! These double-fried French fries are soft and fluffy on the inside, and crispy on the outside. For an added burst of flavor, try dipping them in homemade mayo chili sauce or tomato ketchup.
To get your fries extra crispy, there are a few tips you can follow. Firstly, be sure to choose potatoes without any green patches, which can negatively affect both the taste and your stomach. Cut your potatoes lengthwise into 4 to 5 pieces, then cut each piece into thin sticks - the thinner the better!
Next, soak the potato strips in cold water for 15 to 30 minutes to remove excess starch and ensure crispiness. Once soaked, drain the water and pat the potato strips dry with kitchen towels.
Finally, heat enough oil in a heavy-bottomed pan over medium heat. In batches of 3 to 4, fry the potato strips until soft. Remove and drain them on new dry paper towels. Once all the potatoes have been fried, turn the heat up and fry them again until golden and crispy. Another method to try is coating the strips in batter and frying them in hot oil until they turn a golden brown.
Enjoy these crispy fries as a snack or starter and let us know how it turns out!
You may also like my other starters recipes such as Baked Potato Fries, Paneer 65, Chicken 65 and Baby Corn Fry
Crispy French Fries 2018-02-28 07:33:45
Crispy French Fries
Serves 3
Prep Time: 00:15
Cook Time: 00:15
Total Time: 00:30
Ingredients
2 medium-sized potatoes
3 tbsp all-purpose flour
2 tbsp corn flour
1 tbsp rice flour
1/2 tsp pepper powder
to taste salt
1/2 cup minus 1 tbsp water
few finely chopped coriander leaves
to deep fry oil
Instructions
Wash, peel and cut each potato into strips about 1/2 inch wide. Then soak into cold water for 15 minutes so they won't turn brown while you prepare the dough.
Meanwhile, in a wide bowl, mix all the other ingredients until you get a smooth paste.
At this stage, remove the potato strips from the water and then pat them dry with kitchen towel.
Mix the potato stripes with the batter until they are well coated.
Meanwhile, heat oil in a wide pan over medium heat.
When the oil heats, place the flour coated stripes in the oil in batches and fry until the fries are soft and cooked through.
Remove them from the oil by using slotted spoon or frying basket and spread them on a paper towls.
Do the same for the remaing fries.
Then bring the oil to high heat, add the cooked fries in batches in the hot oil. and fry until golden brown.
By Santhi Therese
The Indian Claypot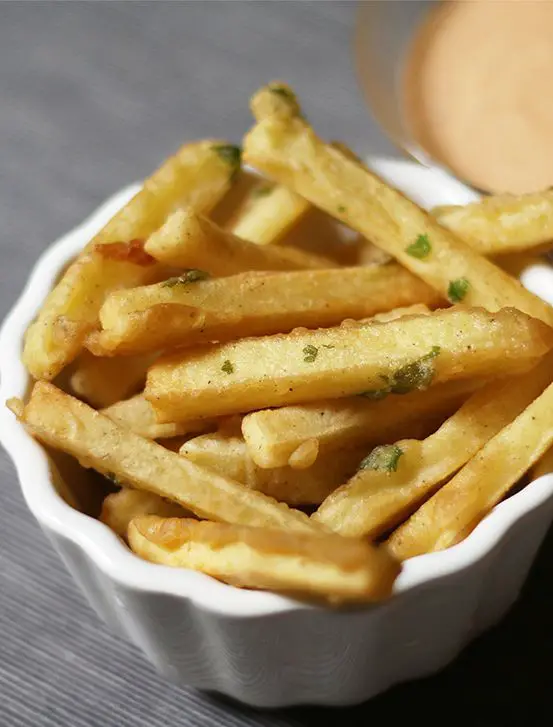 You may also like my other Starters posts and recipes like Street Style Chicken Pakoda, Seppankizhangu Roast / Arbi Roast, Paneer 65, Baby Corn Fries, Crispy Baked Potato Fries, Vegetable Cutlets / Patties, Chicken 65 .