Dry Fruit Balls (Healthy Snack #6)
Healthy and Delicious Dry Fruit Balls Recipe!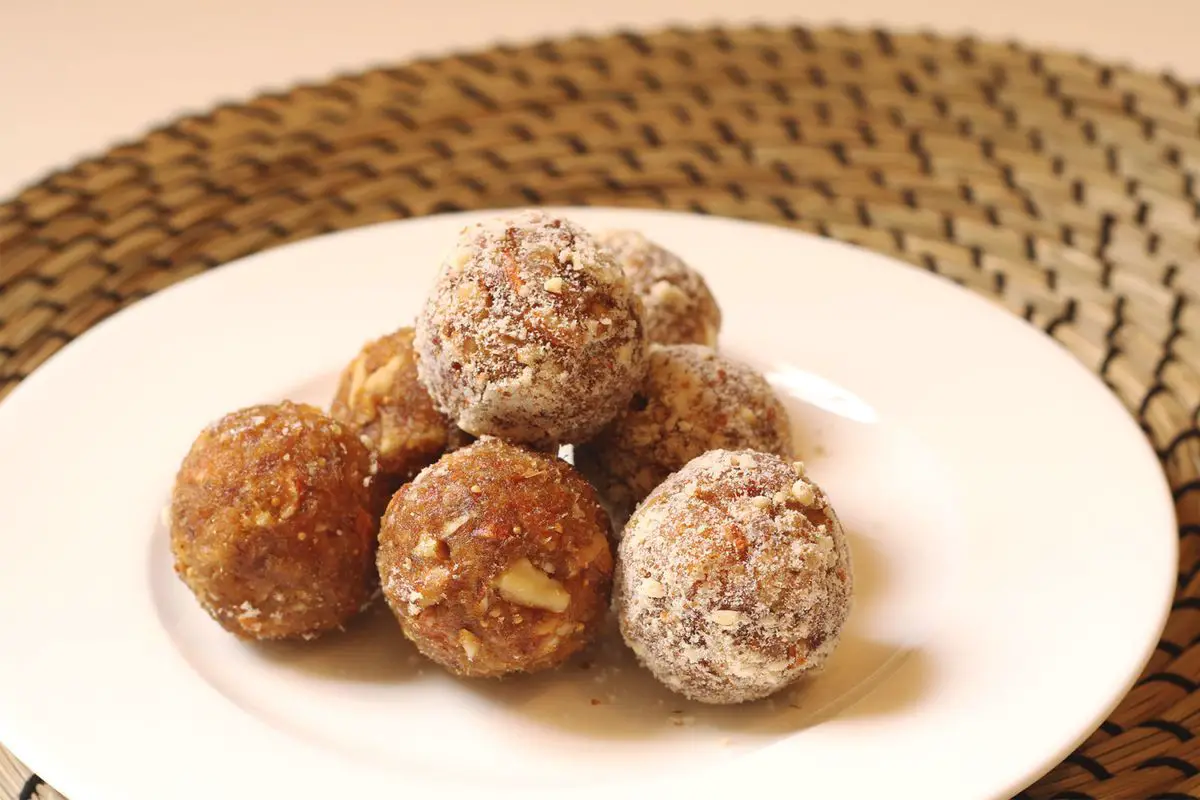 Healthy and Delicious Dry Fruit Balls Recipe
Introduction: Dry fruit balls are not only easy to prepare but also packed with nutrients that are essential for our body. In this blog, we will be discussing the benefits of each ingredient used in this recipe, how to make perfect dry fruit balls, and why it's a great snack for kids and guests alike.
Health Benefits: Dates and figs are considered to be one of the best treatments for anemia as they are high in iron. They are also fibrous foods that aid in digestion. Walnuts and almonds, on the other hand, are considered brain foods due to their high omega-3 fatty acid content. By combining these ingredients, you can create a sweet and healthy snack that will provide a variety of health benefits.
Why Kids and Guests will love it: While most kids tend to refuse eating dry fruits, serving them as sweet balls makes it more appealing. Not only is it a healthy snack, but it's also delicious! Instead of serving store-bought snacks to your guests, why not impress them with these homemade healthy treats?
Tips for making perfect dry fruit balls: To make the perfect dry fruit balls, start by toasting the nuts in the oven or microwave until they are fragrant. If you don't have almond powder, you can easily make it at home by blanching almonds and removing the skin. Make sure the almonds are completely dry before processing to avoid them turning into butter.
Conclusion: In conclusion, dry fruit balls are a simple, healthy, and delicious snack that you can prepare in no time. By combining dates, figs, walnuts, and almonds, you can create a snack that is packed with nutrients and can benefit your body in many ways. So, give it a try and share your thoughts in the comments section!
You may also like my other recipes such as Dark Chocolate Nut Balls, Chocolate Chip Cookies and Fruit and Nut Chocolate Bars.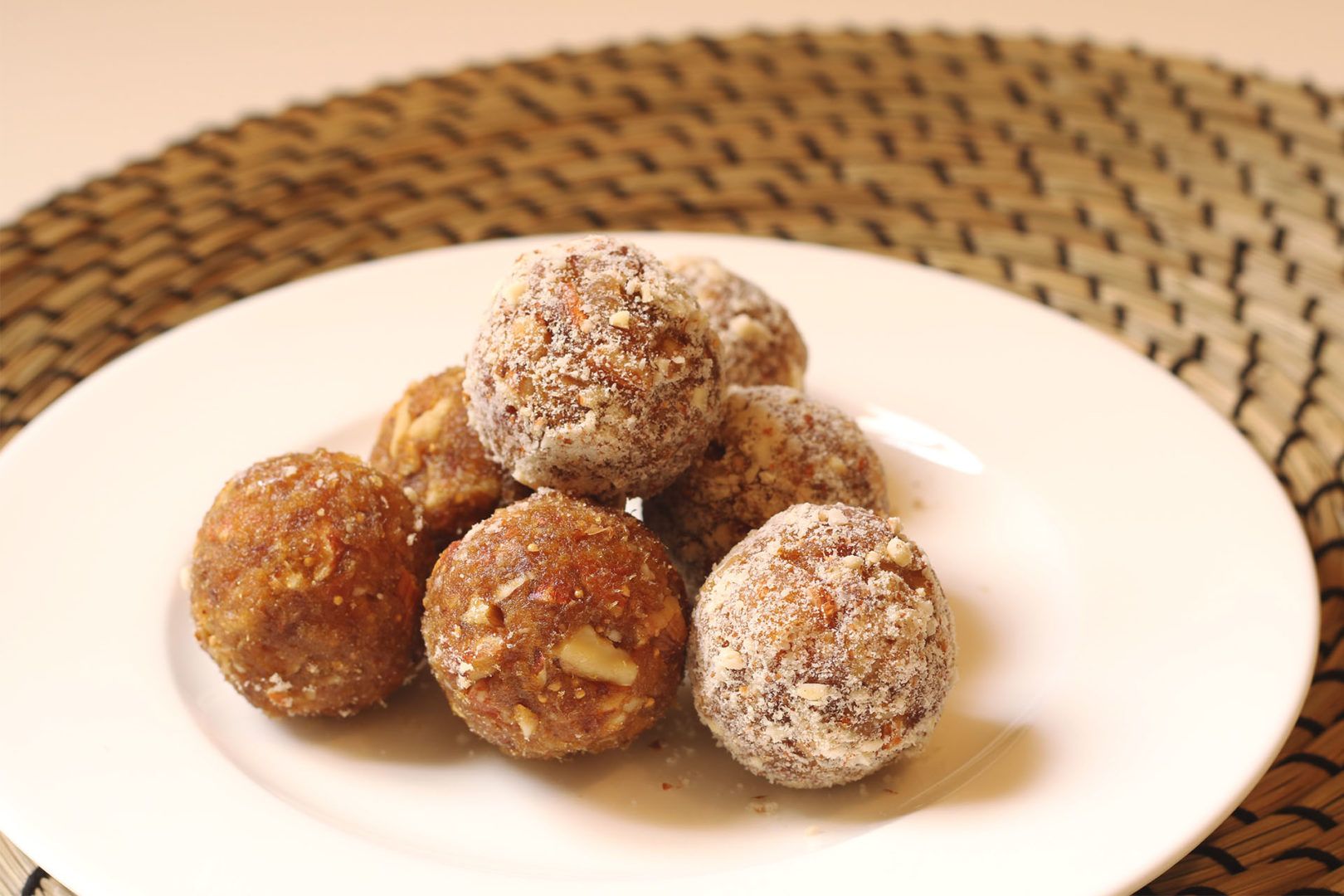 Dry Fruit Balls (Healthy Snack) 2017-04-02 07:41:09
Dry Fruit Balls (Healthy Snack #6)
Serves 5
Prep Time: 00:13
Cook Time: 00:02
Total Time: 00:15
Ingredients
1/2 cup, chopped Pitted dates
1/4 cup, chopped Dried fig
1/4 cup, chopped Dried apricot
As needed Honey
1/4 cup Walnuts
1/4 cup Almonds
30 grams (1/4 cup) Powdered almond
Instructions
Toast the nuts in microwave on high for about 1 to 2 mins until nice aroma comes.
Then chop them roughly.
Place the chopped dates, figs, apricots, walnuts and almonds in food processor and pulse until finely minced.
Then add honey to bind the ingredients together.
Then shape the mixture into small sized balls by using the palms of your hands.
Finally roll the balls in the powdered almond and keep it in the air tight container and store it in refrigerator.
Healthy dry fruit balls are ready to eat.
By Santhi Therese
The Indian Claypot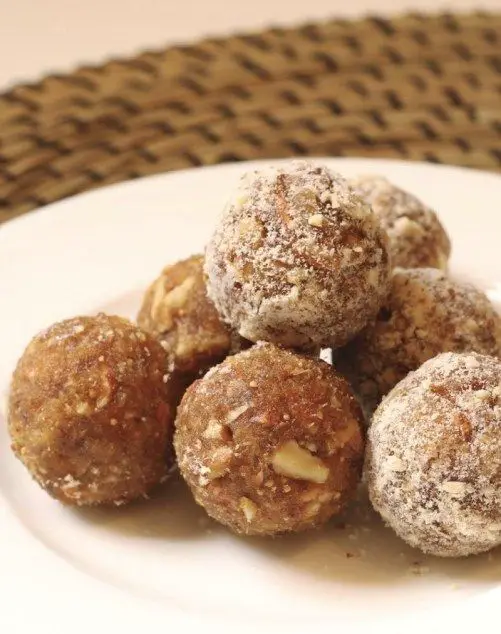 You may also like my other Healthy Snacks posts and recipes like Easy Bruschetta Recipe, Sweet Paniyaram with Idli / Dosa Batter, Oats Chocolate Brownie Recipe, Ragi Aval Sweet Kozhukattai, Instant Wheat Flour Sweet Appam, Mysore Bonda Recipe, Pottukadalai / Fried Gram Murukku Recipe, Wheat Butter Cookies, Fried Gram / Pottu Kadalai Urundai, Baked Chakli/Murukku, Green Gram Payasam/Kheer, Black Gram Laddu, Moong Dal Susiyam, Banana Oatmeal Cookies, Microwave Chocolate Mug Cakes, Homemade Peanut Butter, Vazhaipoo Vadai, Eggless Raspberry Pudding, Raspberry Bread, Coconut Sweet Bun .