Eggless Blueberry Muffins
Looking for a delicious and healthy breakfast option? Give Eggless Blueberry Muffins a try!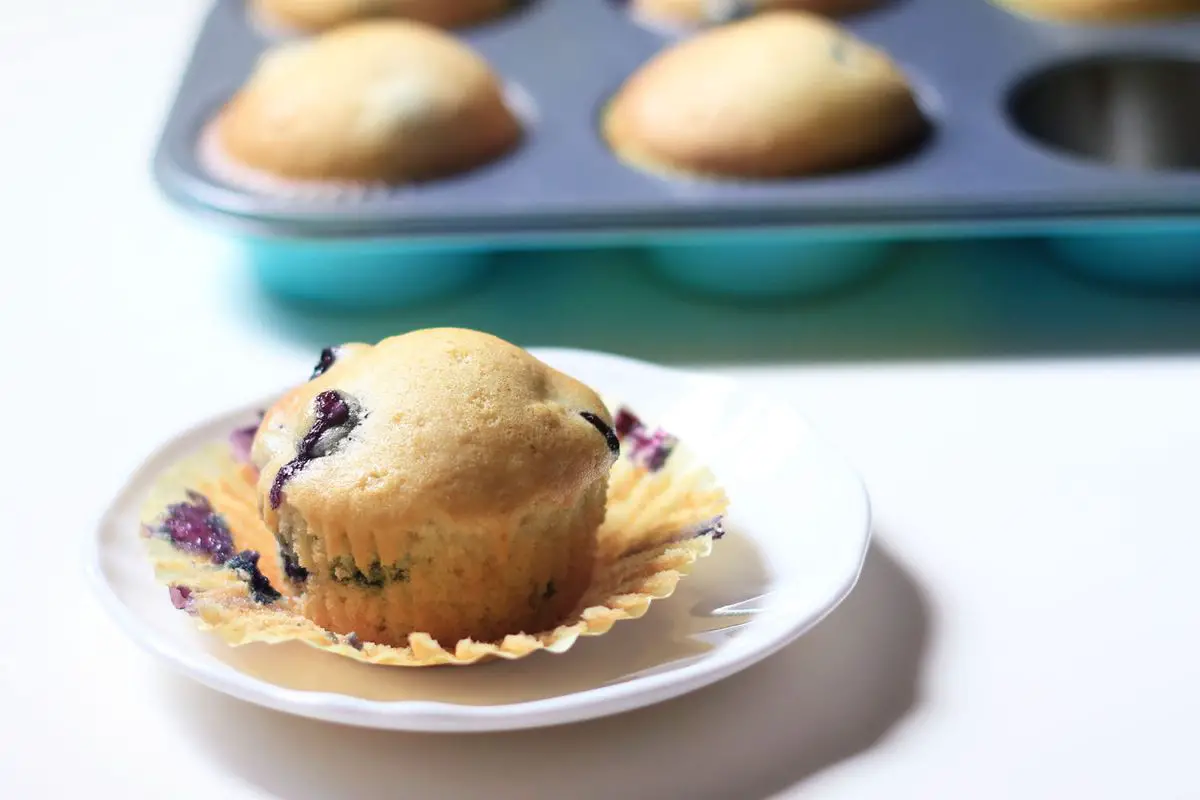 Looking for a delicious and healthy breakfast option? Give Eggless Blueberry Muffins a try! These muffins are a personal favorite of mine, and I'm sure you'll fall in love with them too.
What's great about this recipe is that it's very easy to prepare. I've swapped out butter for oil and hot milk, which makes the muffins moist and tender. Simply mix the dry ingredients in one bowl, the wet ingredients in another, and then combine the two.
If you're using fresh berries, be sure to fold them into the flour mixture gently to prevent them from breaking down and staining the batter blue. And if you're using frozen berries, don't thaw them before using them in the recipe.
If you want to add a little extra flavor, try adding a teaspoon of grated lemon or orange zest to the batter for a citrusy kick.
Give these eggless blueberry muffins a try and let us know what you think in the comments!
You may also like my other healthy breakfast recipes such as Eggless Blueberry Pancakes, Healthy Bread Pizza, Mixed Berries Chia Seeds Smoothie, Whole Wheat Pancakes, Aloo Gobi Paratha, Shakshuka, Grilled Chicken Burger, Turkey Frittata, Blueberry Bread Pudding Muffins, Apple Sauce Recipe etc.
Eggless Blueberry Muffins 2018-07-16 03:00:42
Eggless Blueberry Muffins
Serves 6
Prep Time: 00:10
Cook Time: 00:20
Total Time: 00:30
Ingredients
135 grams all-purpose flour
1/2 tsp baking powder
1/4 tsp baking soda
1/4 tsp salt
1 teaspoon cornflour
1/2 cup fresh blueberries
1/2 cup (120ml) hot milk
1/4 cup (60ml) olive oil
1/2 cup (100 grams) sugar
1/2 tsp vanilla essence
Instructions
Preheat your oven to 180 degree C and then line paper cups on a muffin tray.
Firstly, wash the blueberries properly and then pat dry it by using kitchen tissue.
Take one table spoon of flour in a small bowl and add blueberries to coat them properly and set aside for further use.
In a wide bowl, add olive oil and sugar and stir well.
Then add hot milk and vanilla essence and stir it well until well combined and keep it aside.
In a separate bowl, combine all purpose flour, cornflour, baking powder, baking soda and salt, mix well until combined.
Add liquid mixture to dry mixture and mix well and be sure that there are no lumps.
Then add the flour coated blueberries to the batter and fold gently.
By using spoon or ice cream scoop, fill the muffin cups with batter evenly.
Then place it on the center rack of the oven and bake for about 15 to 20 mins or until a toothpick inserted in the center of a muffin comes out clean.
Then transfer to a wire rack and let cool for about 10 mins before removing from the pan.
Healthy Eggless Blueberry Muffins are ready to serve! Enjoy!
By Santhi Therese
The Indian Claypot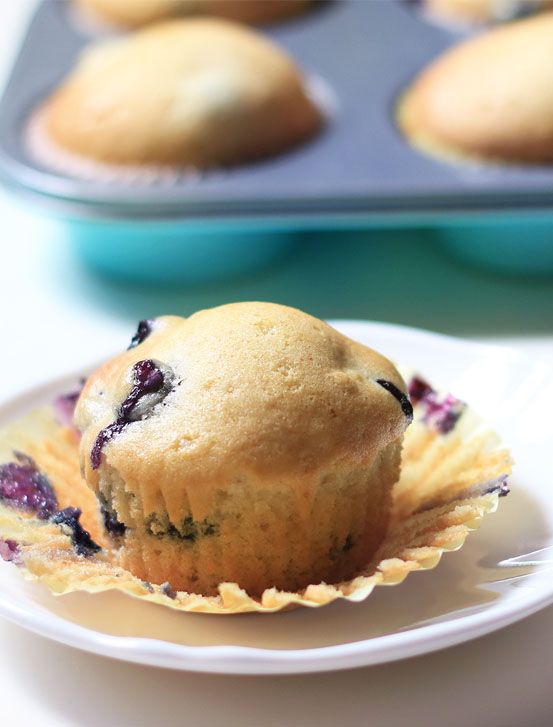 You may also like my other Healthy Breakfast posts and recipes like Appam Recipe, Thinai Sakkarai Pongal /Foxtail Millet Sweet Pongal, Healthy Breakfast Recipe, Kara Kuzhi Paniyaram with Idli/Dosa Batter, Oats Chocolate Brownie Recipe, Healthy Aval/Poha/Red Rice Flakes Breakfast Recipe, Ragi Aval Sweet Kozhukattai, Ragi Paal Kozhukattai, How To Make Soft Layered Chapati, Soft and Chewy Granola Bars, Vendhaya Kali, Strawberry Apple Smoothie, Pasi Payaru Aval Pongal, Homemade Granola Recipe, Moringa Adai Dosa Recipe, Ragi Puttu, Green Gram Payasam/Kheer, Whole Wheat Bread Recipe, Kavuni Arisi Sweet, Banana Oatmeal Cookies .