Fruit and Nut Chocolate Bars
Looking for a healthy and tasty homemade breakfast recipe or snack for your kids? Fruit Nut Chocolate Bars are the perfect solution!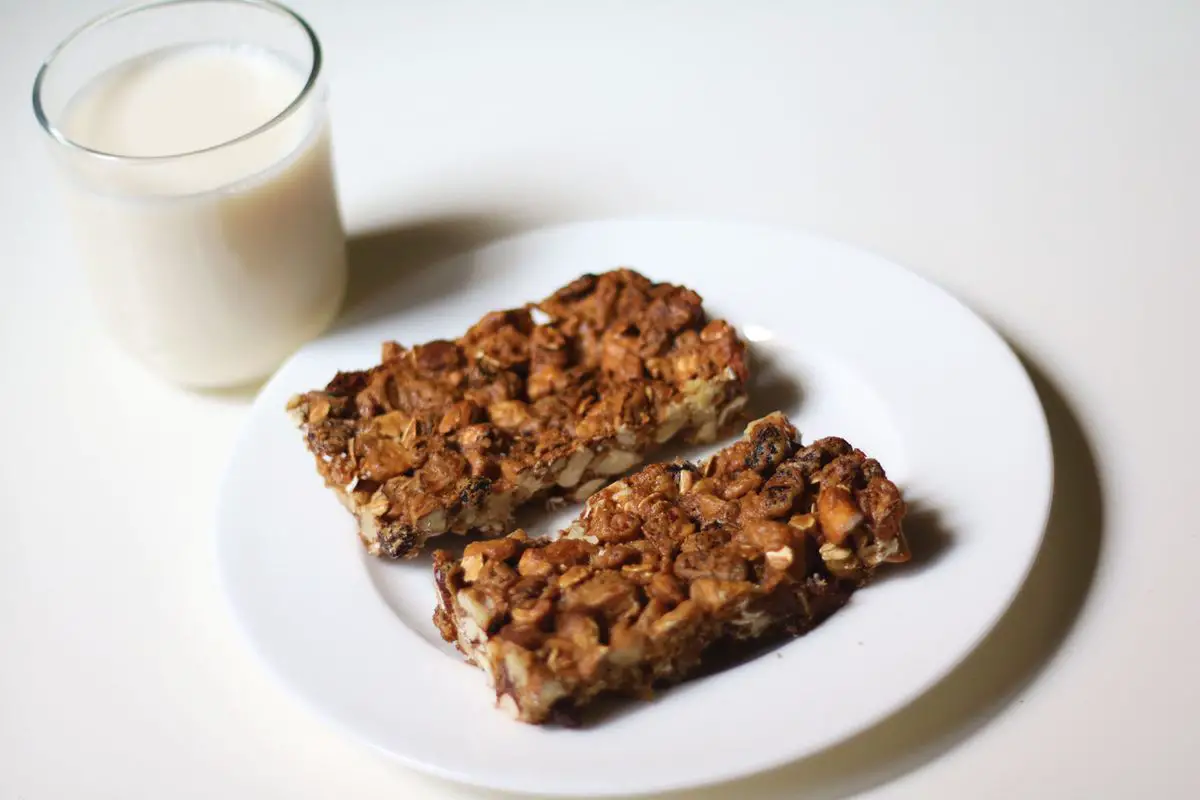 Healthy and Delicious Fruit Nut Chocolate Bars Recipe for Breakfast or Snack
Introduction: Looking for a healthy and tasty homemade breakfast recipe or snack for your kids? Fruit Nut Chocolate Bars are the perfect solution! Not only are they packed with nutritious ingredients, but they also provide a sweet treat for your taste buds. So why not give this recipe a try and see how much your family loves it?
Why it's good for you: This recipe is a great way to start your day or provide a healthy snack for your kids. Rolled oats are a good source of fiber, which can help keep you feeling full and satisfied throughout the morning. Dried fruits and nuts add natural sweetness and protein, while dark chocolate chips provide a tasty indulgence. Plus, making your own bars at home means you can control the ingredients and avoid added sugars or preservatives.
Conclusion: Fruit Nut Chocolate Bars are a healthy and delicious recipe that you can make at home for breakfast or snack time. By following these simple instructions and using high-quality ingredients, you can create a dish that's packed with nutrition and flavor. Plus, you can customize the recipe to your own tastes by using different types of dried fruits or nuts. So why not give it a try and let us know what you think in the comments below!
.
You may also like my other dry fruits recipes such as Fruit and Nut Balls, Roasted peanuts, Masala peanuts and Dark Chocolate Nut Balls.
Fruit Nut Chocolate Bars 2017-08-05 05:01:13
Fruit and Nut Chocolate Bars
Serves 10
Prep Time: 00:20
Cook Time: 00:40
Total Time: 01:00
Ingredients
1&1/2 cups (175 g) Chopped Nuts
1 cup (140 g) Dried Cherries, Cranberries, Raisins
1 cup Chopped Dates, Figs and Apricots
1/4 cup Rolled Oats
1/3 cup Chocolate Chips
1/3 cup All Purpose Flour
1/8 tsp Baking Soda
1/4 tsp Salt
1/3 cup (65 g) Light Brown Sugar
1 large egg at room temperature Egg
1/2 tsp Vanilla Essence
Instructions
Preheat oven to 160 degrees C. Then line 8 inch square baking pan with foil which covers over the edges.
In a large bowl, mix the chopped nuts, dried fruits, chopped dates and other fruits, chocolate chips and oats until combined.
Then add flour, baking soda, salt and brown sugar, stir until all the fruits and nuts are completely coated.
In a separate bowl, beat the egg and add vanilla essence by using a hand mixer until light colored and foamy.
Then add this egg mixture to the fruit and nut mixture and mix till they are well coated.
Then evenly spread this mixture into the prepared pan and press them firmly.
Bake it for about 35 to 40 mins or until it becomes golden brown and is just starting to pull away from the sides of the pan.
Then remove from the oven and place it on the wired rack to cool.
Cut it into rectangular shapes by using a sharp knife. Lift the bars from the pan by using the edges of the foil.
You can also store the fruit nut chocolate bars in an airtight container in your refrigerator for several days.
By Santhi Therese
The Indian Claypot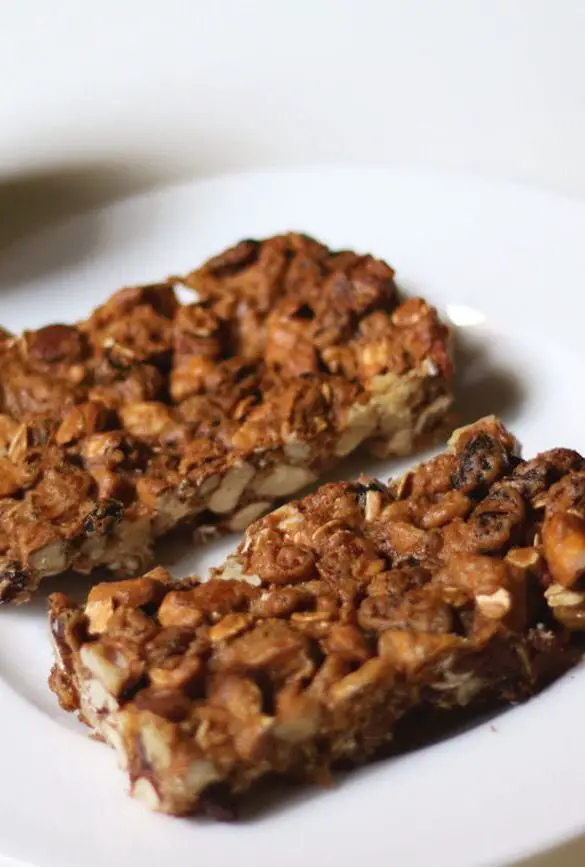 You may also like my other Healthy Breakfast posts and recipes like Appam Recipe, Thinai Sakkarai Pongal /Foxtail Millet Sweet Pongal, Healthy Breakfast Recipe, Kara Kuzhi Paniyaram with Idli/Dosa Batter, Oats Chocolate Brownie Recipe, Healthy Aval/Poha/Red Rice Flakes Breakfast Recipe, Ragi Aval Sweet Kozhukattai, Ragi Paal Kozhukattai, How To Make Soft Layered Chapati, Soft and Chewy Granola Bars, Vendhaya Kali, Strawberry Apple Smoothie, Pasi Payaru Aval Pongal, Homemade Granola Recipe, Moringa Adai Dosa Recipe, Ragi Puttu, Green Gram Payasam/Kheer, Whole Wheat Bread Recipe, Kavuni Arisi Sweet, Banana Oatmeal Cookies .