Fruit Popsicles
Summer is here and it's time for some cool, colorful treats! We've got just the thing for your kids - fruit popsicles.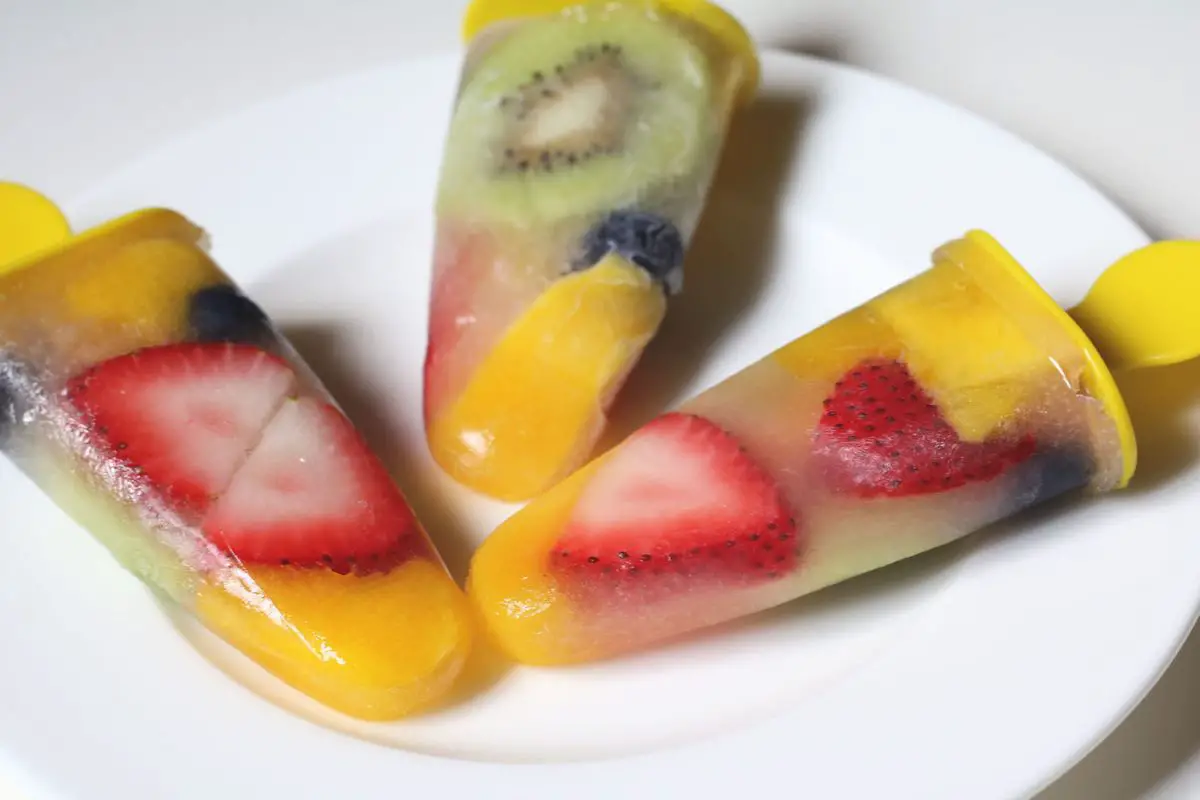 Make Colorful Fruit Popsicles with Lemonade!
Summer is here and it's time for some cool, colorful treats! We've got just the thing for your kids - fruit popsicles that are not only visually stunning but also made from lemonade, a summertime favorite! These popsicles are delicious and nutritious, so you don't have to feel guilty about indulging in them. So, let's get started and make these tasty treats before summer comes to an end.
Making fruit popsicles is easy and fun. Here are a few suggestions that will help you make the perfect popsicles:
Add any fruits you like: You can use any fruit you like to make these popsicles. Whether it's strawberries, kiwis, blueberries, or pineapples, the options are endless.
Use honey instead of sugar syrup: If you want to make sugar-free popsicles, replace the sugar syrup with 2 to 3 tablespoons of honey. It will add a touch of sweetness without the added sugar.
Release the popsicles from the mold: To release the popsicles from the mold, soak the mold for a few seconds in a cup of hot water or run the molds under warm water for 10 to 15 seconds. Then, slowly and carefully remove each popsicle. If the popsicle remains in the mold, run it under warm water for a few more seconds.
Now that you have some tips, let's get started on making these colorful and delicious fruit popsicles. Your kids will love them, and they're perfect for hot summer days. Don't forget to share your comments and let us know what you think!
You may also like Strawberry Smoothie Pops and Kulfi Ice cream.
Fruit Popsicles 2017-05-10 05:41:45
Fruit Popsicles
Serves 6
Prep Time: 06:10
Total Time: 06:10
Ingredients
2 Kiwis
6 Strawberries
1/4 cup Blueberries
1/4 cup Mango Slices
1 medium sized Lemon
1&1/2 cup Water
1/4 cup Sugar
Instructions
Peel and slice kiwis. Then slice the strawberries into thirds.
Meanwhile, heat a small pan with 1/2 cup water and 1/4 cup sugar over medium heat.
When water starts to boil, bring the heat to low and boil it for 3 mins, stir well.
When the syrup becomes slightly thick and the sugar completely dissolves, switch off the heat and cool it down completely.
Meanwhile, cut and squeeze the lemon into a bowl.
Then add the remaining 1 cup of water and the sugar syrup, mix it well until incorporated.
Also, press the strawberry, mango and kiwi slices into the bottom of each mold.
Then add blueberries to fill the gap.
Finally, fill the molds with lemon juice, leave some space at the top, because the juice will expand when it freezes.
Freeze it for 6 hours or until set.
Now tasty fruit popsicles are ready to serve. Enjoy!
By Santhi Therese
The Indian Claypot
You may also like my other Ice Cream posts and recipes like Mixed Berry Fruit Popsicles, Strawberry Sorbet, Strawberry Creamsicles, Blueberry Cheesecake Ice Cream, Falooda Dessert Recipe, Creamy Blackberry Ice Cream, Kulfi Ice cream, Dark Chocolate Ice Cream, Strawberry Smoothie Pops, Mango Ice Cream, Easy Strawberry Ice Cream .