Dry Gobi Manchurian (Cauliflower)
Are you looking for a vegetarian starter that is loved by most Indians? Look no further than Gobi Manchurian!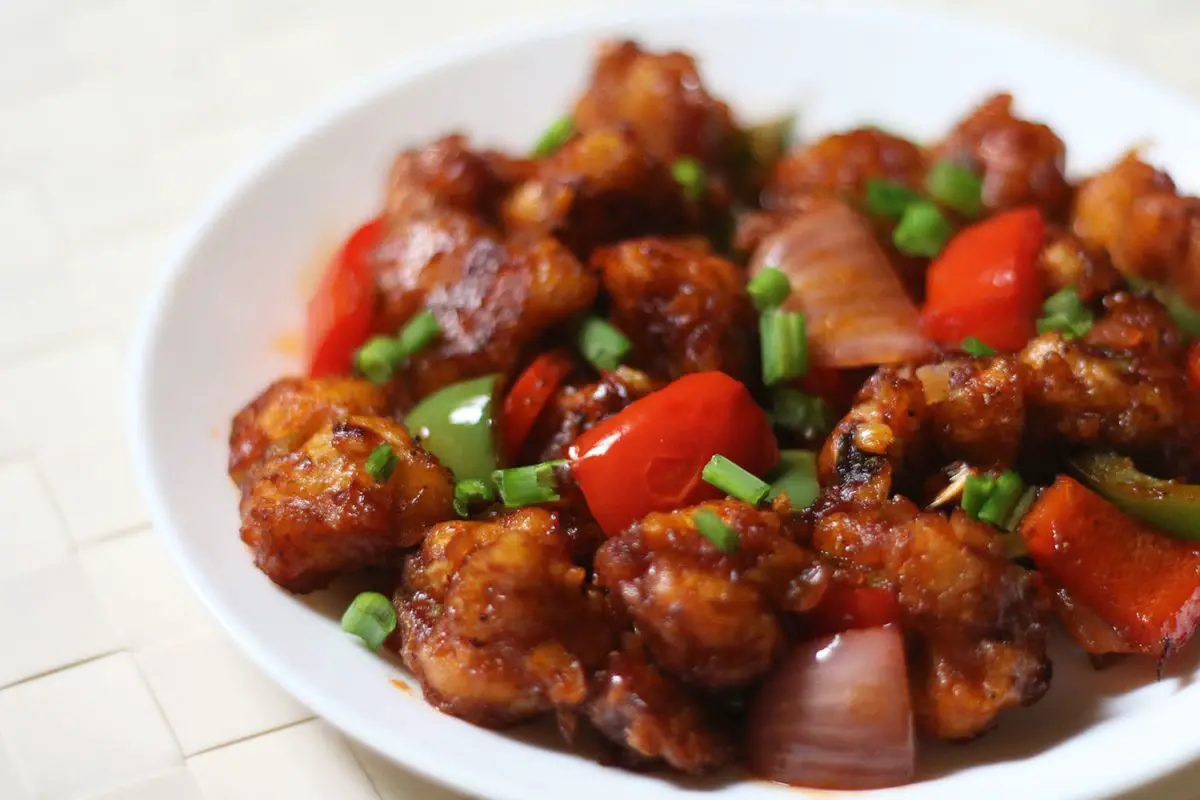 Delicious Gobi Manchurian Recipe with Healthy Tips
Are you looking for a vegetarian starter that is loved by most Indians? Look no further than Gobi Manchurian! Made with cauliflower florets, this dish is not only delicious but also healthy.
In this recipe, the batter is made with whole wheat flour instead of all-purpose flour for a healthier option. To make perfect Manchurian, make sure that the batter coats the florets evenly. You can also choose to shallow fry the florets instead of deep frying them.
For a restaurant-style taste, you can add a pinch of Ajinomoto to the dish. However, Ajinomoto is considered unhealthy, so it is recommended to avoid it. You can also add a few drops of food color to the batter if you prefer a brighter color.
Gobi Manchurian can be served as a starter or appetizer and goes well with fried rice or noodles. To make your meal complete, check out our Egg Fried Rice and Prawn Fried Rice recipes on our blog.
Finally, remember to serve the Manchurian immediately after preparing it as it may become soggy if left for too long. Don't forget to stir-fry the diced onions and capsicums over high heat until half cooked and crunchy for an added burst of flavor and texture.
Try this Gobi Manchurian recipe today and share your comments with us!
You may also like Paneer Manchurian.
Dry Gobi Manchurian (Cauliflower) 2017-03-05 09:09:58
Dry Gobi Manchurian (Cauliflower)
Serves 3
Prep Time: 00:10
Cook Time: 00:30
Total Time: 00:40
Ingredients
150g cauliflower
2 cups water
1 tsp salt
3 tbsp corn flour
1&1/2 tbsp all purpose flour
1/2 tbsp rice flour
1 tsp ginger and garlic paste
1/4 tsp black pepper powder
1/2 tsp or to taste salt
1/3 cup water
to deep fry oil
1 tbsp finely chopped garlic
100 grams finely chopped onion
2 tbsp finely chopped spring onion
1/2 diced red and green capsicums
1/2 diced onion
1 tsp white vinegar
4 tbsp tomato ketchup
1 tsp chili and garlic sauce
1 tbsp light soy sauce
pinch of salt
2 tbsp oil
2 tbsp finely chopped spring onion
Instructions
Boil cauliflower florets in salted water over medium heat for 3 to 4 mins.
Then drain the water and pat dry florets with a kitchen towel.
Meanwhile, in a bowl, mix all the ingredients given under 'for batter' and mix until well combined.
Make sure that batter is not too thick or not too thin. Then add all florets in the batter and mix well.
For perfect Manchurian, the batter should coat florets evenly.
Meanwhile, heat the oil in a frying pan over medium heat, drop florets in batches (6 to 8) in oil and fry until they turn golden brown.
Drain and then transfer the fried florets over kitchen tissues to observe excess oil.
Deep fry remaining florets also and keep it aside.
Heat 2 tbsp of oil in a wide pan, add chopped garlic, fry until they become golden brown.
Add finely chopped onions and spring onions, stir-fry for 1 minute or until transparent.
Then add diced capsicums and onions and saute until half cooked but still they are crunchy.
Pour soy sauce, vinegar, chili and garlic sauce, tomato ketchup and salt, give a quick stir.
Then add fried florets and saute well over high heat for a minute or until the sauce well coated with florets.
Finally, garnish it with spring onion and serve gobi manchurian with tomato ketchup.
By Santhi Therese
The Indian Claypot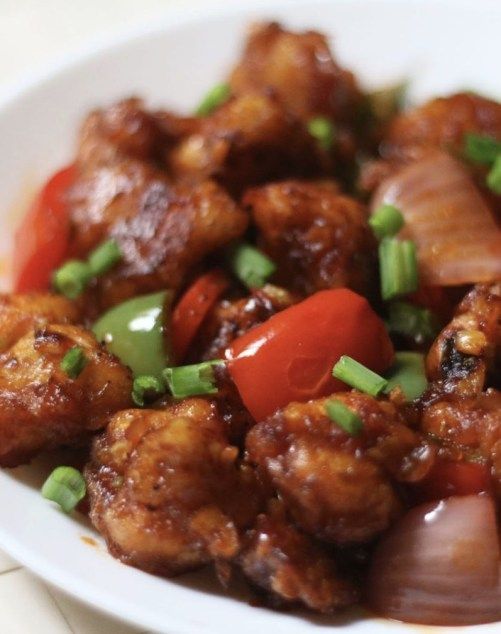 You may also like my other Indo-Chinese Cuisine posts and recipes like Schezwan Chicken, Tofu Manchurian, Veg. Schezwan Noodles, Chicken Schezwan Noodles, Veg Fried Rice, Chicken Hakka Noodles, Sweet and Sour Pineapple Chicken, Schezwan Sauce Recipe, Paneer Manchurian Dry, Veg. Hakka Noodles, Easy Cashew Chicken, Honey Glazed Chicken, Prawn Fried Rice, Orange Chicken .