Green Apple Streusel Cake
Indulge in the mouthwatering goodness of a Green Apple Streusel Cake!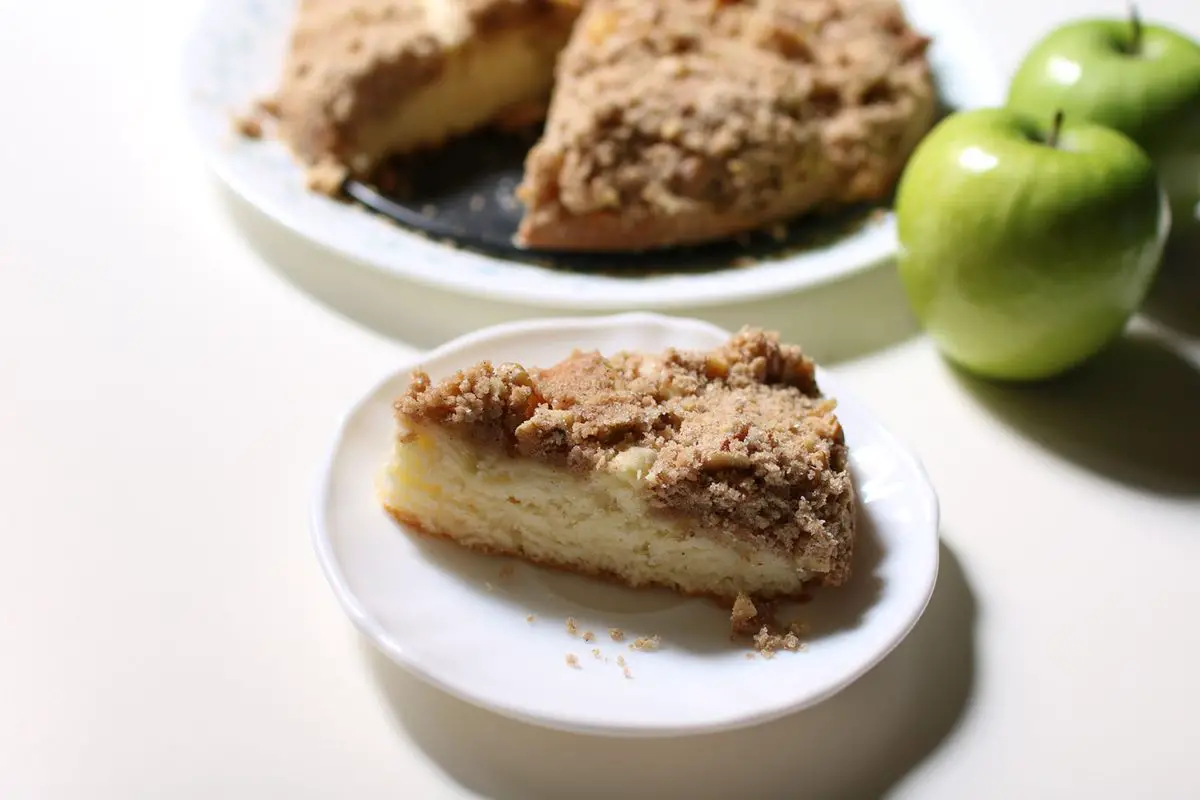 Indulge in the mouthwatering goodness of a Green Apple Streusel Cake! This delectable coffee cake combines the light and buttery texture of cake with juicy slices of green apples and a crisp streusel topping. Who says you can't have your cake and eat it too?
We all know the saying, "An apple a day keeps the doctor away," but getting our kids to actually eat apples can be a challenge. That's why I've come up with a solution that's not only nutritious but also incredibly delicious.
This Green Apple Streusel Cake is the perfect way to enjoy the sweet taste of apples in a fun and indulgent way. The crisp streusel topping adds a delightful crunch that pairs perfectly with the soft and fluffy cake. Your kids will love it!
So go ahead, give this recipe a try, and let me know what you think. Your taste buds (and your kids) will thank you!
You may also like my other coffee cake recipes like Lemon Yogurt Cake, Orange Cake, Pound Cake and Blackberry and walnut Cake.
Furthermore, I would like to give some of my suggestions for making delicious green apple streusel cake. Firstly, In this recipe I used Granny Smith green apples. Wash, peel core and then cut into thin 1/8 inch slices. Then, to toast the walnuts, place them on a baking sheet and place in a 180 degrees oven for about 8 minutes or until fragrant. Let cool and then chop them coarsely.
Then, use cold unsalted butter for a streusel topping. Finally, I used tart flavored Granny Smith apples in this recipe. But you can also use any firm textured apples to make this cake.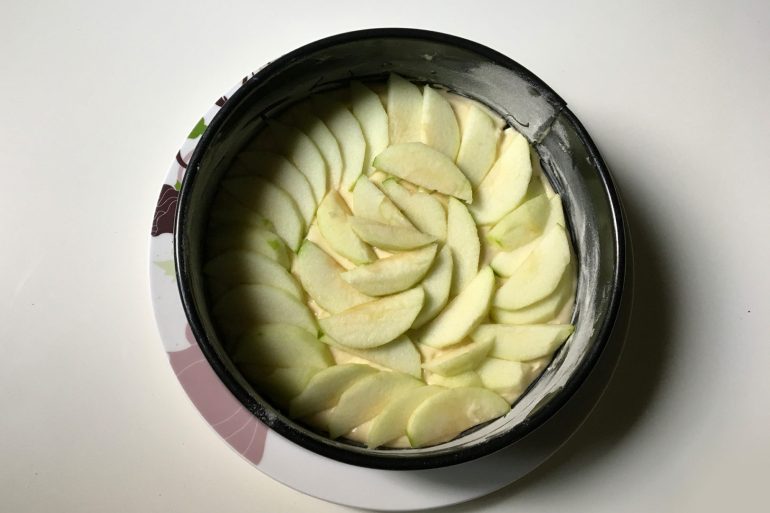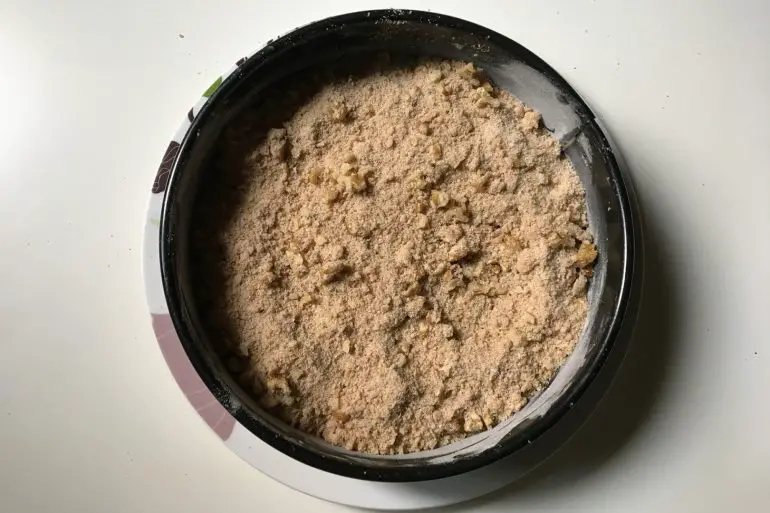 Green Apple Streusel Cake  2018-04-06 06:36:10
Green Apple Streusel Cake
Serves 6
Prep Time: 00:20
Cook Time: 00:50
Total Time: 01:10
Ingredients
130g all purpose flour
1 tsp baking powder
1/4 tsp salt
1/4 cup (55g) unsalted butter
1/2 cup (100g) sugar
1 large egg
1/2 tsp vanilla essence
1/3 cup (80 ml) milk
2 green apples
1/2 cup (65g) all purpose flour
1/4 cup sugar
3/4 tsp ground cinnamon
1/8 tsp salt
40 grams unsalted butter
1/2 cup toasted and coarsely chopped walnuts
Instructions
Preheat your oven to 180 degrees C.
Then butter and flour an 8 inch spring form pan.
In a wide bowl, mix together the flour, sugar, cinnamon powder and salt, until combined.
Then cut the cold butter into the flour mixture with the fork until it resembles coarse crumbs.
Then add the chopped nuts and mix well.
Keep this mixture in the refrigerator until you make the cake batter.
In a wide bowl, whisk together the flour, baking powder and salt until combined.
In the bowl of your electric stand mixer, with the paddle attachment or with a hand mixer, beat the butter until smooth and creamy.
Add the sugar and beat until light and fluffy.
Then add the egg and vanilla essence and beat until incorporated.
Now add the flour mixture (in three additions), alternately with the milk (in two additions) and beat until just combined.
Spread the batter onto the bottom of your prepared pan, smoothing the top by using the back of the spoon.
Evenly arrange the apple slices on top of the batter as shown in the picture.
Then spread the streusel toppings over the apple slices.
Place the pan in the preheated oven and bake it for about 45 to 50 mins or until a toothpick inserted in the center of the cake comes out clean.
Remove from the oven and place on a wire rack to cool slightly.
By Santhi Therese
The Indian Claypot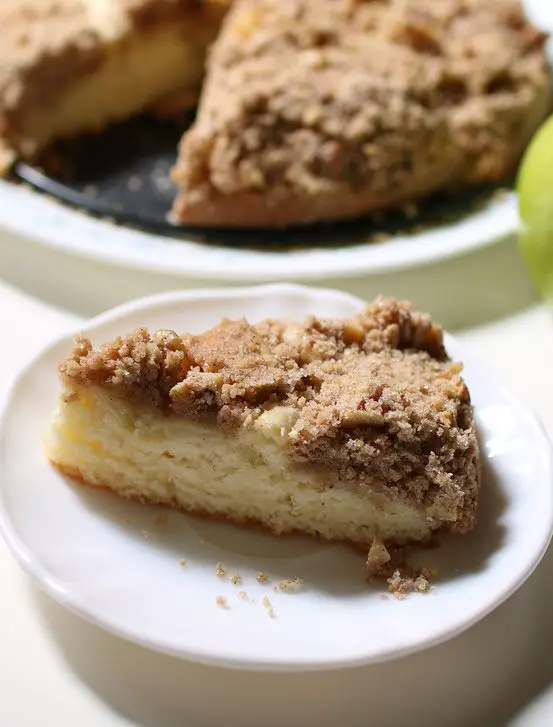 You may also like my other Christmas Cakes posts and recipes like Eggless Hot Cross Buns, Eggless Donut Recipe, Eggless Chocolate Cake Recipe, Eggless Ragi Chocolate Cake, Eggless Rava Cake, Eggless Banana Chocolate Cake, Eggless Strawberry Sauce Cake, Eggless Chocolate Cupcakes, Eggless Strawberry Cake, Eggless Apple Cake, Eggless Carrot Cake, Microwave Chocolate Mug Cakes, Eggless Orange Cake, Eggless Chocolate Marble Cake, Strawberry Streusel Coffee Cake, Christmas Plum Cake, Meringue Cookies, Strawberry Fruit Fool, Red Velvet Cupcakes with Cream Cheese, Chocolate Cake with Ganache .