Green Chili Chicken
Elevating Flavorful Traditions: Homemade Fresh Turmeric Green Chili Chicken!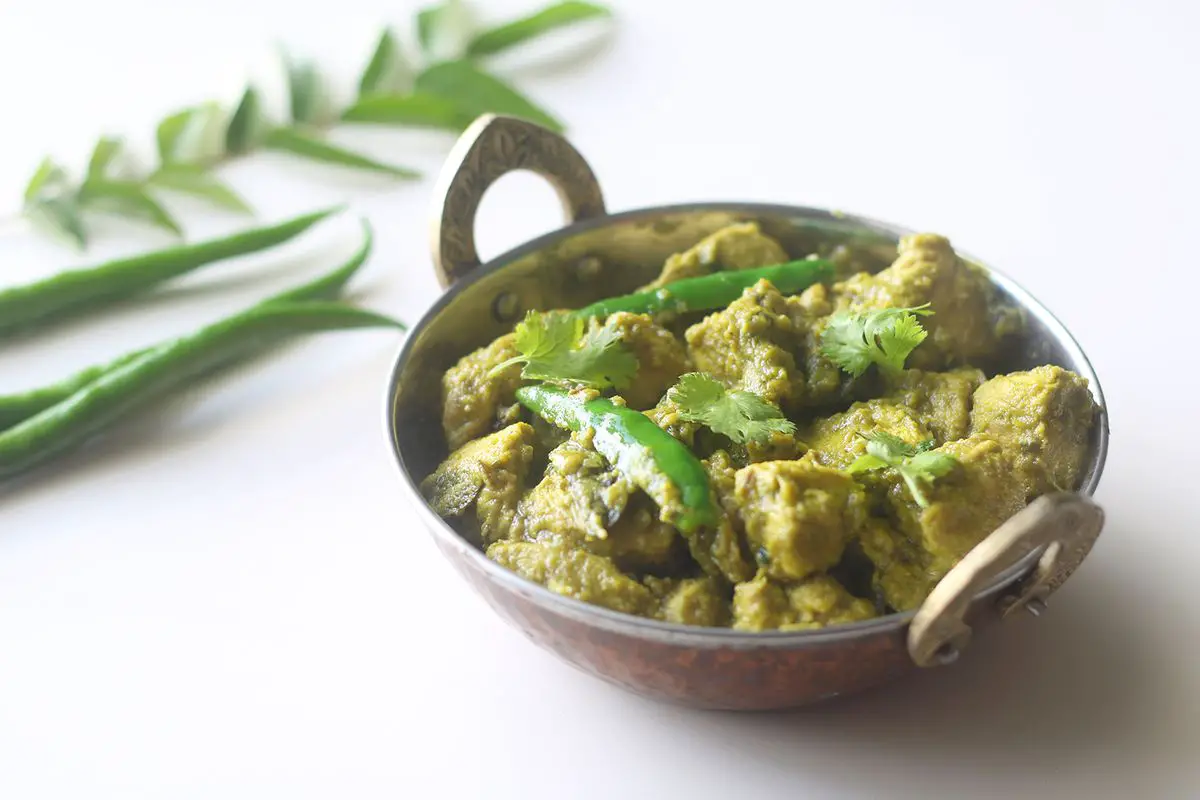 Elevating Flavorful Traditions: Homemade Fresh Turmeric Green Chili Chicken
A trip to an Andhra Restaurant in Bangalore ignited my culinary curiosity when my husband consistently ordered the fiery delight known as green chili chicken. The dish's explosive spiciness, heightened by an abundance of green chilies, left a lasting impression. Driven by a desire to surprise my husband and infuse a personal touch, I embarked on a journey to recreate this classic dish at home – with a twist that would not only tantalize the taste buds but also contribute to a healthier dining experience. Allow me to introduce you to my culinary experiment that marries tradition and innovation – Fresh Turmeric Green Chili Chicken. Join me in exploring a dish that's not only flavorful but also boasts a range of health benefits. After you've given it a shot, don't forget to share your culinary escapade in the comments below!
Honoring Tradition, Infusing Innovation: Fresh Turmeric Green Chili Chicken
The Green Chili Chicken, known for its fiery personality, has become a staple in many households. However, I've taken it upon myself to re-imagine this classic dish, not just to surprise my husband, but also to add my personal touch. In my version, I've introduced the aromatic magic of fresh herbs – think vibrant coriander leaves, zesty ginger, and the subtle sweetness of shallots. But the real game-changer is the incorporation of fresh turmeric, adding not only a brilliant hue but also a depth of flavor that elevates the dish to a whole new level.
The Flavorful Twist: Marination and Cooking Technique
To breathe new life into this classic, I began by marinating tender chicken pieces in a ground paste that featured an ensemble of flavorful ingredients. Coriander leaves lent their aromatic charm, while fresh turmeric brought a burst of color and taste. Ginger's zing and the mellow notes of shallots played their part in enhancing the dish's complexity.
When it came time to cook, a light stir-fry in olive oil was my technique of choice. Not only does this choice contribute to a healthier outcome, but it also imparts a fresh and vibrant quality to the dish – a nod to the modern palate.
Fresh Turmeric: The Game-Changer
One of the stars of this culinary spectacle is fresh turmeric, infusing the Green Chili Chicken with a dynamic flavor profile. Beyond taste, this vibrant root boasts an array of health benefits, making it a welcome addition to the dish. The result is a tantalizing symphony of flavors that's not only a feast for the senses but also a boon for your well-being.
Unleash Your Inner Chef: Try Fresh Turmeric Green Chili Chicken
With a newfound appreciation for traditional dishes and an inclination for innovation, I invite you to join me in crafting Fresh Turmeric Green Chili Chicken in your very own kitchen. Let the aromas dance and the flavors intertwine as you embark on this culinary journey. Your experience matters, and I can't wait to hear all about it in the comments below. Whether you stick to the script or add your unique flair, your culinary tale is a treasure, and I can't wait to celebrate it with you.
In Conclusion
As we conclude our exploration of Fresh Turmeric Green Chili Chicken, I encourage you to embrace the beauty of traditions while infusing them with your personal touch. This dish is a testament to the evolving nature of cuisine – where classics meet innovation and taste meets health. Don't hold back; let your kitchen be your canvas and your ingredients your paint. Savor each bite, savor each moment, and let the warmth of the dish enliven your senses. I eagerly await your thoughts and stories in the comments below. Happy cooking, and may your Fresh Turmeric Green Chili Chicken be a delightful adventure that ignites both your passion for food and your appetite!
You may also like my other chicken recipes such as Grilled Chicken, Hyderabad Chicken Biryani, Chicken 65, Chicken Meat Balls, Spicy Chicken Steak, Tangy and Spicy Chicken Steak, Oven Baked Chicken Drumsticks, Chicken Korma, Oven Fried Chicken, Orange Chicken, Pineapple Chicken and Butter Chicken Masala.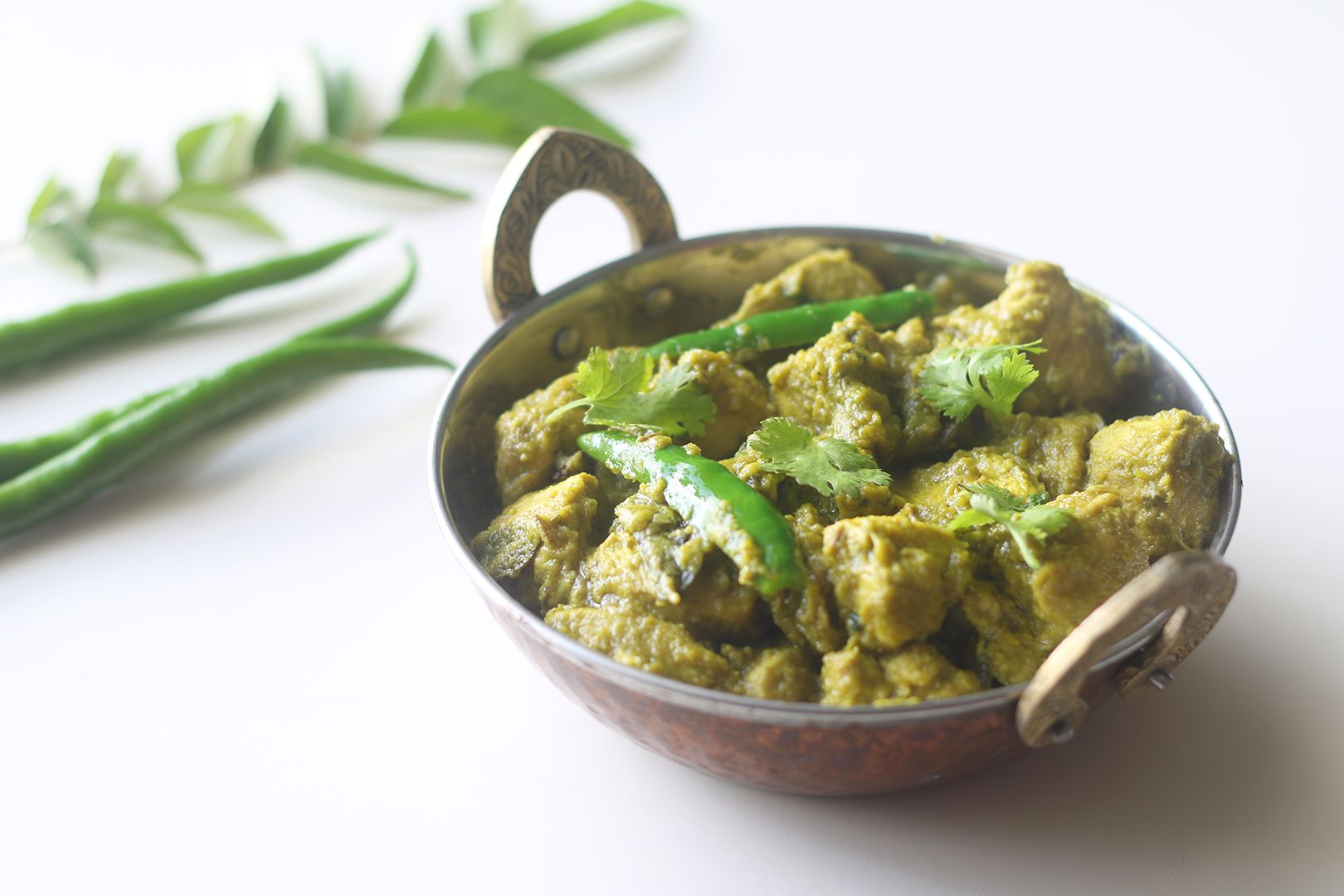 Green Chili Chicken 2018-01-30 04:39:36
Serves: 3
Prep Time: 00:10
Cook Time: 00:20
Total Time: 00:30
Ingredients
500g chicken thigh pieces
1/2 tsp salt
2 tbsp fresh yogurt or curd
To Grind
4 to 5 green chilies
6 shallots
1 inch fresh ginger
5 garlic pods
1 inch fresh turmeric or 1/4 tsp turmeric powder
1 tbsp fresh lemon juice
1/2 tsp garam masala powder
1/2 cup fresh coriander leaves
To Temper
2 tbsp olive oil or any other oil
1/2 tsp fennel seeds
1 inch cinnamon stick
4 cloves
1 bay leaf
few curry leaves
3 to 4 green chillies
Instructions
Place all the ingredients given under "To Grind" in a blender and blend it until smooth.
In a wide bowl, marinate the chicken pieces with salt, yogurt, and the ground paste, mix well until well quoted and set aside for 30 mins.
Heat a pan with oil, add fennel seeds, bay leaf, cloves, cinnamon stick and curry leaves, fry until they splutter.
Then add the marinated chicken pieces and stir-fry for about 5 mins over medium heat until soft and tender.
Pour 1/2 cup of water, mix well, cover and bring it to the boil then reduce to the simmer for another 10 mins or until the chicken pieces are cooked and the gravy becomes dry.
Finally, garnish it with coriander leaves and green chilli. Serve hot!
By Santhi Therese
The Indian Claypot
https://theindianclaypot.com/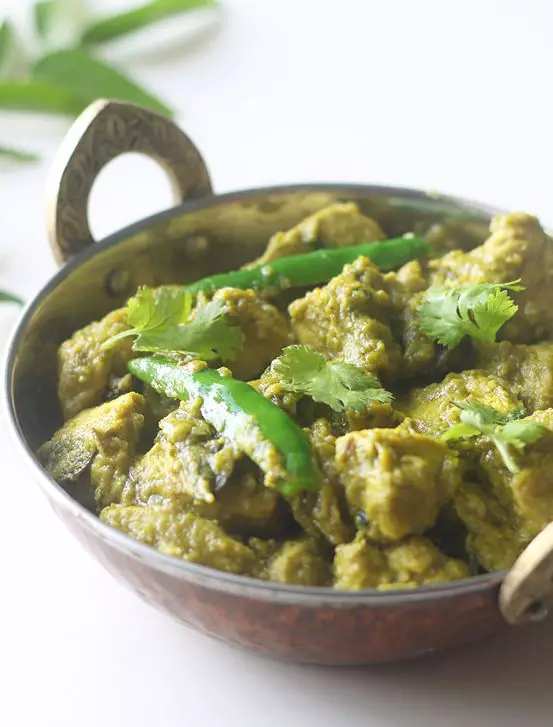 You may also like my other Chicken Recipes posts and recipes like Ponnusamy Chicken Varuval, Pallipalayam Chicken Fry, Crispy Chicken Strips, Schezwan Chicken, Penne Pasta with Minced Chicken, Chicken Schezwan Noodles, Chicken Curry Recipe, Chicken Fajitas, Methi Chicken, Chicken Meatball Curry, Healthy Chicken Salad bowl, Chicken Cutlets, Chicken Hakka Noodles, Sweet and Sour Pineapple Chicken, Butter Chicken Masala, Chicken Alfredo Pasta, Chicken Tacos with Mango Salsa, Sweet Corn Chicken Soup, Grilled Chicken Burger, Chicken Talumein Soup .