Healthy Bread Pizza
How to Make a Healthy Bread Pizza with Your Favorite Toppings in Just 10 Minutes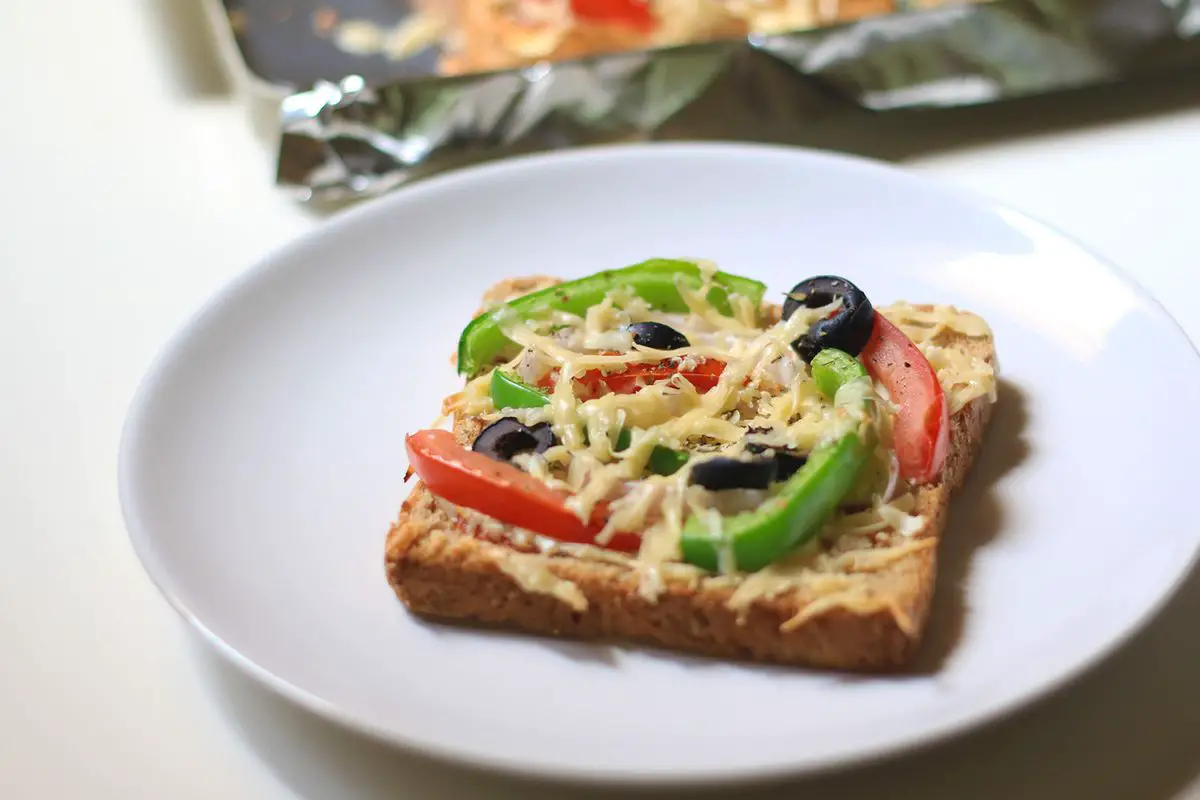 How to Make a Healthy Bread Pizza with Your Favorite Toppings in Just 10 Minutes
If you're craving pizza but don't have a pizza base on hand, don't worry! You can still satisfy your cravings by making a healthy bread pizza in just 10 minutes. This recipe allows you to use your favorite toppings and even encourages you to get creative with ingredients you have in your house.
To start, you'll need some bread - brown, white or whole grain will do. Use whatever you have on hand. Next, you'll need some pizza sauce. If you don't have pizza sauce, you can use tomato ketchup as a substitute. Spread the sauce onto your bread and then add your desired toppings. In this recipe, we suggest using canned mushrooms, red capsicum, frozen corn kernels, chicken or pepperoni. You can also sprinkle some dry oregano on top instead of mixed Italian herbs.
For a healthy twist, use cheddar cheese instead of the more traditional mozzarella cheese. Cheddar cheese is a great option because it contains less sodium and is higher in protein than mozzarella cheese.
In conclusion, making a healthy bread pizza is a great way to satisfy your pizza cravings while also incorporating some healthier options. With this recipe, you can customize your pizza with your favorite toppings and try out new combinations. Best of all, it only takes 10 minutes to make!
Lastly, You may also like my other easy snack videos such as Fresh Fruit Sandwich, Easy Dark Chocolate Nut Balls, Crispy Blueberry Puff Pastry Tarts and Chocolate french toast.
Healthy Bread Pizza 2018-05-03 05:21:26
Healthy Bread Pizza
Serves 4
Prep Time: 00:15
Cook Time: 00:10
Total Time: 00:25
Ingredients
4 Brown bread slices
as needed Pizza sauce
1 Medium sized onion
1 Medium sized tomato
1 Green capsicum
2 tbsp Black olive slices
as needed Italian herbs
to taste Black pepper powder
1 cup grated cheddar cheese
Instructions
Firstly cut the onion, tomato and capsicum in a lengthwise as shown in the video.
Meanwhile, preheat your oven to 200 degrees C and then place a foil or parchment paper on a baking sheet.
Then place the bread slices on it.
Now spread some pizza sauce on one side of each slice of the bread.
Then top with grated cheddar cheese.
Also, top with onion, tomato, capsicum and black olives.
Then sprinkle some pepper powder and Italian herbs.
Also top with grated cheddar cheese.
Now place it in the preheated oven for 8 mins or until the bread toasted and the cheese melted.
Then remove from the oven and add some extra cheese and again bake it for another 2 mins. It is optional only.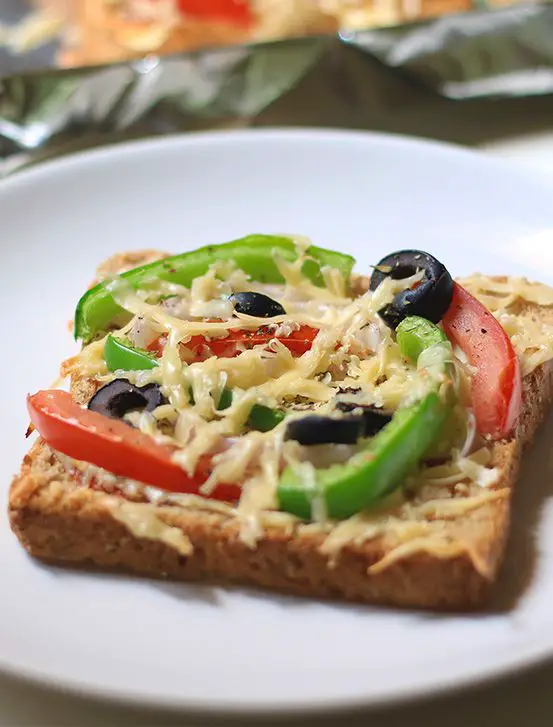 You may also like my other Healthy Breakfast posts and recipes like Appam Recipe, Thinai Sakkarai Pongal /Foxtail Millet Sweet Pongal, Healthy Breakfast Recipe, Kara Kuzhi Paniyaram with Idli/Dosa Batter, Oats Chocolate Brownie Recipe, Healthy Aval/Poha/Red Rice Flakes Breakfast Recipe, Ragi Aval Sweet Kozhukattai, Ragi Paal Kozhukattai, How To Make Soft Layered Chapati, Soft and Chewy Granola Bars, Vendhaya Kali, Strawberry Apple Smoothie, Pasi Payaru Aval Pongal, Homemade Granola Recipe, Moringa Adai Dosa Recipe, Ragi Puttu, Green Gram Payasam/Kheer, Whole Wheat Bread Recipe, Kavuni Arisi Sweet, Banana Oatmeal Cookies .