Healthy Chicken Salad bowl
Crafting a Nutrient-Packed Indian Twist: Healthy Chicken Salad Bowl Recipe!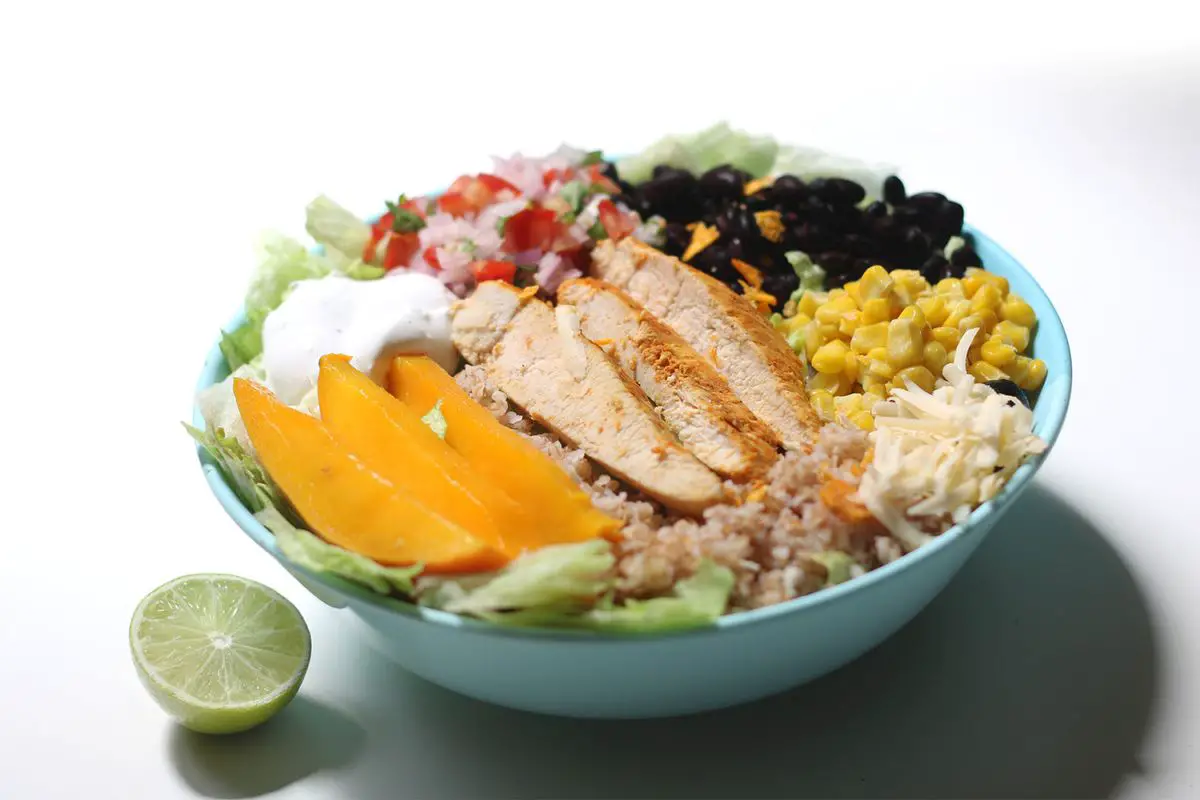 Crafting a Nutrient-Packed Indian Twist: Healthy Chicken Salad Bowl Recipe
Exploring the culinary world often leads us to cherished favorites, like the Mex Salad Bowl at a vibrant Mexican restaurant. But what if we could recreate that wholesome delight at home, infusing it with a touch of Indian flair? Today, I'm thrilled to introduce you to my take on the classic - a Healthy Chicken Salad Bowl that harmonizes flavors from both corners of the globe. This dish isn't just a treat for your taste buds; it's a powerhouse of nutrition, tailor-made for fitness enthusiasts striving for a balanced diet. So why wait? Embrace the fusion of flavors, nourish your body, and embark on a culinary journey that's as delicious as it is health-conscious. Once you've given it a try, don't forget to share your experience in the comments below!
A Fusion of Flavors: The Healthy Chicken Salad Bowl
Drawing inspiration from our beloved Mex Salad Bowl, I've crafted a vibrant and nutritious dish that celebrates the essence of both Mexican and Indian cuisines. This Healthy Chicken Salad Bowl captures the beauty of fresh ingredients and infuses them with an Indian touch, resulting in a medley of flavors that will leave your taste buds tingling.
Fitness on Your Plate: Ideal for Health Enthusiasts
For those dedicated to their fitness journey, this Healthy Chicken Salad Bowl is a treasure trove of balanced nutrition. It caters to the need for a protein-packed meal after a rigorous workout session. Not only is it designed to refuel your body, but it also incorporates a variety of elements that make up a well-rounded, nutrient-rich dish.
Crafting Your Culinary Masterpiece: Tips and Tricks
As you embark on your Healthy Chicken Salad Bowl adventure, I'm excited to share some expert suggestions to ensure your experience is nothing short of perfection.
To infuse an Indian twist, consider preparing spicy chicken steak in the Indian style. However, if you prefer a simpler approach, marinate the chicken with salt, pepper, and lime juice for added flavor.
For a playful twist, mix black beans and corn into the salsa, adding both taste and texture to your dish. Elevate your sweet corn kernels by cooking them with a touch of butter in the microwave until tender. Alternatively, canned chickpeas can be swapped for black beans, or you can introduce cooked green gram dal or channa dal for a protein boost.
In terms of grains, I've chosen broken wheat for a wholesome touch, but feel free to replace it with cooked millets for a different texture and taste.
Lastly, when it comes to the fruit element, mango slices lend a delightful sweetness and vibrant hue to your salad. If you're an avocado enthusiast, this is the perfect opportunity to integrate creamy avocados for an equally delicious twist.
A Final Note of Flavorful Exploration
As we wrap up this culinary journey, I encourage you to embrace the blend of traditions and flavors in this Healthy Chicken Salad Bowl. Your kitchen is your canvas, and each ingredient is an opportunity to craft a masterpiece. The fusion of Mexican and Indian influences highlights the beauty of culinary diversity. Don't hesitate to make this recipe your own and adapt it to your preferences. After you've savored your creation, I eagerly await your thoughts and insights in the comments below. Happy cooking, and may your Healthy Chicken Salad Bowl be a wholesome delight that nourishes both your body and your palate!
Finally, you can also like my salad recipes such as Healthy Beetroot Salad, Chicken Salad, Fruit and Veg Yogurt Salad, Spinach and green apple salad and Carrot Moongdal Salad.
Healthy chicken salad bowl 2018-04-27 06:21:12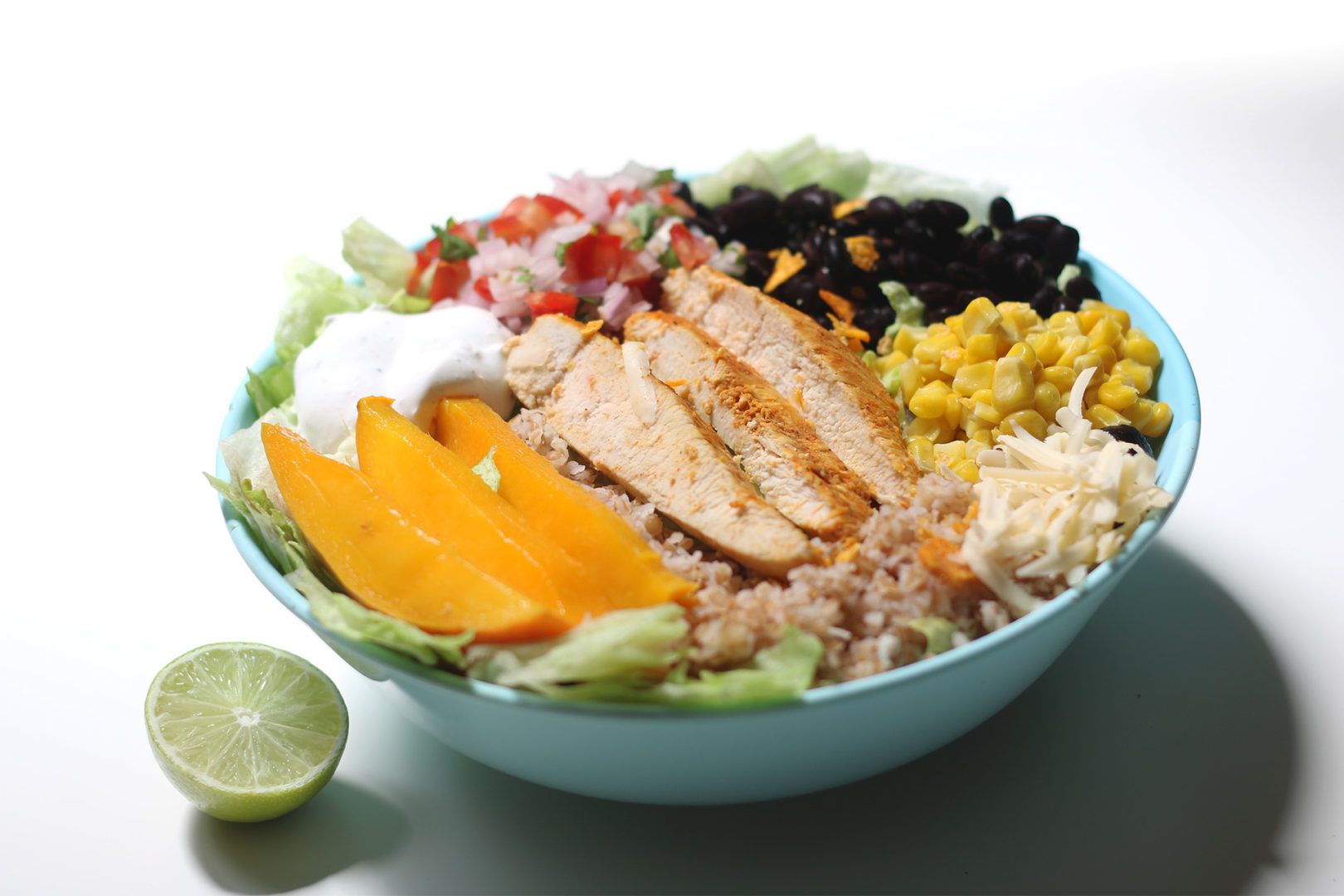 Healthy Chicken Salad bowl
Serves 3
Prep Time: 00:30
Cook Time: 00:28
Total Time: 00:58
Ingredients
For Marination:
2 Boneless Chicken Breast
1 tsp Red Chili Powder
1 tsp Ginger and Garlic Paste
1/4 tsp Turmeric Powder
1 tbsp (1/2 lemon) Lemon Juice
Salt to taste (1/2 tsp)
1 tbsp Olive Oil
For broken wheat:
1 cup Broken Wheat
2&1/2 cups Water
salt to taste (1/2 tsp)
For Salsa:
1/2 medium sized Red Onion
1 medium sized Tomato
1 Green Chili
3 tsp Fresh Lemon Juice
2 tbsp finely chopped Coriander Leaves
salt to taste
Other Ingredients:
2 tbsp Light Sour Cream
1/4 tsp Ground Cumin
1 tsp Lime Juice
6 tbsp, drained and rinsed Canned Black Beans
6 tbsp, thawed Frozen Sweet Corn Kernels
1 cup Chopped Lettuce
1, sliced Ripe Mango
3 tbsp Low Fat Shredded Cheddar Cheese
some Canned Jalapeno Peppers
few Black Olives
some, lightly crushed Tortilla Chips
Instructions
How to cook chicken:
Wash the chicken pieces and drain the water thoroughly.
Make an incision on the chicken pieces by using a sharp knife.
Marinate the chicken pieces with the ingredients given under 'Marination' until well combined and set it aside for 1 hour or overnight in the refrigerator.
Heat a nonstick pan with olive oil over medium to high heat.
When the oil heats, add chicken pieces, cook them for 1 minute.
Flip the chicken pieces.
Turn the heat to medium, cover the pan with a lid and cook for another 3 mins.
Flip it again and cook for 2 more mins or until cooked through.
Once cool enough to handle, slice into strips.
How to cook broken wheat:
Wash and soak 1 cup of wheat with 2&1/2 cups of water for 30 mins.
Then cook it over medium-low heat for 15 to 20 mins or until cooked through and keep it aside for further use.
For Salsa:
Chop finely the onion, tomato, and green chili for salsa.
Then add lemon juice and chopped coriander leaves in a small bowl, mix until combined and refrigerate for 10 minutes for further use.
For Dressing:
Meanwhile, in a small bowl, combine sour cream, ground cumin and lime juice and mix well until combined and refrigerate.
How to make chicken salad bowl:
Now place the chopped lettuce in a serving bowl.
Top with salsa, cooked broken wheat, black beans, sweet corn kernels, mango slices, olives, jalapenos and cheese.
Serve dressing on the side or drizzle with dressing.
Top with crushed tortilla chips.
Now your healthy chicken salad bowl is ready to eat. Serve immediately.
By Santhi Therese
The Indian Claypot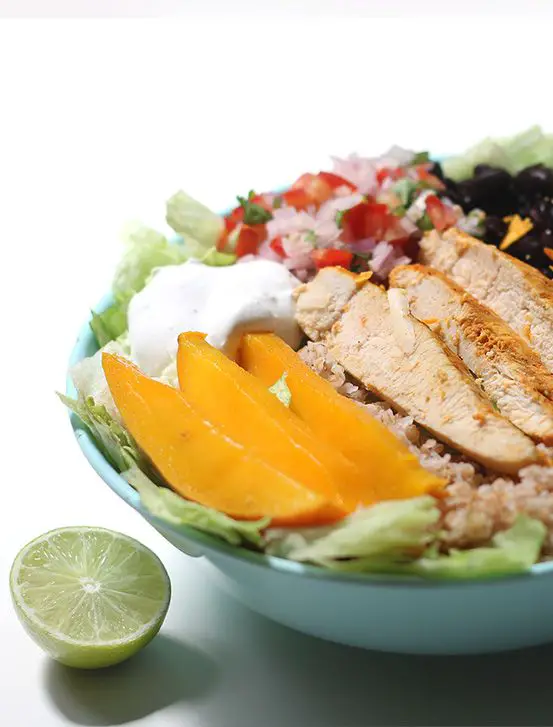 You may also like my other Chicken Recipes posts and recipes like Ponnusamy Chicken Varuval, Pallipalayam Chicken Fry, Crispy Chicken Strips, Schezwan Chicken, Penne Pasta with Minced Chicken, Chicken Schezwan Noodles, Chicken Curry Recipe, Chicken Fajitas, Methi Chicken, Chicken Meatball Curry, Green Chili Chicken, Chicken Cutlets, Chicken Hakka Noodles, Sweet and Sour Pineapple Chicken, Butter Chicken Masala, Chicken Alfredo Pasta, Chicken Tacos with Mango Salsa, Sweet Corn Chicken Soup, Grilled Chicken Burger, Chicken Talumein Soup .