Grilled Chicken Burger
Looking for a delicious twist to the classic burger? Try our Indian-inspired Grilled Chicken Burger recipe!
Looking for a delicious twist to the classic burger? Try our Indian-inspired Grilled Chicken Burger recipe! The patty is infused with a blend of aromatic Indian spices and filled with fresh onions and herbs, giving it a unique and flavorful taste. Plus, it's packed with protein, making it a healthy choice for a meal.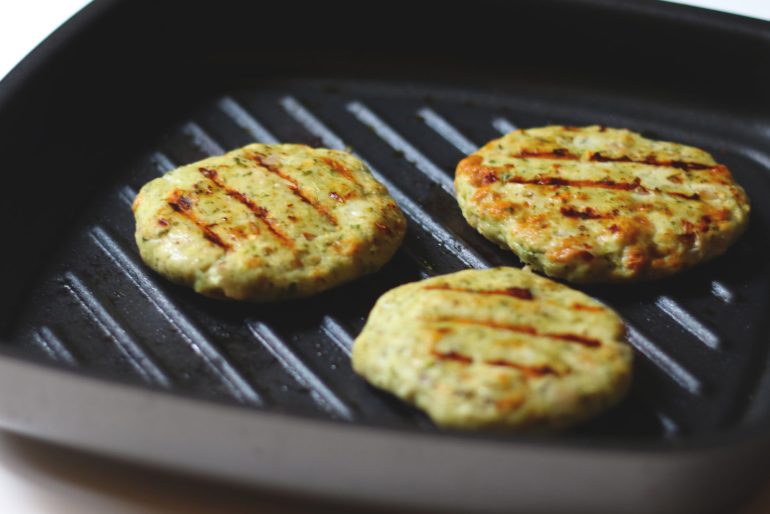 To make the perfect grilled chicken burger, here are some tips to keep in mind. Firstly, use chicken breasts to ensure a juicy and tender patty. Secondly, you can use store-bought minced chicken and mix it with ground cumin powder, chopped onion, garam masala powder, pepper, and salt for a quick and easy version. If you don't have a grilling pan, you can also stir-fry the chicken patties in a pan or grill them in the oven.
To assemble the burger, toast the bread in a tawa or pan, spread some mayonnaise on the bun, and add some chopped lettuce. Place the chicken patty, cheese slice, tomato ring, and top with the other bun. You can also add any other green salad vegetables to this recipe to give it an extra crunch.
Try out our Grilled Chicken Burger recipe today and take your burger game to the next level!
Grilled Chicken Burger 2017-10-02 05:50:51
Grilled Chicken Burger
Serves 3
Prep Time: 00:30
Cook Time: 00:15
Total Time: 00:45
Ingredients
To Blend:
450 grams Boneless Chicken Breast
3 Green Chilies
1 inch Ginger, Chopped
4 Garlic Pods, Chopped
1 handful Fresh Coriander Leaves
1 handful Fresh Mint Leaves
To make Patties:
1/2 tsp Cumin Powder
1/4 tsp Garam Masala (optional)
1 small sized Onion, Finely Chopped
to taste Salt and Pepper
1 tbsp Olive Oil
To make Burger:
3 Burger Breads
1 cup Chopped Lettuce
4 tbsp Mayonnaise
Tomato Rings
Fat Free Cheddar Cheese Slices
Green Olives
Tooth Pick Sticks
Instructions
Clean and remove all the excess fat and cartilage from the chicken, then cut into 1-inch cubes.
Meanwhile, preheat your oven to upper grill mode for 15 to 20 mins.
Place all the ingredients except chicken in a blender and blend until coarsely.
Then add chicken pieces, Pulse it for 2 to 3 times or until coarsely chopped. Now minced chicken is ready to use.
In a wide bowl, combine minced chicken, ground cumin, onion, garam masala powder, pepper and salt, mix well until incorporated and keep it in the refrigerator for 15 to 20 mins.
Then remove the chicken bowl from the refrigerator and grease your hands with some oil.
Then apply 1 tbsp of olive oil over the chicken mixture.
Divide the chicken mixture into 5 equal parts and then shape each part into a ball and flatten it.
Then grease the grill pan with oil or spray and arrange the patties with enough gap.
Then place the grill pan in the preheated oven and cook it for 10 mins.
Turn over and cook it for another 5 mins or until golden and cooked through. Remove from the oven.
Meanwhile, toast the burger bread in tawa or pan for few seconds.
Spread some mayonnaise on the toasted bun and then top with some chopped lettuce and place one chicken patty, cheese slice, another chicken patty, tomato ring and top with the bun.
Insert one olive in a tooth pick and pierce it on the bread.
Now your healthy grilled chicken burger is ready to serve!
By Santhi Therese
The Indian Claypot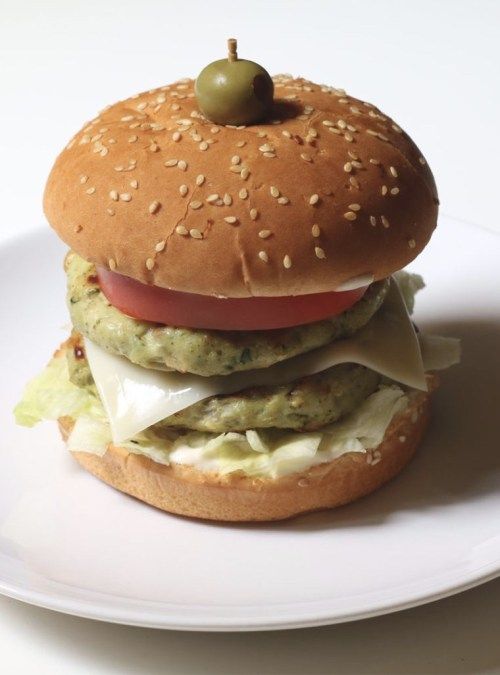 You may also like my other Chicken Recipes posts and recipes like Chicken Varuval, Pallipalayam Chicken Fry, Crispy Chicken Strips, Schezwan Chicken, Penne Pasta with Minced Chicken, Chicken Schezwan Noodles, Chicken Curry Recipe, Chicken Fajitas, Methi Chicken, Chicken Meatball Curry, Healthy Chicken Salad bowl, Green Chili Chicken, Chicken Cutlets, Chicken Hakka Noodles, Sweet and Sour Pineapple Chicken, Butter Chicken Masala, Chicken Alfredo Pasta, Chicken Tacos with Mango Salsa, Sweet Corn Chicken Soup, Chicken Talumein Soup .