Homemade Strawberry Jam
Sometimes, the best way to start a day is to start it on a sweet note! What is better than some delicious Homemade Strawberry Jam spread on top of some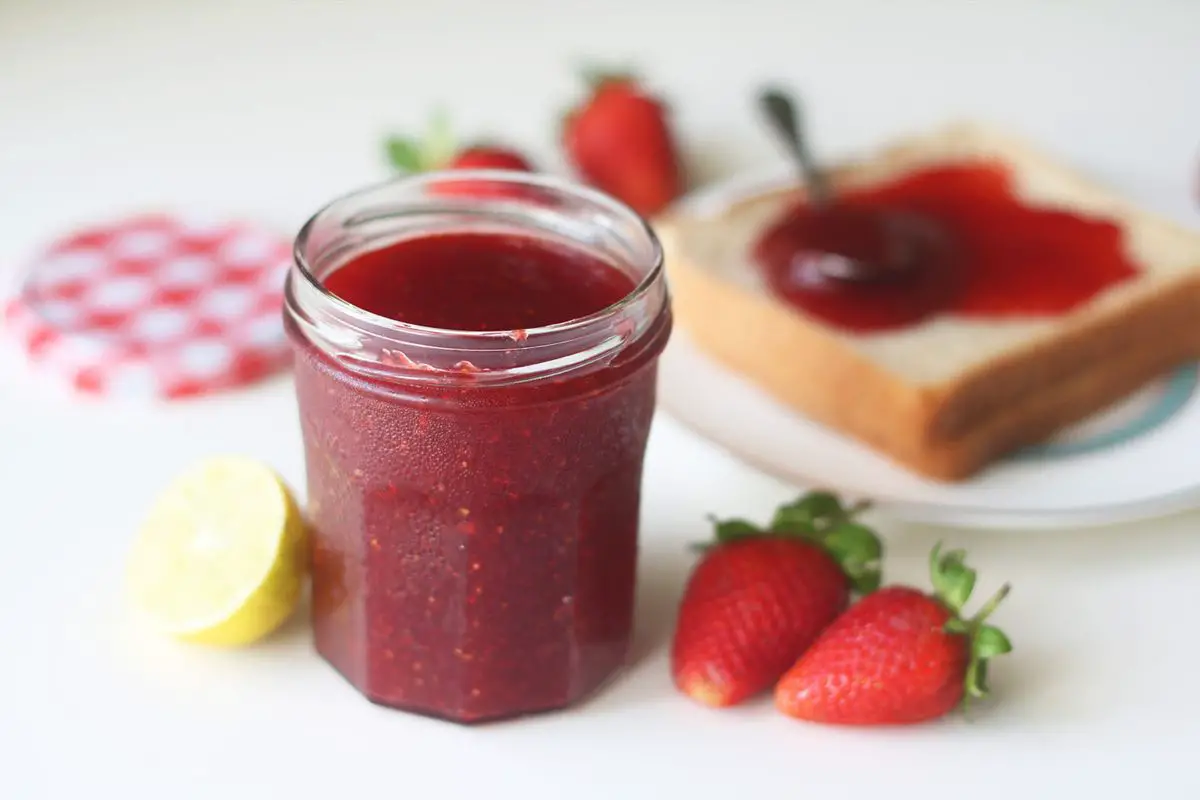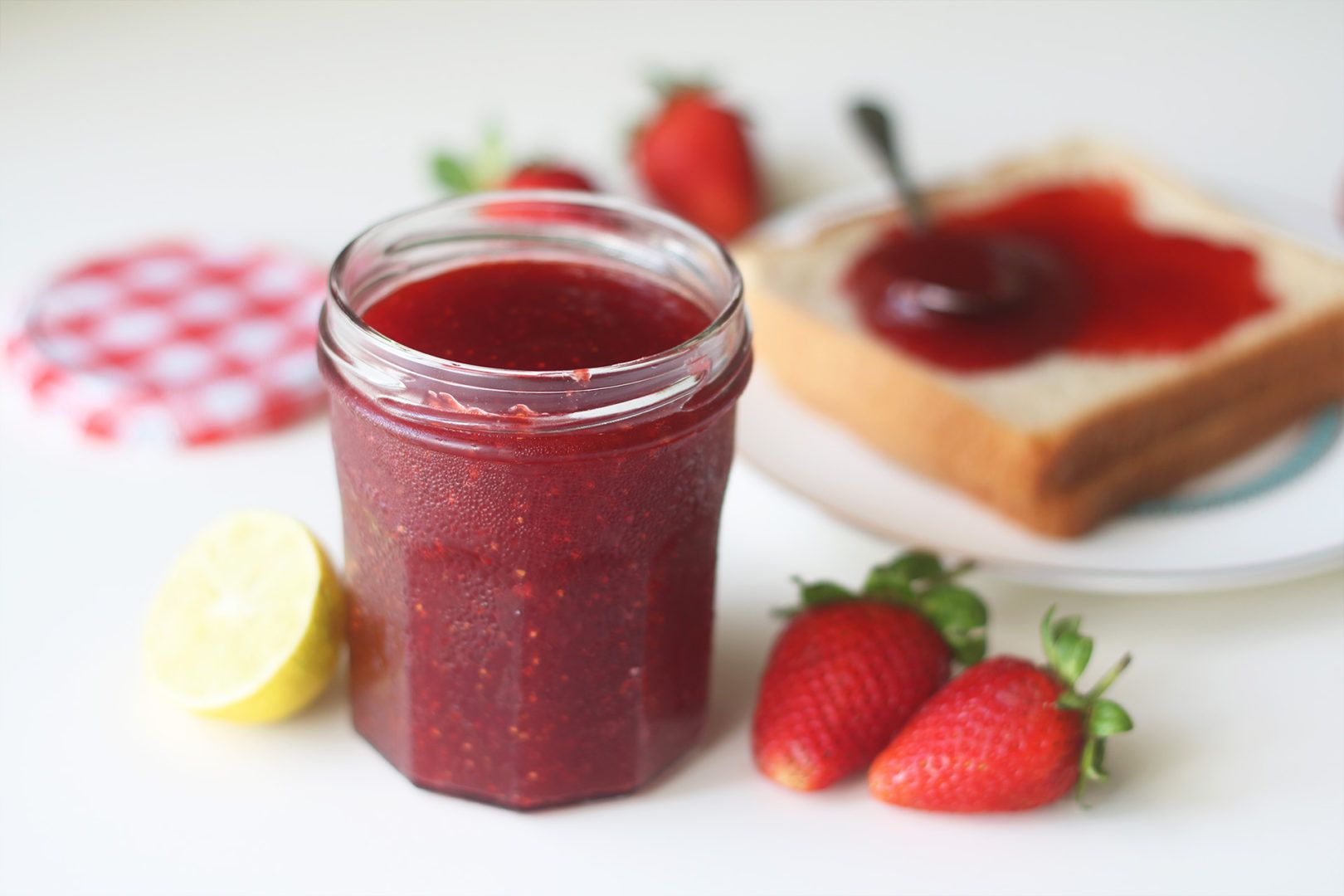 Sometimes, the best way to start a day is to start it on a sweet note! What is better than some delicious Homemade Strawberry Jam spread on top of some crispy toasts! The fresh flavors of this Jam are perfect to refresh your day and to get you ready for the day! So what are you waiting for? Try it out yourself!
Homemade Strawberry Jam
Furthermore, I would like to share some of my suggestions for making the perfect homemade strawberry jam. Firstly, try to use fresh strawberries for this recipe, make sure to get berries that are bright red, firm, fragrant and plump. Stay away from those with soft spots or mildew. The leaf should still be attached and green, and not be brown or wilted. Also, check the bottom of the container to make sure there are no over-ripe or rotten berries.
Since strawberries are a delicate fruit, try to use them immediately. If not, store them in a single layer on a tray or container lined with a paper towel and keep in the refrigerator for a couple of days. Furthermore, don't wash/soak in water before storing, because strawberries absorb the water. Also, don't remove the green part (the hull) of the strawberry.
Secondly, I have not used any preservatives in this recipe. Because I made a small quantity of jam only. Timing is very very important in this recipe. If you want to make it on a huge level, cook it over medium to high heat at the same interval.
Finally, if you want to know the right consistency of the jam, just drop one tsp of jam on a chilled plate. If it looks set and not runny or watery then your jam is ready. A chilled plate is very important. If the plate is not chilled then the jam will take some time to come to room temperature and meantime jam might get overcooked.
You may also like my other healthy breakfast recipes such as Papaya Apple Smoothie, Mixed Berries Chia Seeds Smoothie, Strawberry Banana Smoothie, Creamy Avocado Smoothie, Peach and Mango Smoothie, Peach and Strawberry Smoothie, Indian Gooseberry Juice, Strawberry and Pomegranate Smoothie Carrot and coconut Juice Pomegranate Lemonade. Eggless Blueberry Pancakes, Healthy Bread Pizza, Mixed Berries Chia Seeds Smoothie, Whole Wheat Pancakes, Aloo Gobi Paratha, Shakshuka, Grilled Chicken Burger, Turkey Frittata, Blueberry Bread Pudding Muffins, Apple Sauce Recipe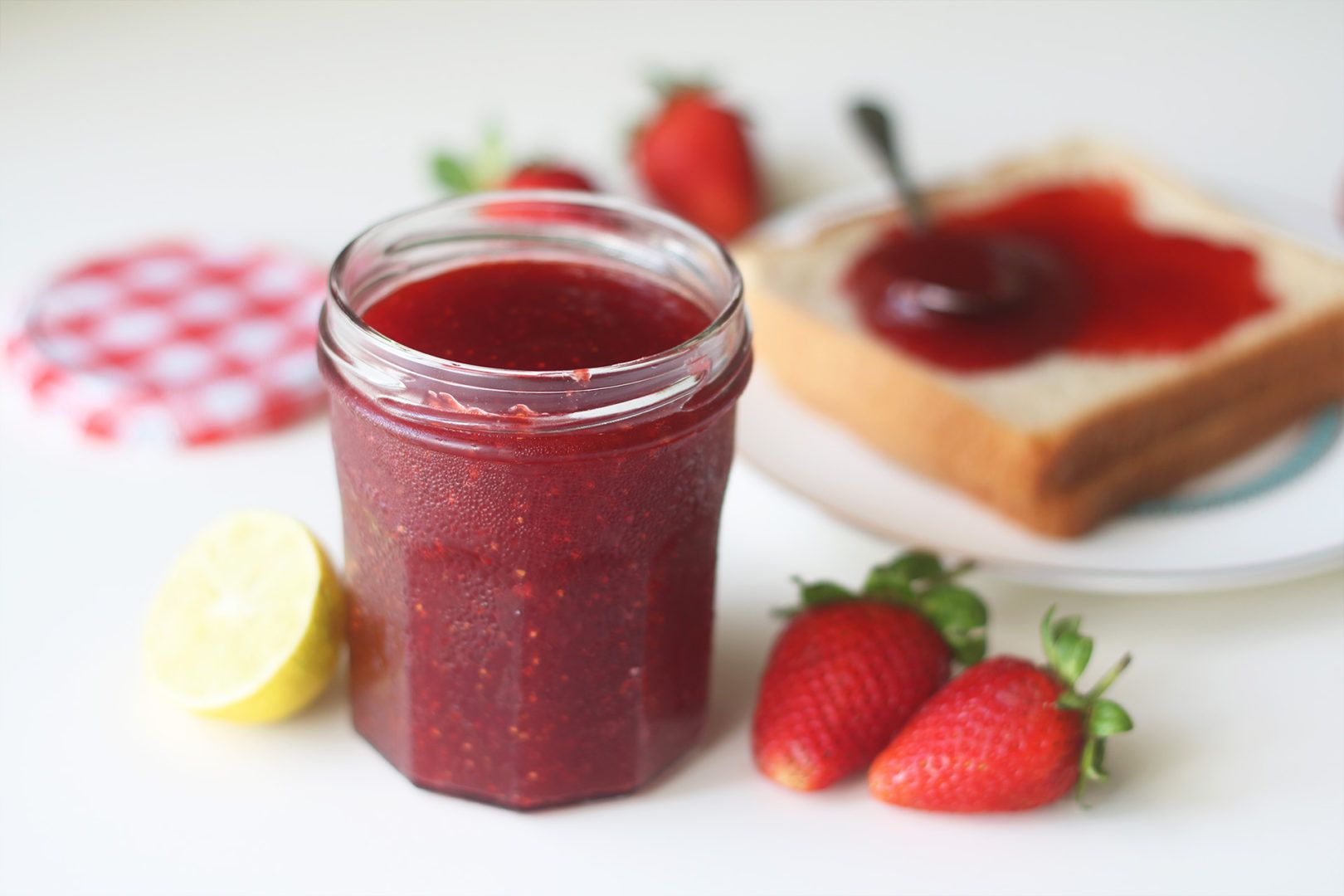 Homemade Strawberry Jam 2019-06-17 04:02:06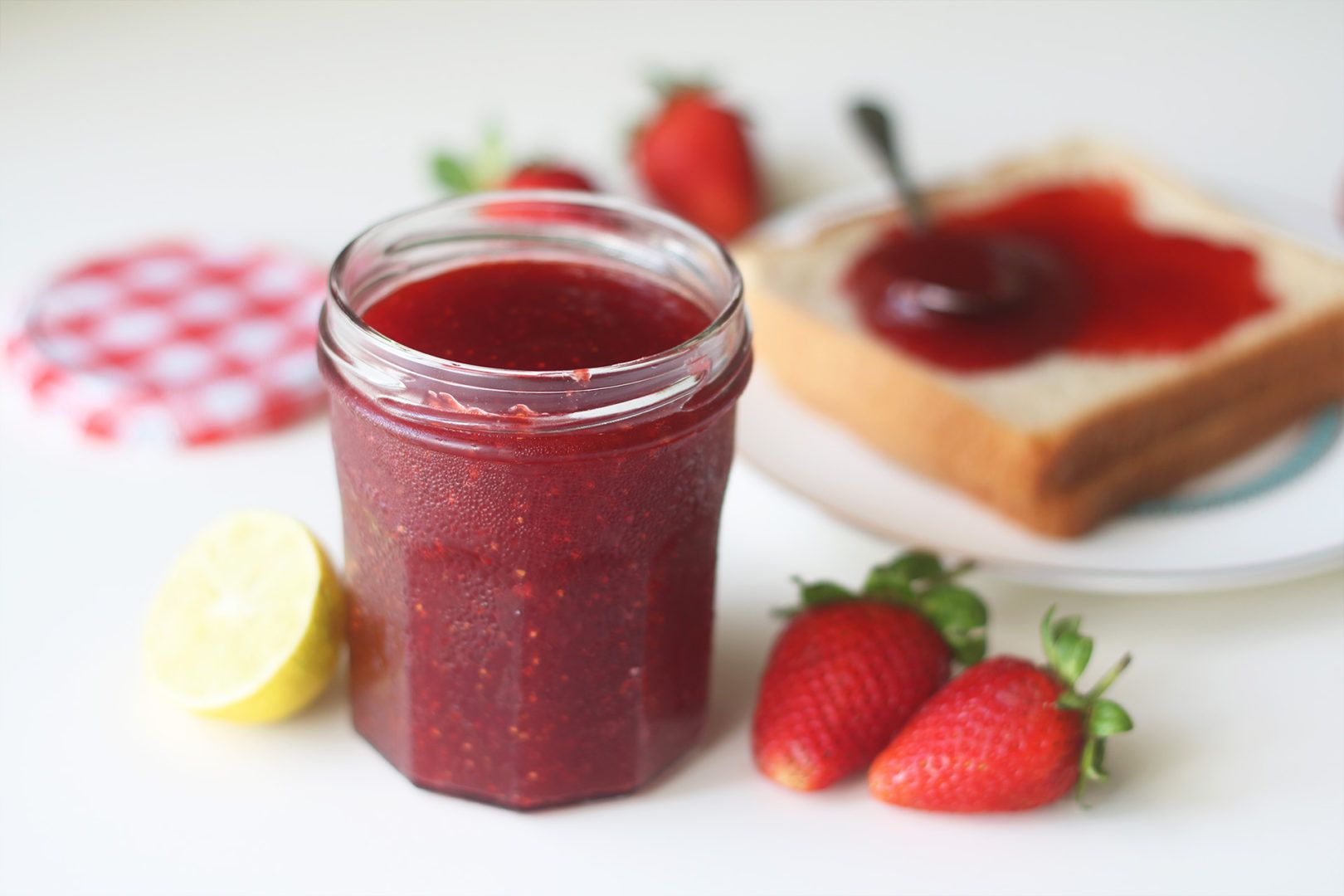 Serves 10                             Print        Prep Time   00:05        Cook Time   00:15        Total Time   00:20
Prep Time   00:05        Cook Time   00:15        Total Time   00:20                      Ingredients
500 grams fresh strawberries, hulled and halved or 2 cups of fresh strawberry puree
1 cup white sugar
2 tbsp lemon juice          Instructions
Place the hulled and halved strawberries in the food processor or blender and process until pureed.
Pour 2 cups of strawberry puree in a saucepan and bring it to boil over medium heat.
When it starts to boil, turn the heat to low, and cook it for 5 mins. It starts to foam up.
Then add 1/2 cup sugar (turn the heat to medium) and 2 tbsp lemon juice, stirring constantly for another 5 mins.
Now add the remaining 1/2 cup sugar and cook for another 5 mins or until the mixture has thickened.
Remove from the heat and pour the jam in a wide bowl and set it aside until it is cooled.
It will continue to thicken as it cools.
Once it is cooled, store in a sterilized jar. It stays good for a week in the refrigerator.         By Santhi Therese    The Indian Claypot https://theindianclaypot.com/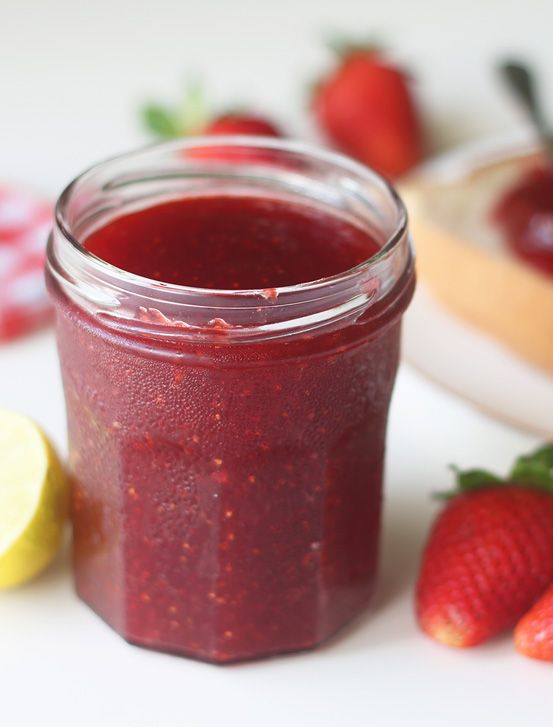 You may also like my other Healthy Breakfast posts and recipes like Appam Recipe, Thinai Sakkarai Pongal /Foxtail Millet Sweet Pongal, Healthy Breakfast Recipe, Kara Kuzhi Paniyaram with Idli/Dosa Batter, Oats Chocolate Brownie Recipe, Healthy Aval/Poha/Red Rice Flakes Breakfast Recipe, Ragi Aval Sweet Kozhukattai, Ragi Paal Kozhukattai, How To Make Soft Layered Chapati, Soft and Chewy Granola Bars, Vendhaya Kali, Strawberry Apple Smoothie, Pasi Payaru Aval Pongal, Homemade Granola Recipe, Moringa Adai Dosa Recipe, Ragi Puttu, Green Gram Payasam/Kheer, Whole Wheat Bread Recipe, Kavuni Arisi Sweet, Banana Oatmeal Cookies .