Homemade Sweet Chili Sauce
Add Some Excitement to Your Meal with This Easy and Delicious Homemade Sweet Chili Sauce!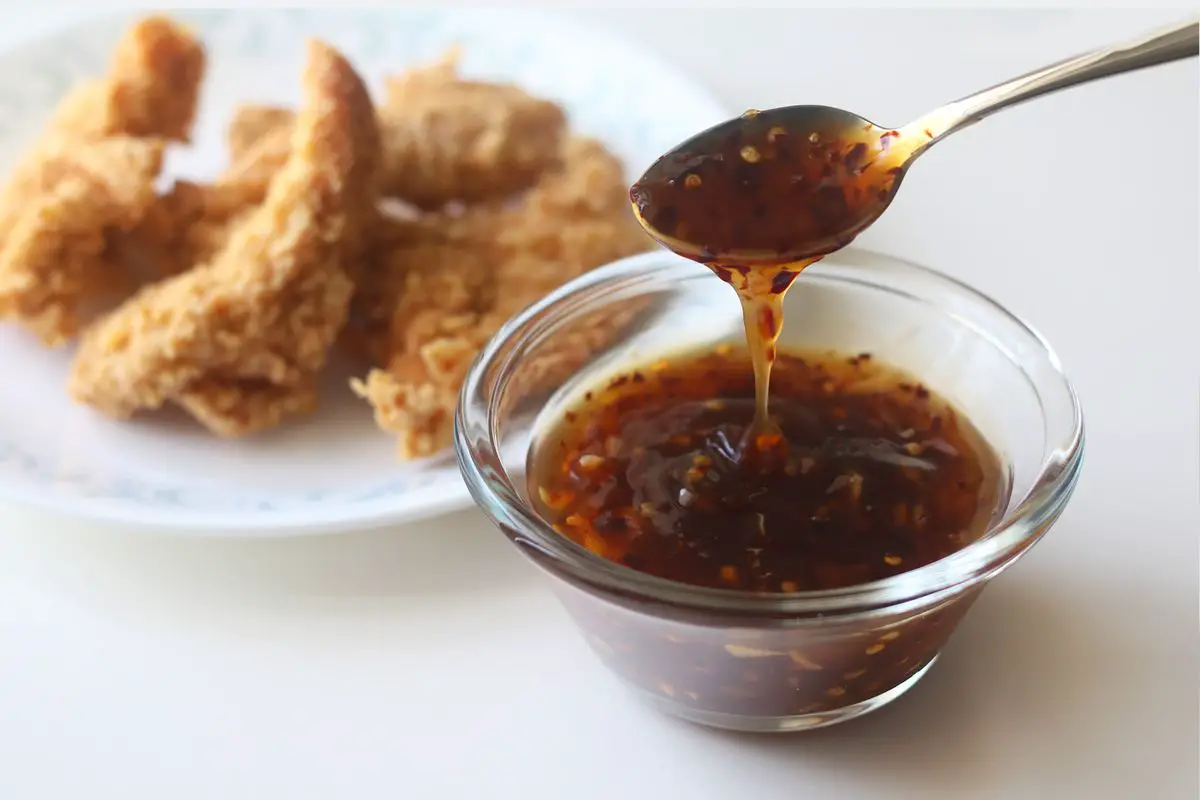 "Add Some Excitement to Your Meal with This Easy and Delicious Homemade Sweet Chili Sauce!
We've all had those days when we're exhausted from work or a tough workout and just want to add a little something extra to our meal. That's where this homemade sweet chili sauce comes in! Not only is it a cinch to make, but it's also way tastier than anything you'll find at the store.
This sauce is the perfect companion to  crispy chicken strips. and is sure to bring some excitement to your meal. So why not give it a try today? We promise you won't be disappointed.
Get creative in the kitchen and make this delicious homemade sweet chili sauce. Let us know how it turned out in the comments below. We can't wait to hear from you!"
Homemade Sweet Chili Sauce 2019-09-02 03:46:13
Homemade Sweet Chili Sauce
Serves 5
Prep Time: 00:05
Cook Time: 00:10
Total Time: 00:15
Ingredients
100 grams (1/2 cup) White sugar
1/2 cup Rice vinegar or white vinegar
1/2 cup Water
2 Garlic pods
1/2 tbsp Red chilly flakes
less than 1/4 tsp Salt
1 tbsp Cornflour
2 tbsp Water
Instructions
Combine all the ingredients except 1 tbsp cornflour and 2 tbsp water in a medium-sized saucepan.
Heat the pan over medium-high heat and stir occasionally until it brings to boil.
Now turn the heat to medium, cook and stir for 5 mins.
Meanwhile, mix the cornflour with 2 tbsp of water and stir until fully dissolved.
After 5 mins, turn the heat to low.
Now pour the cornflour mixture to the saucepan.
Stir constantly until the sauce thickens enough to coat the back of a spoon, it takes 1 to 2 mins only.
Don't cook for a long time because the sauce will further thicken once it cools.
Taste the sauce and adjust sweetness as you like. Also, add more vinegar if not sour enough.
If the sauce is too thick add some hot water and mix well.
Now switch off the heat and pour the sauce into a bowl and let sit until fully cooled.
Store it in an airtight container in the refrigerator for up to 1 week.
By Santhi Therese
The Indian Claypot
You may also like my other Spicy Recipes posts and recipes like Mutton Kola Urundai, Pav Bhaji Recipe, Homemade Gooseberry Pickle, Mutton Chukka, Kadai Paneer, Vendakkai/Okra Sambar, Fresh Tomato Salsa, Potato and Cauliflower Stir Fry, Pan Fried Elephant Yam, Mixed Millet Bisi Bele Bath, Spicy Mushroom Pepper Fry, Mutton Chops /Lamb Chops, Tangy And Spicy Chicken Steak .