Indian Gooseberry Juice (Healthy Drinks)
Looking for a refreshing and healthy drink? Look no further than Indian Gooseberry Juice!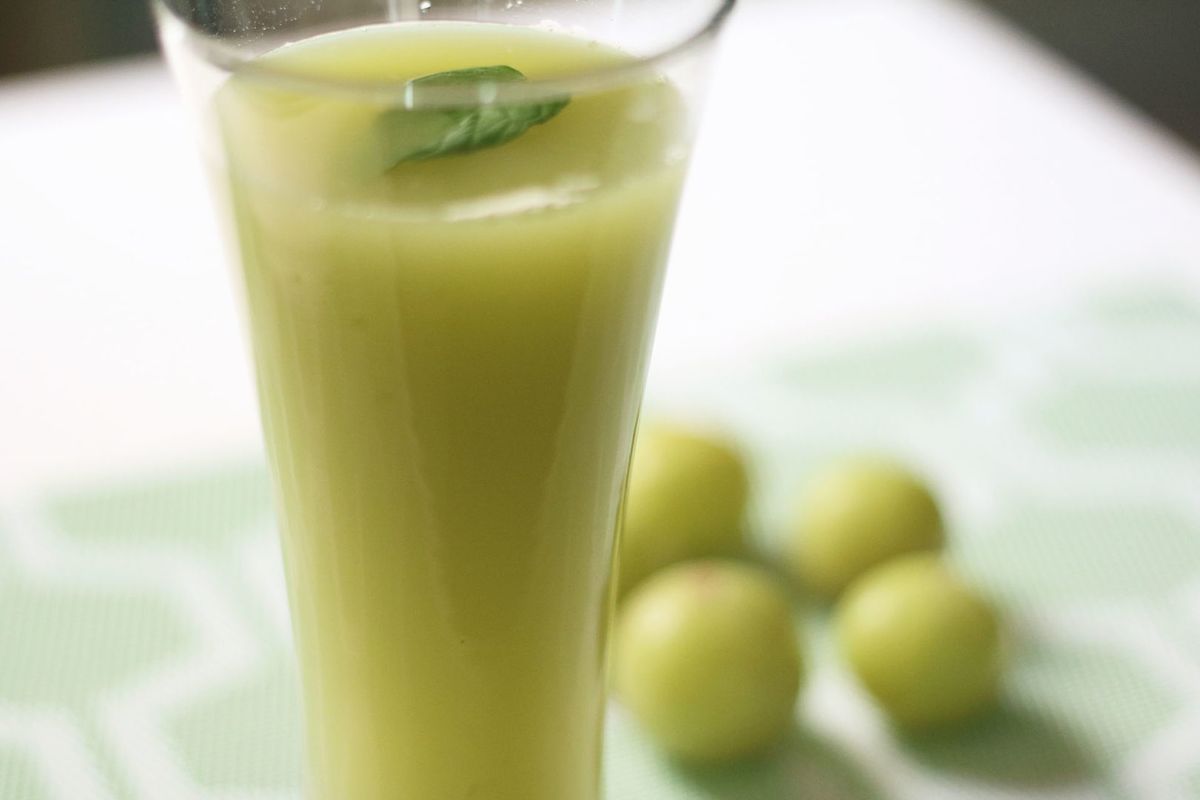 Looking for a refreshing and healthy drink? Look no further than Indian Gooseberry Juice! This tasty beverage is packed with vitamin C, fiber, and antioxidants, and has a delicious flavor thanks to the addition of fresh ginger and mint leaves. But that's not all - according to Ayurveda, it's also the best home remedy for diabetes, as it can stimulate the isolated group of cells that secrete insulin. Amla, the main ingredient in Indian Gooseberry Juice, is also rich in chromium, making it beneficial for diabetics. Regular consumption of amla can even help you live to be over 100 years old!
But the benefits of Indian Gooseberry Juice don't stop there. Regular consumption of this juice can also purify your blood, increase your hemoglobin and red blood cell counts, and promote healthy skin and hair. Additionally, gooseberries are high in fiber, which can help to encourage regular bowel movements and prevent constipation. That's why it's important to incorporate this superfruit into your diet in some form every day.
So what are you waiting for? Try making Indian Gooseberry Juice today and let us know what you think in the comments below!
You may also like Carrot Coconut Juice and Pomegranate Lemonade.
Indian Gooseberry Juice / Amla Juice (Healthy drinks) 2017-02-19 08:39:53
Indian Gooseberry Juice (Healthy Drinks)
Serves 2
Prep Time: 00:10
Total Time: 00:10
Ingredients
6 medium sized Indian Gooseberries
1 inch Ginger
10 to 15 Mint Leaves
to taste Honey
1 cup Water
Instructions
Wash and then cut gooseberries into small pieces. (Discard the nut)
In a blender combine all ingredients and grind it for 1 to 2 mins or until pulverized.
Then strain the juice by using metal strainer or muslin cloth and extract all the juice.
Finally, pour it into a serving glass and serve it immediately to get more vitamins.
By Santhi Therese
The Indian Claypot
You may also like my other Healthy Drinks posts and recipes like Carrot Beetroot Juice, Masala Chai Recipe, Raspberry Lemonade, Strawberry Milkshake, Strawberry Soup, Pomegranate Lemonade, Peach And Mango Smoothie, Peach And Strawberry Smoothie, Strawberry And Pomegranate Smoothie .