Kulfi Ice cream
Indulge in the Cool and Creamy Delight of Kulfi Ice Cream: A Traditional Dessert from India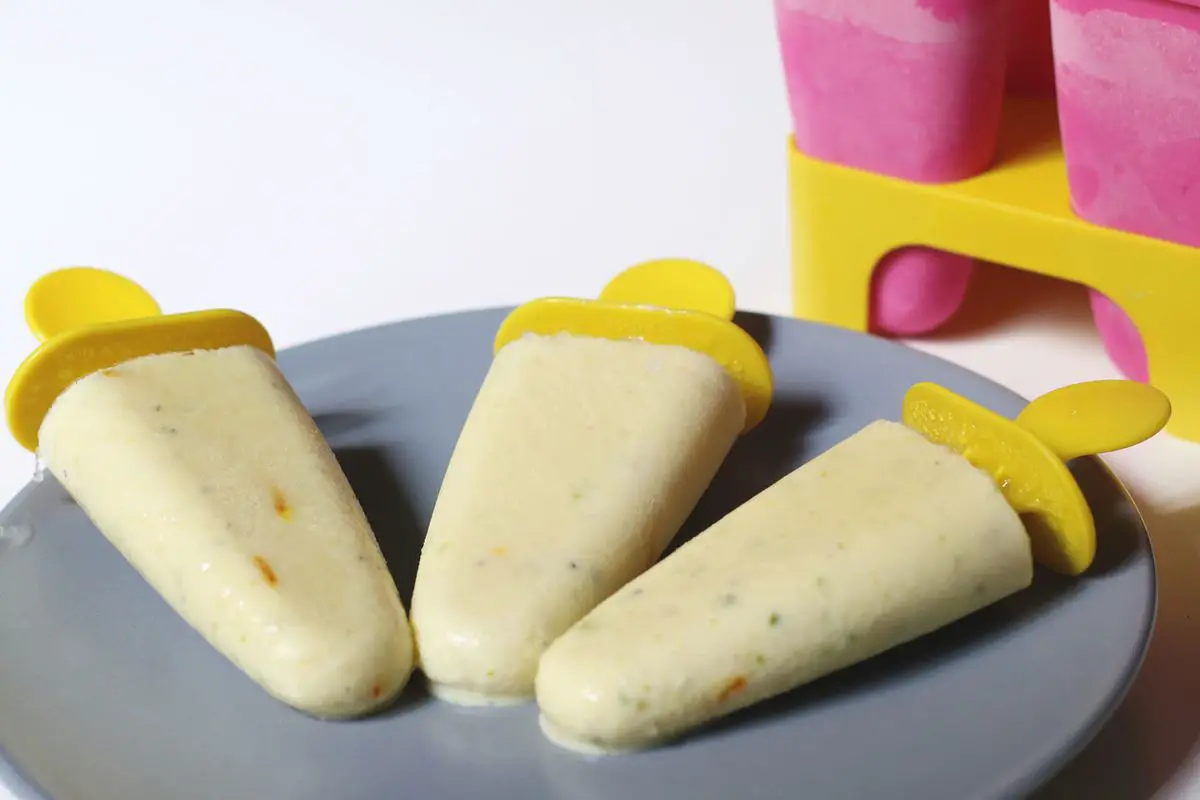 Indulge in the Cool and Creamy Delight of Kulfi Ice Cream: A Traditional Dessert from India
Kulfi Ice Cream is a delicious and popular frozen dairy dessert that originated in India. Made with a blend of milk, milk powder, sweetened condensed milk, nuts, cardamom, and saffron, this creamy treat is a refreshing and satisfying treat during hot summer days.
As a child growing up in India, I have fond memories of running to the Kulfi wallah, the traditional dessert vendor, as soon as we heard the sound of the bell from his cart. Now, as a parent, I wanted to share the same experience and taste with my kids, so I decided to try making Kulfi Ice Cream at home.
If you want to try making Kulfi Ice Cream at home, here are some tips to help you achieve the perfect flavor and texture. Firstly, you can use arrowroot powder instead of cornflour for a cooling effect on your body, which is especially beneficial during hot summer days. Secondly, instead of using a microwave oven, you can use a gas stove for this recipe. Finally, for a richer taste, you can add 1/4 cup of fresh cream with milk.
Have you tried making Kulfi Ice Cream at home? Share your comments and let us know your experience!
You may also like my other ice cream recipes such as Mango Ice Cream, Strawberry Ice Cream, Blueberry Cheese Cake Ice Cream, Blackberry Ice Cream and Falooda.
Kulfi /Milk Ice cream with nuts and saffron 2017-05-29 05:13:32
Kulfi Ice cream
Serves 6
Prep Time: 06:00
Cook Time: 00:15
Total Time: 06:15
Ingredients
1&1/2 cup low fat milk
1/3 cup sweetened condensed milk
1/4 cup milk powder
1 tbsp sugar
1/2 cup mixed nuts (pistachios, cashews and almonds)
2 cardamom pods
pinch saffron
1 tsp cornflour
2 tbsp water
Instructions
In a small bowl, mix cornflour and water together until dissolved and keep it aside for further use.
Then combine milk, condensed milk, sugar and milk powder in a wide microwave-safe bowl, mix well, microwave it on high for 5 mins or until it boils.
Remove it from the oven and stir well.
Again microwave it on 300 for about another 5 mins. Now it becomes slightly thick.
Meanwhile, place the nuts and cardamom seeds (without skin) in a blender and blend until a coarse powder.
Then add this powder and saffron to the milk mixture and microwave it on high for another 1 minute.
Remove from the oven and mix it well.
Now add the cornflour mixture, mix well and again microwave it on high for 1 more minute or until it starts to boil.
Then remove from the oven and mix it well, cool it down to room temperature.
Fill the ice pop molds or kulfi molds with the milk mixture and freeze it for 6 hours or overnight or until set.
By Santhi Therese
The Indian Claypot
You may also like my other Ice Cream posts and recipes like Mixed Berry Fruit Popsicles, Strawberry Sorbet, Strawberry Creamsicles, Blueberry Cheesecake Ice Cream, Falooda Dessert Recipe, Creamy Blackberry Ice Cream, Dark Chocolate Ice Cream, Fruit Popsicles, Strawberry Smoothie Pops, Mango Ice Cream, Easy Strawberry Ice Cream .