Whole Wheat Mixed Berry Bread
Introducing a delicious and healthy breakfast recipe - Mixed Berry Bread!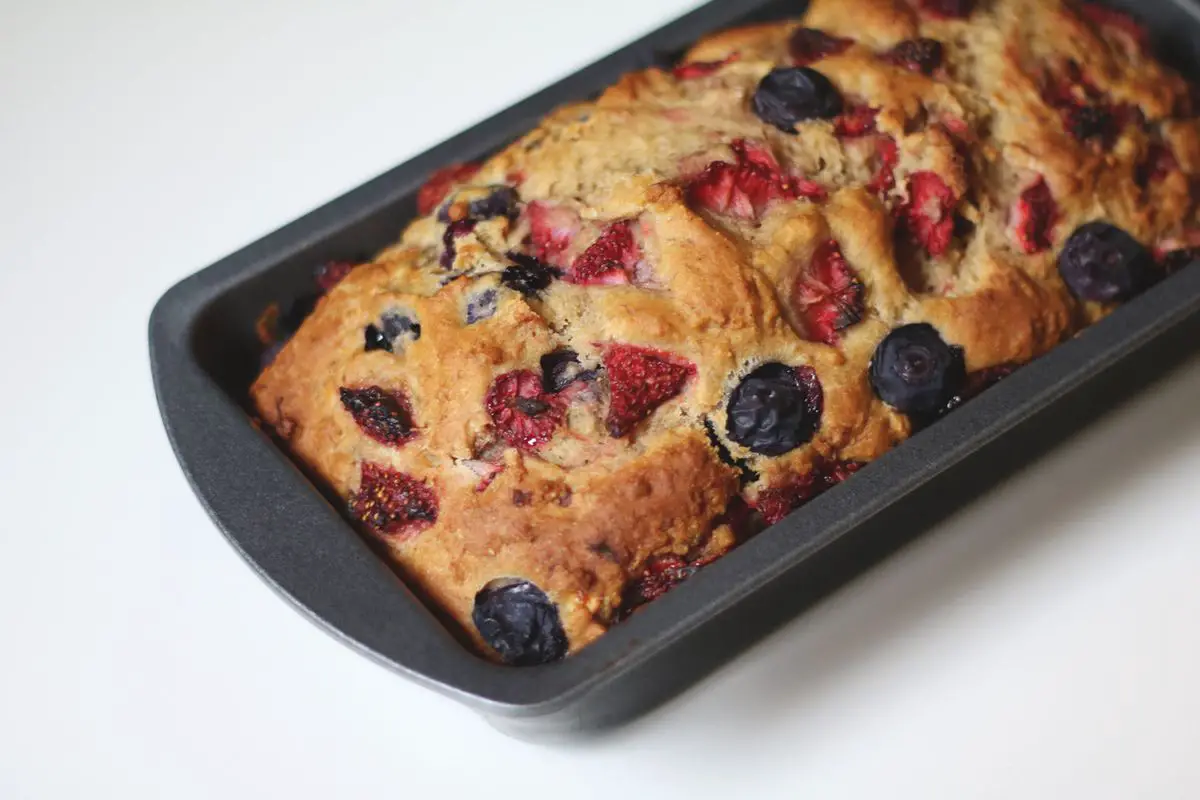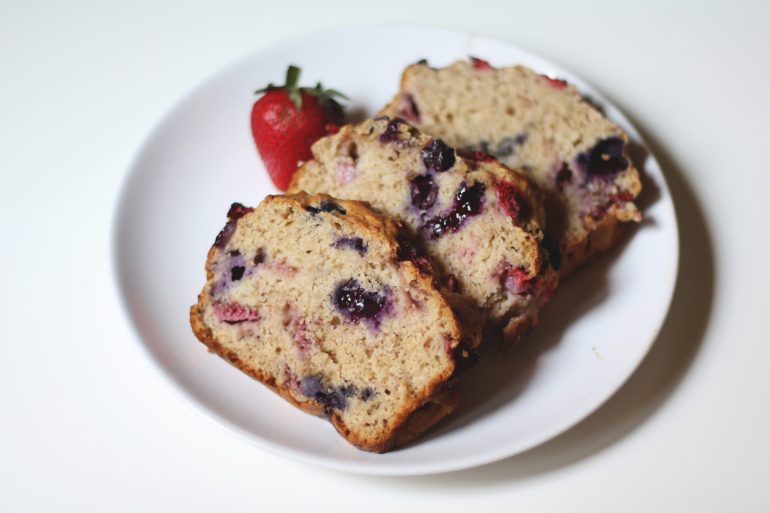 Introducing a delicious and healthy breakfast recipe - Mixed Berry Bread! Packed with the goodness of berries and bananas, this bread is a perfect start to your day. And the best part? It's sugar-free and tastes amazing on its own. But if you have a sweet tooth, you can always spread some jam over the slices. This bread also makes for a great lunchbox option for kids. So, give it a try and let me know what you think in the comments!
To ensure the perfect mixed berry bread, here are some of my suggestions. Firstly, make sure to use ripe bananas for maximum sweetness. You can use fresh or frozen berries, both work well. And for a creamier texture, add some yogurt to the batter.
You may also like Lemon Blueberry Bread and Whole Wheat Banana Bread.
Mixed Berry Bread 2017-08-17 10:32:53
Whole Wheat Mixed Berry Bread
Serves 8
Prep Time: 00:20
Cook Time: 00:50
Total Time: 01:10
Ingredients
240 g whole wheat flour
1 tsp baking powder
1/2 tsp baking soda
1/4 tsp salt
1 tbsp coconut oil or butter
2, at room temperature egg whites
2, mashed medium-sized, ripened bananas
1&1/2 tsp vanilla essence
1/4 cup low-fat yogurt
1/4 cup low-fat milk
3 tbsp honey
1/2 cup chopped strawberries
1/2 cup blueberries
Instructions
In a bowl, mix together flour, baking powder, baking soda and salt until combined.
In a separate wide bowl, whisk together melted butter or coconut oil, egg whites and vanilla essence until incorporated.
Then add mashed banana, yogurt, milk, and honey, whisk it well until they are well combined.
Now fold the flour mixture in three additions. Then gently fold in berries. (reserve some berries for Further use)
Spread the batter in 9 inches nonstick loaf pan and level it. Then sprinkle the reserved berries on top of the batter and press them gently.
Meanwhile, preheat your oven to 180 degrees C.
Bake it for about 45 to 50 mins in the preheated oven or until a toothpick inserted in the center comes out clean.
Then remove from the oven and place it on the wired rack to cool for some time.
By Santhi Therese
The Indian Claypot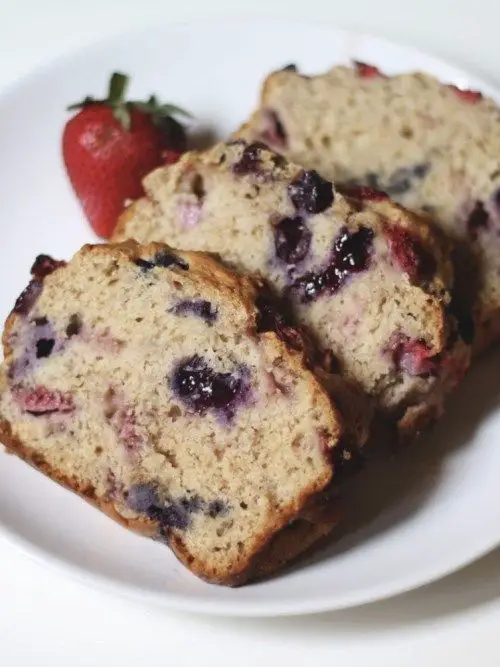 You may also like my other Healthy Breakfast posts and recipes like Appam Recipe, Thinai Sakkarai Pongal /Foxtail Millet Sweet Pongal, Healthy Breakfast Recipe, Kara Kuzhi Paniyaram with Idli/Dosa Batter, Oats Chocolate Brownie Recipe, Healthy Aval/Poha/Red Rice Flakes Breakfast Recipe, Ragi Aval Sweet Kozhukattai, Ragi Paal Kozhukattai, How To Make Soft Layered Chapati, Soft and Chewy Granola Bars, Vendhaya Kali, Strawberry Apple Smoothie, Pasi Payaru Aval Pongal, Homemade Granola Recipe, Moringa Adai Dosa Recipe, Ragi Puttu, Green Gram Payasam/Kheer, Whole Wheat Bread Recipe, Kavuni Arisi Sweet, Banana Oatmeal Cookies .