Mixed Berry Muffins
If you're searching for a healthy and scrumptious breakfast option, you should try Mixed Berry Muffins.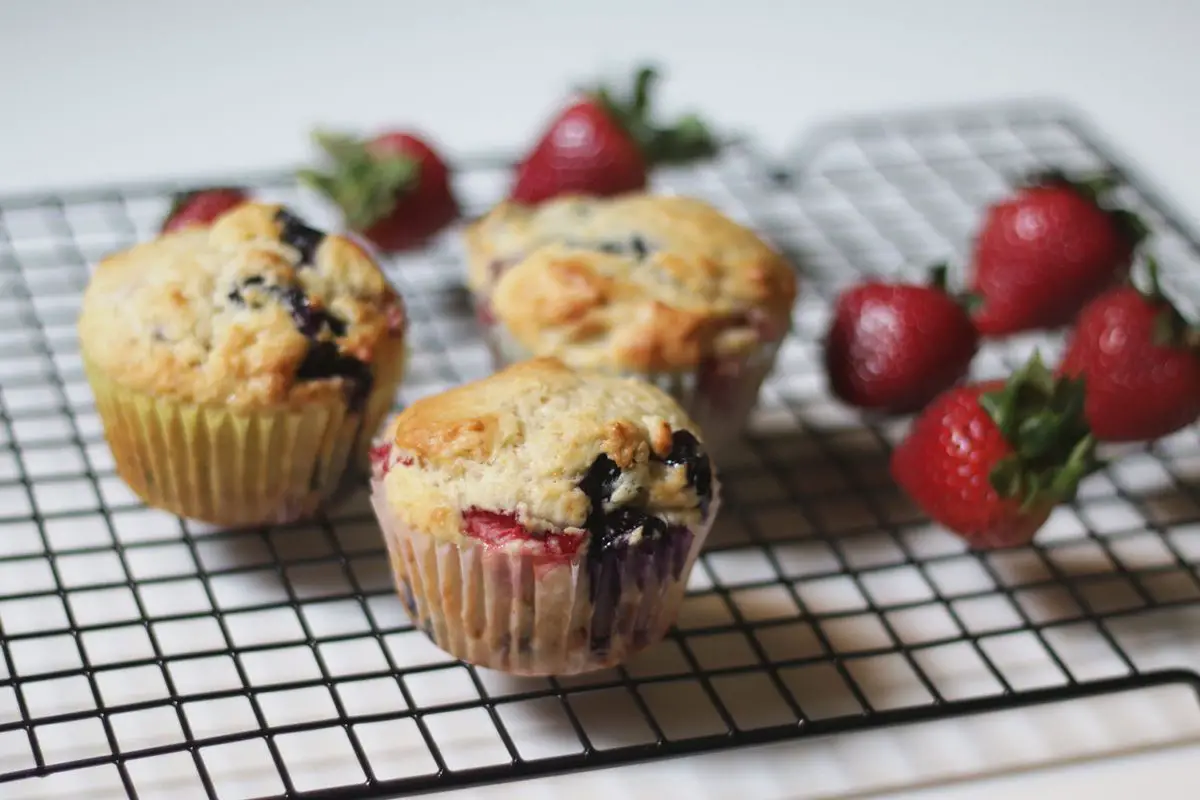 If you're searching for a healthy and scrumptious breakfast option, you should try Mixed Berry Muffins. Berries are not only tasty, but they also play a vital role in maintaining physical and mental health. Blueberries are especially beneficial as they're packed with antioxidants that may help keep your memory sharp as you age. Additionally, berries are a great source of fiber.
Mixed Berry Muffins are also one of my favorite muffin recipes as they taste absolutely delicious! Don't forget to share your thoughts in the comments section after trying out this recipe!
To ensure that your Mixed Berry Muffins turn out perfectly, I have some suggestions for you. Firstly, I recommend using oil instead of butter and yogurt instead of milk to make the muffins moist and tender. Secondly, if possible, try to use fresh berries. If you're using frozen berries, you don't need to thaw them before using them in the recipe. Lastly, if you want to add a citrusy flavor to your muffins, consider adding a teaspoon of grated lemon or orange zest to the batter.
Give this Mixed Berry Muffin recipe a try and let us know your thoughts in the comments section below!
You may also like my other muffin recipes such as Raspberry Muffins, Oatmeal Blueberry Muffins, Whole Wheat Banana Muffins and Bread Pudding Muffins.
Mixed Berry Muffins 2017-05-29 14:43:43
Mixed Berry Muffins
Serves 12
Prep Time: 00:20
Cook Time: 00:25
Total Time: 00:45
Ingredients
2 cups (260 g) all purpose flour
1/2 cup (100 g) white sugar
1&1/4 tsp baking powder
1/2 tsp baking soda
1/4 tsp salt
1&1/2 cup chopped strawberries and whole blueberries
1 lightly beaten large egg
1 cup (240 ml) low fat plain yogurt
1/3 cup sunflower oil or any other oil like canola or vegetable
1 tsp vanilla essence
Instructions
Preheat oven to 180 degree C. then line or butter 12 muffin cups pan with paper liners.
Meanwhile, in a wide bowl, whisk together the lightly beaten egg, yogurt, oil and vanilla essence until incorporated.
In another wide bowl, combine the flour, sugar, baking powder, baking soda and salt until well combined.
Then gently fold in the chopped strawberries and whole blueberries.
By using rubber spatula, fold wet ingredients into dry ingredients until combined.
With the help of spoon or ice cream scoop, fill each muffin cup almost full with batter.
Place it in the oven and bake it for 20 to 25 mins or until a toothpick inserted in the center of a muffin comes out clean.
Transfer it to a wire rack and let cool for about 10 mins before removing from the pan.
By Santhi Therese
The Indian Claypot
You may also like my other Healthy Breakfast posts and recipes like Appam Recipe, Thinai Sakkarai Pongal /Foxtail Millet Sweet Pongal, Healthy Breakfast Recipe, Kara Kuzhi Paniyaram with Idli/Dosa Batter, Oats Chocolate Brownie Recipe, Healthy Aval/Poha/Red Rice Flakes Breakfast Recipe, Ragi Aval Sweet Kozhukattai, Ragi Paal Kozhukattai, How To Make Soft Layered Chapati, Soft and Chewy Granola Bars, Vendhaya Kali, Strawberry Apple Smoothie, Pasi Payaru Aval Pongal, Homemade Granola Recipe, Moringa Adai Dosa Recipe, Ragi Puttu, Green Gram Payasam/Kheer, Whole Wheat Bread Recipe, Kavuni Arisi Sweet, Banana Oatmeal Cookies .