Oatmeal Blueberry Pancakes
Transform Your Morning Routine with Delicious Oatmeal Blueberry Pancakes with Raspberry Sauce!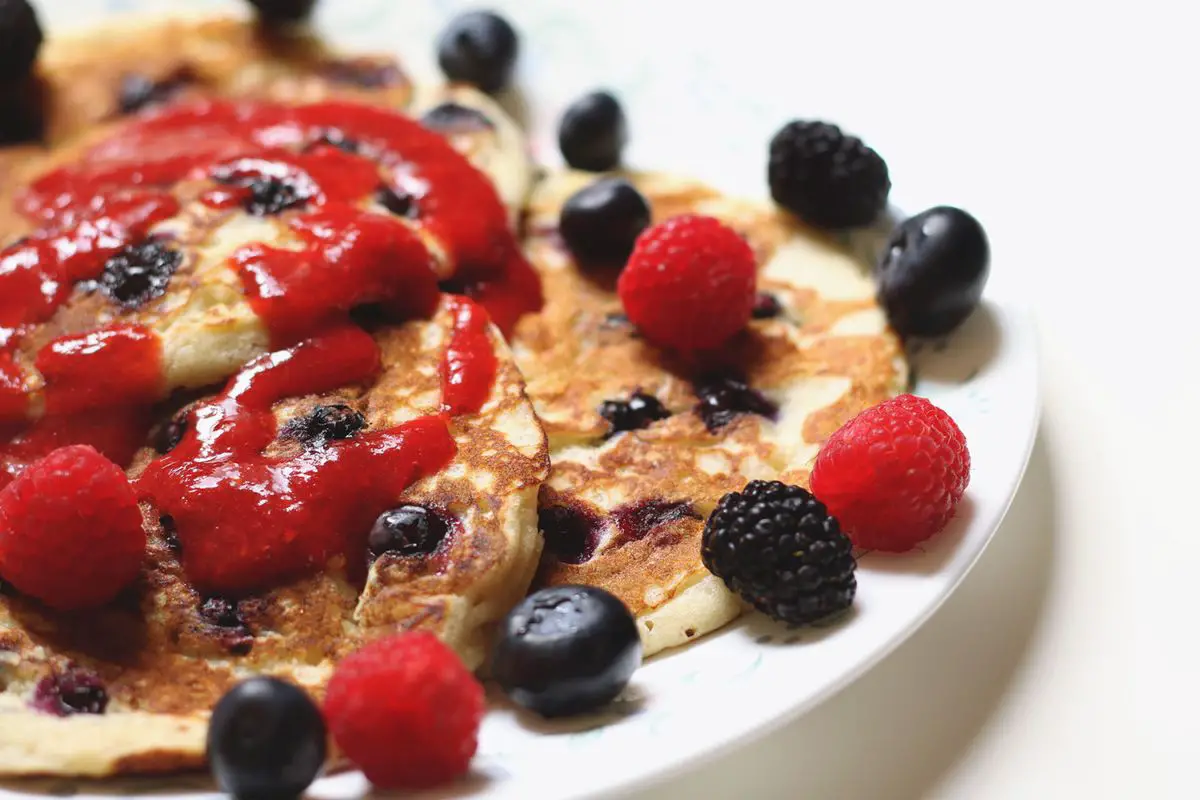 "Transform Your Morning Routine with Delicious Oatmeal Blueberry Pancakes with Raspberry Sauce!
Pancakes and maple syrup are a classic breakfast combination, but it's time to elevate your morning meal with a healthy and nutritious twist. Introducing the mouth-watering Oatmeal Blueberry Pancakes with Raspberry Sauce! This delicious dish will satisfy your cravings for something sweet and delicious, while also providing you with a healthy and nutritious start to your day.
Making the perfect oatmeal blueberry pancakes is easy. Simply brush a non-stick pan with oil over moderately high heat until hot, then reduce the heat to medium. Pour 1/4 cup of batter into the pan and cook until bubbles appear on the surface and the bottom becomes golden. Flip the pancake with a spatula and cook until the bottom becomes golden and it is cooked through. If the pancake browns too quickly, simply lower the heat and continue cooking until it is set. Transfer the pancake to the serving plate and repeat with the remaining batter.
Don't forget to add the fresh berry sauce and plenty of berries for an extra boost of flavor and nutrition. You won't regret trying this delicious and healthy breakfast dish. So what are you waiting for? Give this recipe a try and share your thoughts with us in the comments below!
Start your day off on the right foot with the delicious Oatmeal Blueberry Pancakes with Raspberry Sauce! Enjoy!"
Oatmeal Blueberry Pancakes with Raspberry Sauce 2017-03-31 02:12:40
Oatmeal Blueberry Pancakes
Serves 3
Prep Time: 00:10
Cook Time: 00:30
Total Time: 00:40
Ingredients
150 g Fresh Raspberries
2 to 3 tbsp White Sugar
1 tsp Fresh Lemon Juice
1/2 cup Quaker Oats
1/2 cup All Purpose Flour
1 tsp Baking Powder
1/4 tsp Baking Soda
1/4 tsp Salt
2 tbsp White Sugar
1 cup (240 ml) Buttermilk
1 large, lightly beaten Egg
3 tbsp Melted Butter
1 tsp Vanilla Essence
100 g Fresh Blueberries
Plus extra to grease the pan Olive Oil or Melted Butter
Instructions
For the raspberry sauce:
Combine raspberries, sugar and lemon juice in a saucepan over medium heat.
Cook and stir continuously for about 5 to 7 mins or until the berries break down.
Then remove from the heat and strain through a metal strainer to remove seeds and keep it aside.
For the pancake batter:
Place the oats in a blender and blend it until powdered.
In a wide bowl, mix together the oats flour, all-purpose flour, baking powder, baking soda, salt and sugar until combined.
In a separate bowl, whisk together beaten egg, buttermilk, vanilla essence and melted butter.
Make a well in the center of the dry ingredients and then pour the egg mixture in, all at once and stir gently until combined.
How to prepare pancakes:
Meanwhile, heat a frying pan over medium-high heat, and grease the pan with oil or melted butter.
Then pour 1 ladle of batter into the hot pan.
Then evenly spread the blueberries over the pancake while it is cooking. When the bottom of the pancake becomes brown and bubbles start to appear on the top surface of the pancake, turn over and cook until lightly browned.
Repeat the same process for the remaining batter also. Serve oatmeal blueberry pancakes with raspberry sauce.
By Santhi Therese
The Indian Claypot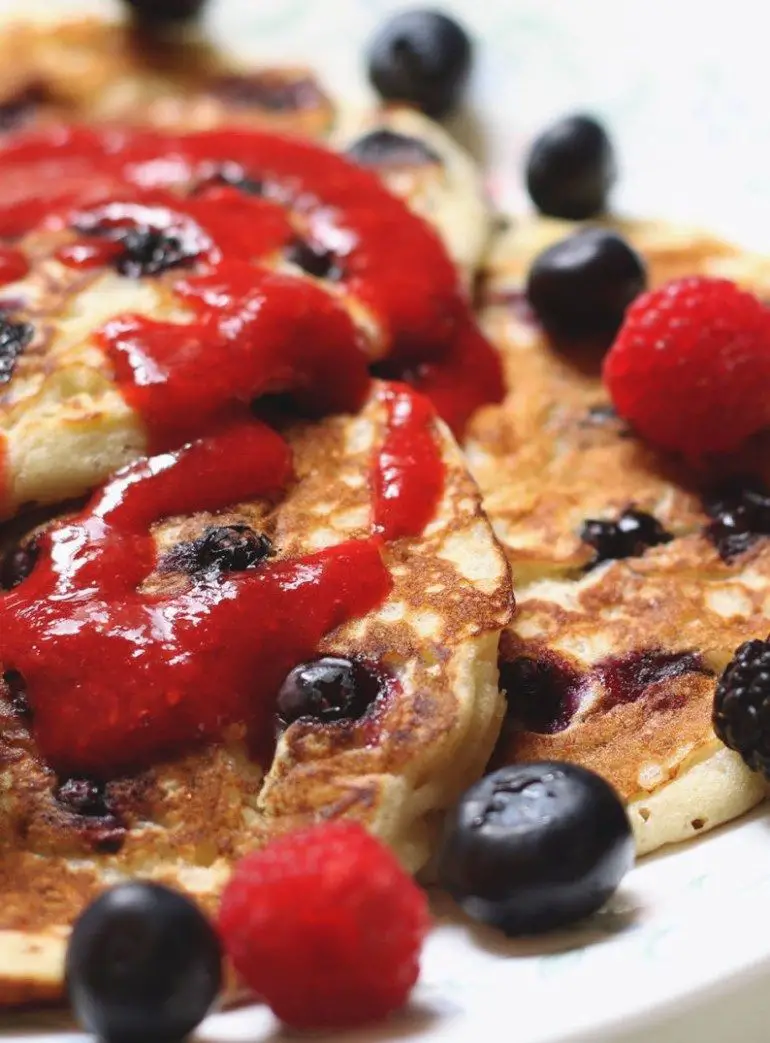 You may also like my other Healthy Breakfast posts and recipes like Appam Recipe, Thinai Sakkarai Pongal /Foxtail Millet Sweet Pongal, Healthy Breakfast Recipe, Kara Kuzhi Paniyaram with Idli/Dosa Batter, Oats Chocolate Brownie Recipe, Healthy Aval/Poha/Red Rice Flakes Breakfast Recipe, Ragi Aval Sweet Kozhukattai, Ragi Paal Kozhukattai, How To Make Soft Layered Chapati, Soft and Chewy Granola Bars, Vendhaya Kali, Strawberry Apple Smoothie, Pasi Payaru Aval Pongal, Homemade Granola Recipe, Moringa Adai Dosa Recipe, Ragi Puttu, Green Gram Payasam/Kheer, Whole Wheat Bread Recipe, Kavuni Arisi Sweet, Banana Oatmeal Cookies .