Spinach Cottage Cheese Curry/Palak Paneer
Palak Paneer: A Delicious and Healthy North Indian Dish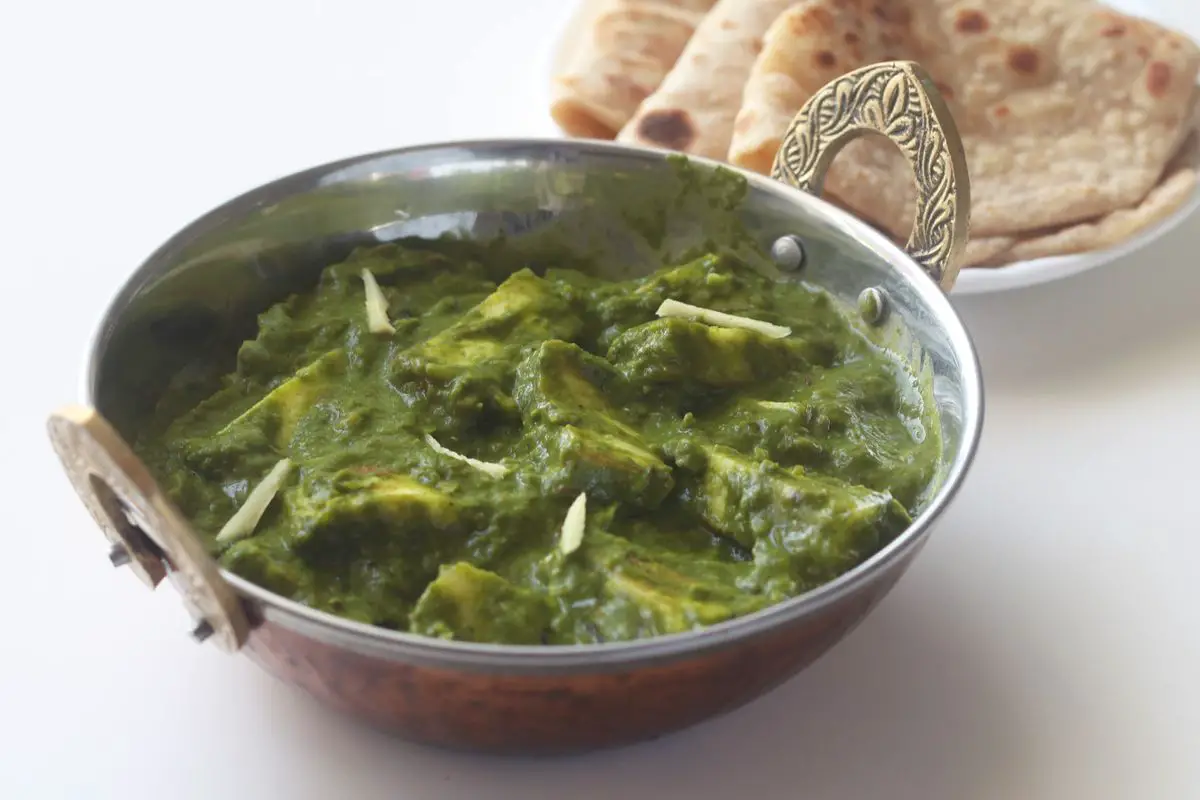 Are you looking for a delicious and healthy meal to make for dinner tonight? Look no further than palak paneer, one of the most popular North Indian dishes. Not only is it delicious, but it is also a healthy option for those who are looking for a tasty meal that won't break the calorie bank.
This creamy palak paneer is the perfect accompaniment to roti, naan, jeera rice, ghee rice, and even chilled cucumber raita. And for those who are vegan, you can easily substitute paneer with tofu and milk cream with cashew cream or coconut cream. This recipe is easy to make and is great for dinner parties or special occasions. So why not try this simple recipe and share your thoughts with us in the comments!
Here are a few tips to help you make the perfect palak paneer:
Preparing the Spinach Puree: You can either stir fry the chopped spinach with green chilies for 1-2 minutes or blanch the spinach and make a smooth paste. Both methods are common ways to prepare the spinach puree for this dish.
Adding Spice: To add some extra heat to your palak paneer, you can add 1/2 tsp of red chili powder and 1/4 tsp of turmeric powder. I like to add chopped garlic to this recipe because I think spinach and garlic go really well together, but if you're not a fan of garlic, feel free to skip this step.
Sweetening the Dish: Spinach can have a slightly bitter taste, so I like to add cream to my palak paneer. If you prefer a sweeter dish, you can also add 1/2 tsp of sugar, which is optional.
So what are you waiting for? Give this delicious and healthy palak paneer recipe a try and let us know your thoughts in the comments below!
Finally, you may also like my other paneer recipes like Paneer Jalfrezi, Mattar Paneer Masala, Kadai Paneer, Shahi Paneer, Paneer 65, Paneer Soya bite Korma, Paneer Lababdar, Paneer Butter Masala, Spicy Paneer Tacos, Paneer Bhurji and Palak Paneer Paratha.
Spinach Cottage Cheese Curry / Palak Paneer 2020-01-04 04:12:58
Spinach Cottage Cheese Curry / Palak Paneer
Serves 3
Prep Time: 00:15
Cook Time: 00:30
Total Time: 00:45
Ingredients
1 bunch (125 grams) Spinach
2 to 3 Green Chilies
1 tsp Oil
200 grams Paneer
3 tbsp Olive Oil or any other cooking oil or butter
1/2 tsp Cumin Seeds
4 Cloves
1 inch Cinnamon Stick
2 to 3 Cardamoms
1 small Bayleaf
4 finely chopped Garlic Cloves
1 medium sized finely chopped Onion
1 large sized finely chopped Tomato
2 tsp Ginger and Garlic Paste
1/2 tsp Garam Masala
1 tsp Crushed Fenugreek Leaves
to taste Salt
2 tbsp Fresh Cream
for garnishing Ginger Julienne
Instructions
Pluck only the tender spinach/palak leaves and discard the stems as they may leave a bitter taste.
Rinse them well few times and drain the water completely otherwise it will let out lot of moisture while cooking.
Then chop the spinach leaves roughly.
Heat a pan over medium heat, add 1 tsp oil. When the oil heats up, add green chilies and chopped spinach, saute well for 1 to 2 minutes or until its raw smell has gone away.
Switch off the heat and let it cool for some time and place them in a blender or mixie jar and grind until a smooth paste and keep it aside.
Heat a pan with 1 tbsp of oil over medium heat.
When the oil heats, add paneer cubes and stir fry for 2 mins or until they become golden brown then remove them from the heat and immerse them in a cup of hot water and keep it aside.
Meanwhile heat a pan with 2 tbsp of oil over medium heat.
When the oil heats, add cumin seeds, cloves, cinnamon stick, cardamoms and bayleaf, fry until spluttering.
Then add chopped garlic and fry until browned.
Now add finely chopped onions and a pinch of salt and fry until golden brown.
Then add ginger and garlic paste and fry until a nice aroma comes.
Then add chopped tomatoes, stir fry until they are mashed up.
Also, add garam masala powder, fenugreek leaves and salt, saute until the mixture leaves the sides of the pan.
Then add 1/2 cup of water and cook until the mixture thickens.
Now turn the heat to low, add the pureed spinach and mix well and cook until it begins to bubble for about 2 to 3 mins. Don't over cook.
Add the paneer cubes and just let it simmer for 1 minute.
Finally add the fresh cream and mix well. Garnish with ginger julienne. Switch off the heat and serve hot with rotis.
By Santhi Therese
The Indian Claypot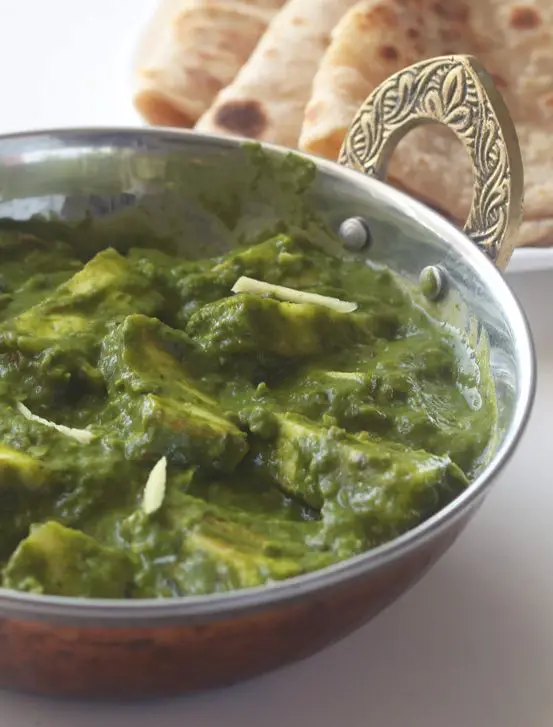 You may also like my other Indian Curries posts and recipes like Vendakkai Mor Kuzhambu / Okra Yogurt Gravy, Spicy Kadai Paneer Recipe, Mutton Peas Masala, Kadai Paneer Masala, Bitter Gourd Curry, Pachai Mochai Curry / Fresh Field Beans Curry, Egg Omelette Curry, Fish Curry Recipe, Mutton Liver Stir fry, Homemade Ginger Garlic Paste, Mutton Chukka/Varuval, Paneer Jalfrezi Recipe, Chole Bhature / Chola Poori, Crab Masala, Chettinad Egg Masala, Matar Paneer Masala, Mutton Curry, Paneer Butter Masala, Soya Chunks Paneer Korma, Coconut Chicken Curry with Potatoes .