Juicy Pineapple Cake
Indulge in the Decadence of a Heavenly Pineapple Cake!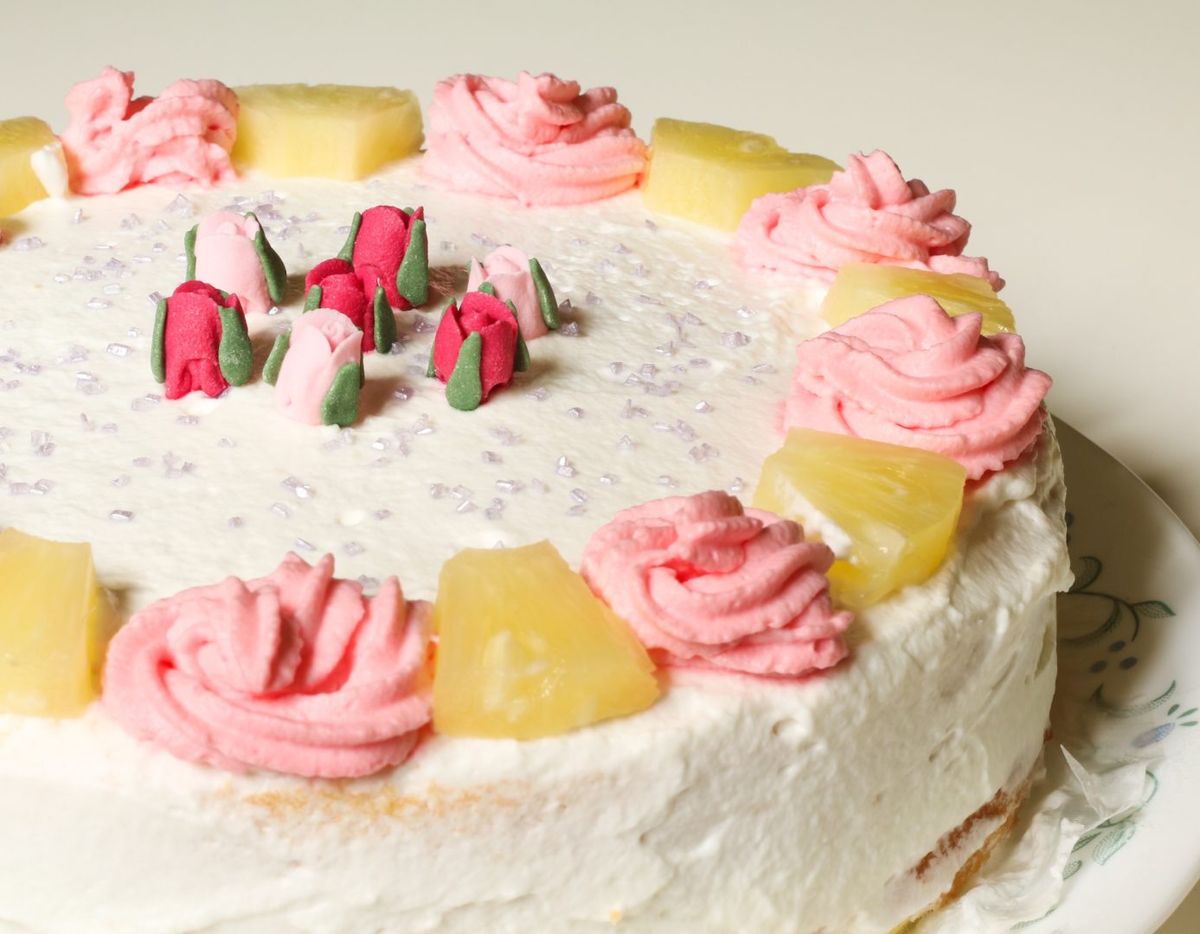 Indulge in the Decadence of a Heavenly Pineapple Cake!
Imagine biting into a cake so soft and moist, it melts in your mouth with every bite. And the best part? This pineapple cake is not only delicious, but also healthy, as it contains no oil or butter. Impress your family this Easter dinner with this heavenly treat!
But wait, there's more! Here are a few insider tips to make your pineapple cake juicy and perfect every time. First, if you don't have cake flour, don't worry. Simply measure 1 cup of all-purpose flour and remove 2 tablespoons. To make up for the missing all-purpose flour, add 2 tablespoons of cornflour and sift the mixture 2 to 3 times for a delicate texture.
Next, separate the eggs and let them reach room temperature before making the batter. Cold eggs won't give you the volume you need, so give them 30 minutes to warm up. Add a pinch of cream of tartar (optional) to help with volume and stiffness.
Finally, fold in the sifted flour gently into the egg yolk mixture and add a bit of the beaten egg whites to lighten the batter. Fold in the remaining egg whites until just incorporated, and you're done!
So, what are you waiting for? Bake a pineapple cake today and treat yourself to a heavenly experience!
You may also like my other cake recipes Eggless Fruit Cake, Chocolate Chiffon Cake, Orange Chiffon cake, Indian Honey Cake and Red Velvet Cheese Cake.
Juicy Pineapple Cake 2017-04-16 07:50:01
Juicy Pineapple Cake
Serves 8
Prep Time: 00:30
Cook Time: 00:20
Total Time: 00:50
Ingredients
1 cup shifted cake flour
1/4 tsp baking powder
1/4 tsp salt
6, separated at room temperature large eggs
1 cup (200 g) white sugar
1 tsp pineapple essence
1/2 tsp (optional) cream of tartar
1 (230 g) canned pineapple
3 tbsp icing sugar or powdered sugar
1 cup heavy whipping cream
1 tsp vanilla essence
Instructions
Preheat oven to 180 degrees C. Line two 8 inch round pans with parchment paper. Separate the eggs into two bowls.
Combine the flour, baking powder and salt and sift or whisk well until combined. Place the egg yolks and 2/3 portion of sugar in the bowl of your electric stand mixer, with the paddle attachment (or use a hand mixer). Beat on high speed until thick, fluffy and light colored. Beat in the pineapple essence until just combined and set aside.
In a clean bowl, with the whisk attachment whip the egg whites until foamy. Add cream of tartar and continue beating until soft peaks form. Gradually add the remaining 1/3 portion of sugar and continue beating until it forms stiff peaks.
Gradually add the sifted flour to the egg yolk mixture and fold it gently by using a rubber spatula. Gently fold a little bit of the beaten egg whites into the batter as it will lighten the batter. Then add the rest of the whites, folding until just incorporated.
Pour the batter evenly into two pans and bake it in preheated oven for 15 to 20 mins or until a toothpick inserted in the center of the cake comes out clean. Cool down for 10 mins on the wired rack before removing from the pan. Then remove the baking paper and cool down the cakes completely before frosting.
Open the pineapple can and reserve the syrup that's in the can, in a small bowl for further use. Cut 2 rings finely and cut another two rings in small to medium size as you like. Meanwhile, in a bowl of an electric mixer, with the whisk attachment or by using hand mixer beat 1 cup of whipping cream, 3 tbsp of icing sugar and vanilla essence, beat until soft peak forms.
Place one cake on a flat plate or a cake board, spread or pour half reserved pineapple juice over it. Then layer cream on it and sprinkle the finely chopped pineapple pieces. Then layer the second cake and spread the remaining juice on it. Now cover the cake with remaining cream and decorate with pineapple pieces. Now Juicy Pineapple Cake is ready to eat.
By Santhi Therese
The Indian Claypot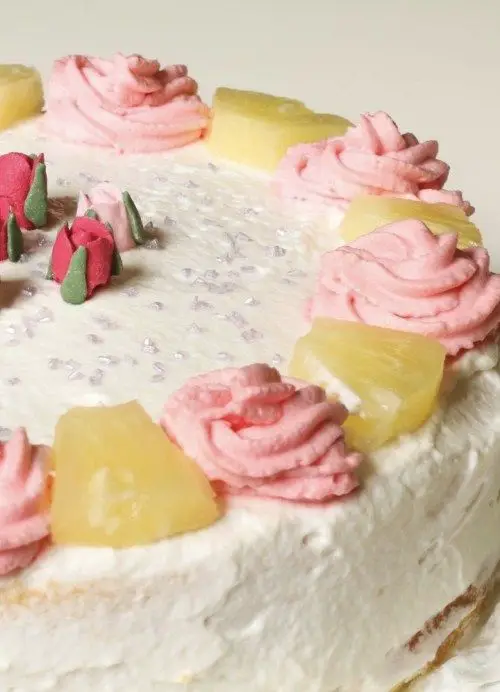 You may also like my other Christmas Cakes posts and recipes like Eggless Hot Cross Buns, Eggless Donut Recipe, Eggless Chocolate Cake Recipe, Eggless Ragi Chocolate Cake, Eggless Rava Cake, Eggless Banana Chocolate Cake, Eggless Strawberry Sauce Cake, Eggless Chocolate Cupcakes, Eggless Strawberry Cake, Eggless Apple Cake, Eggless Carrot Cake, Microwave Chocolate Mug Cakes, Eggless Orange Cake, Eggless Chocolate Marble Cake, Strawberry Streusel Coffee Cake, Christmas Plum Cake, Green Apple Streusel Cake, Meringue Cookies, Strawberry Fruit Fool, Red Velvet Cupcakes with Cream Cheese .