Pumpkin Halwa
Discover the delicious and healthy Pumpkin Halwa - a famous Indian dessert that's perfect for any occasion!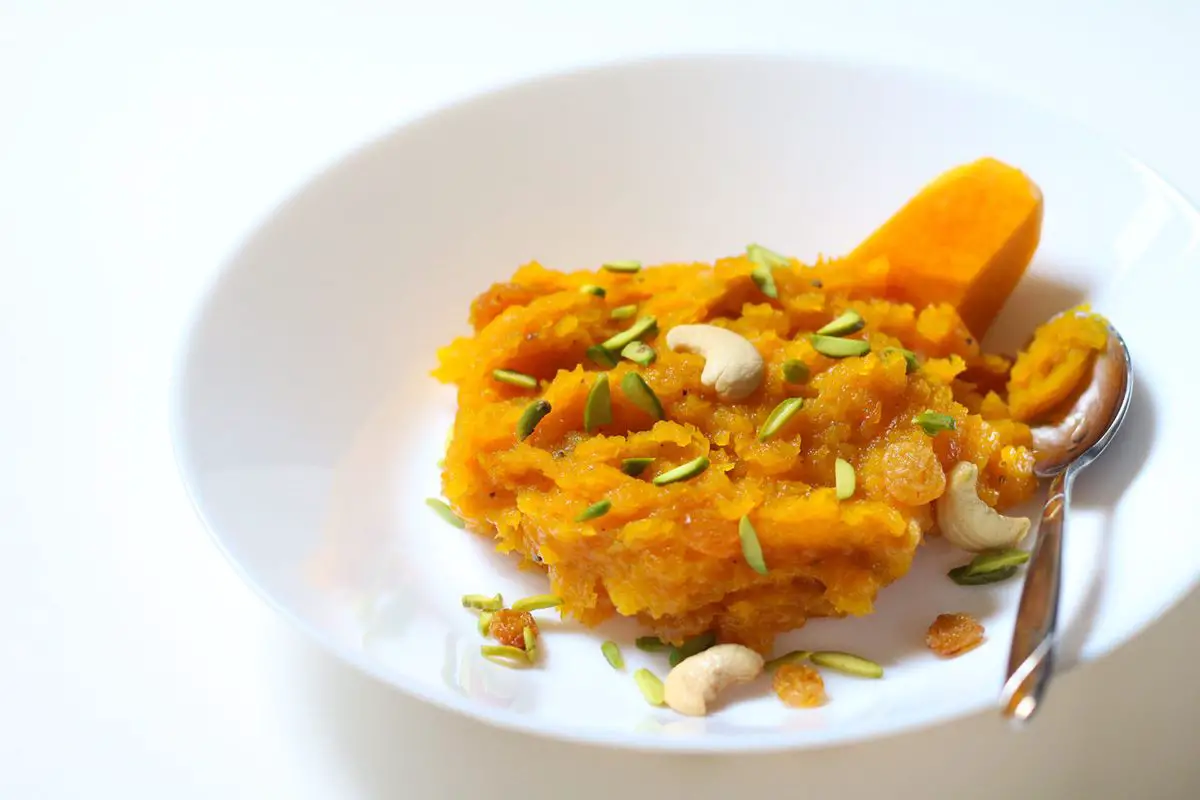 Discover the delicious and healthy Pumpkin Halwa - a famous Indian dessert that's perfect for any occasion! Made with the storehouse of many anti-oxidants, vitamins, and minerals, including Vitamin A, C, and E, pumpkin is also rich in dietary fiber, making it a perfect addition to your diet.
As a food blogger, I have already shared some of my pumpkin recipes such as pumpkin soup and pumpkin scones on my blog. But today, I am excited to share with you the recipe for Pumpkin Halwa, a popular dish often made during the Navratri fasting period in India.
Not only is Pumpkin Halwa a delicious dessert, but it's also packed with nutrients that are good for your eyes, thanks to the high amounts of vitamin A and beta carotene found in pumpkins.
To make perfect Pumpkin Halwa, I recommend using a heavy bottomed pan for any halwa recipe. For this recipe, I used grated pumpkin because it is lightly cooked for only a short time. However, if you find it hard to grate, you can pressure cook the pumpkin and mash it.
Finally, if you prefer to use white sugar instead of jaggery, that's absolutely fine. The choice is yours! So, what are you waiting for? Give this delicious and healthy Pumpkin Halwa a try and let me know how it turns out!
I have already posted healthy Beetroot Dates Halwa on my blog. So try it out and share your comments!
Pumpkin Halwa 2017-10-18 07:21:57
Pumpkin Halwa
Serves 3
Prep Time: 00:10
Cook Time: 00:20
Ingredients
1 cup (tightly packed) grated yellow pumpkin
1/2 cup low fat milk
1/3 cup full fat milk
1/3 cup jaggeri
2 tbsp ghee/clarified butter
a pinch salt
1/8 tsp cardamom powder
6 cashews
15 raisins
few chopped pistachios (optional)
Instructions
Heat a pan with 1 tbsp of ghee, fry cashews until they become golden brown and then fry raisins until they become fluffy, then remove them from the pan.
Add grated pumpkin in the remaining ghee, stir-fry for about 3 mins over low heat or until it's raw smell leaves.
Then pour 1/2 cup of milk and stir well.
Close the lid and cook until all the milk is absorbed, it will take 8 to 10 mins.
Then add powdered jaggery and mix well.
Turn the heat to medium and cook until the halwa becomes thick.
Further add remaining ghee, cardamom powder, fried cashews, and raisins.
Mix everything well and transfer it to the serving plate and finally, garnish it with chopped pistachios.
By Santhi Therese
The Indian Claypot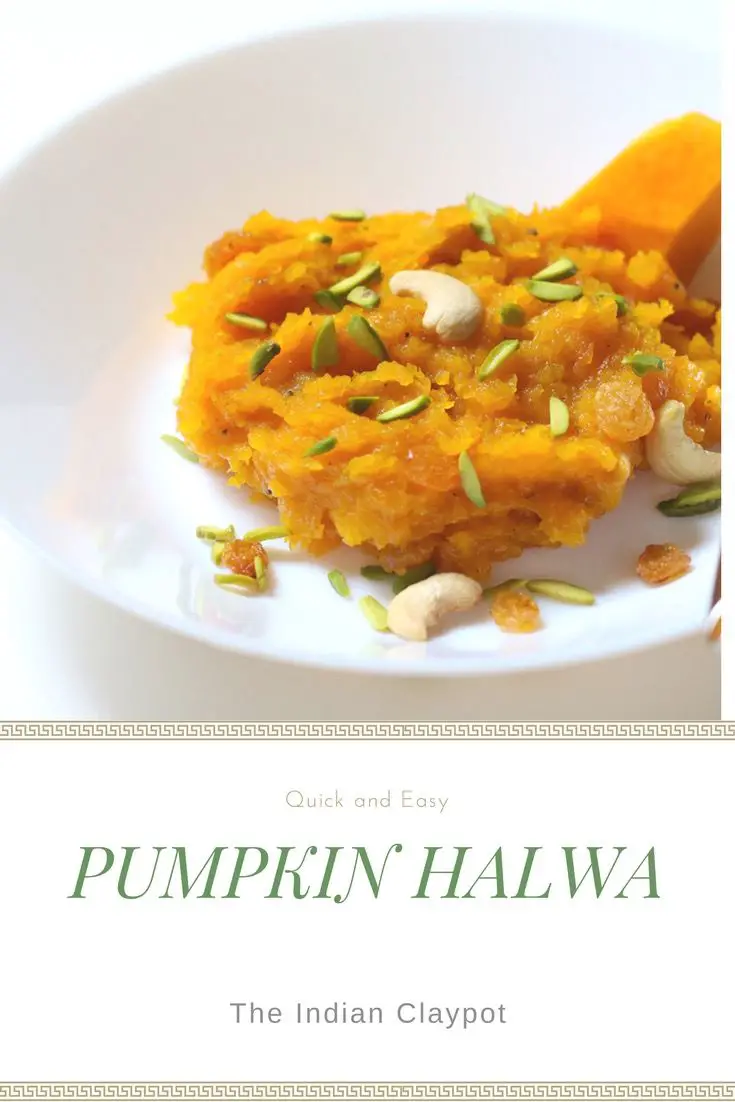 You may also like my other Diwali Sweets posts and recipes like Exploring the Rich Flavors of Popular Indian Sweets and Savouries, Javvarisi Semiya Payasam Recipe, Pasi Paruppu Halwa / Ashoka Halwa, Milk Cake Recipe, Pottukadalai / Fried Gram Murukku Recipe, Mango Sago Dessert, Restaurant Style Rava Kesari Recipe, Badusha Recipe, Kasi Halwa Recipe / White Pumpkin Halwa Recipe, Sweet Shakarpara Recipe / Kalakala / Diamond Biscuit, Moong Dal Murukku, Traditional Mysore Pak Recipe, Baked Chakli/Murukku, Green Gram Payasam/Kheer, Kozhukattai Recipe, Kara Boondi Recipe, Moong Dal Susiyam, South Indian Mixture Recipe, Pepper Kara Sev Recipe, Sweet Boondi .