Rasmalai
Discover the delicious taste of Rasmalai, a classic Indian festive dessert that will make your taste buds dance with joy!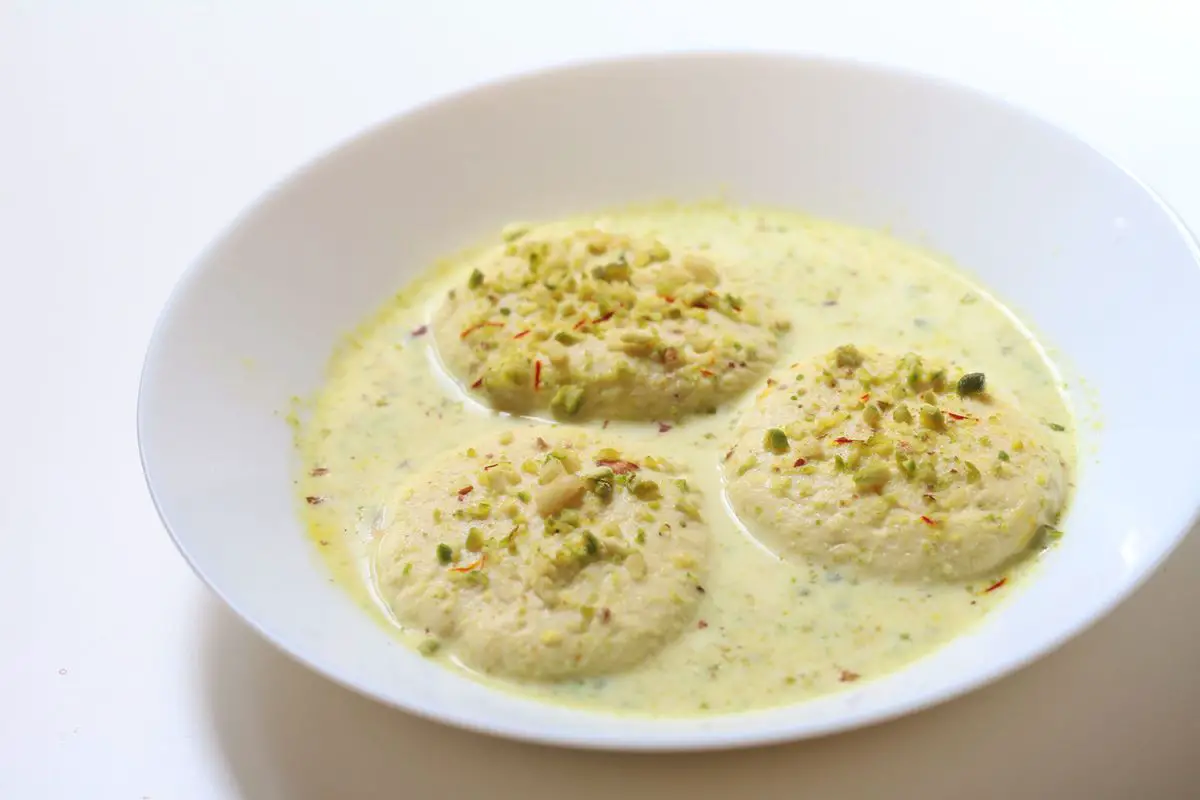 Discover the delicious taste of Rasmalai, a classic Indian festive dessert that will make your taste buds dance with joy! Made with milk, lemon juice, sugar, nuts, and saffron, this dessert is a favorite of many, especially kids who can't resist its juicy and creamy texture.
Originating from Bengal, Rasmalai is now popular all over India. The name itself means "juicy milk cream," which perfectly describes its soft and tender texture. Similar to Rasgulla, Rasmalai is easy to make but requires some tricks to get it perfectly soft and juicy.
To make the perfect Rasmalai, always use fresh full cream cow's milk for the best result. The fat content in full-fat milk makes the best paneer, which is the key ingredient of this dessert. When forming paneer/chenna balls, make sure there are no cracks in them, or the balls will dissolve in sugar syrup while boiling. Finally, knead the chenna gently, as over-kneading can cause it to release oil and result in hard Rasmalai.
Serve Rasmalai with creamed milk and saffron, topped with dry fruits like cashews, almonds, and pistachios for a truly divine experience. Your kids will love it, and it won't last long on the kitchen table, so make sure to try this recipe out today!
Finally, you may also like my other Diwali sweets and savories recipes like Milk Halwa, Rava Ladoo, Boondi Ladoo, Pineapple Kesari, Badam Burfi, Carrot Halwa, Pumpkin Halwa, Beetroot Dates Halwa, Badam Kheer, Rasmalai Recipe, Milk Peda, Gulab Jamun, Kalakand, Kesari, Custard Halwa, Sweet Boondi, Kara Boondi, Butter Murukku, Thenkuzhal Murukku, Saffron Butter Cookies, Paruppu Vadai, Mixture Recipe and Urad Dal Vadai.
Rasmalai  2017-10-16 07:08:58
Rasmalai
Serves 4
Prep Time: 00:30
Cook Time: 00:45
Total Time: 01:15
Ingredients
4 cups (1 liter) Fresh full fat cream milk
1 to 2 tbsp Fresh lemon juice
1 cup Ice water
For Rabdi:
3 cups Milk
1/3 cup or as needed Sugar
Pinch Saffron
1/4 tsp Cardamom powder
12 Pistachios
6 Cashews
For Sugar Syrup:
Instructions
Preparations:
Place the nuts in a blender or mixie jar, grind it into a coarse powder and keep it aside.
How to make Chenna:
Boil 1 liter of milk in a heavy bottomed pan or pressure cooker. When it starts to boil, add lemon juice, stir well until the milk curdles completely. (add more lemon juice if needed) switch off the heat. Immediately add ice water, it is very important to keep the chenna/paneer soft.
Meanwhile, line a strainer with a muslin cloth and strain the paneer. Then wash the paneer under cold water in order to get rid of lemon juice taste. Also squeeze gently and allow the water to drain. Then tie the cloth and let it hang and drip for 30 minutes. This step is also very important because if the water is not drained well from the paneer ,the rasmalai pieces will start to disintegrate in sugar syrup.
Once drained, untie the muslin cloth and transfer the chenna/paneer to a plate. (if it has too much moisture, press the chenna gently by using paper tissues)
Crumble the chenna with hand, mash and knead the chenna/paneer until it becomes a smooth dough. It will take 5 to 6 minutes.
Furthermore, make 8 small balls and press them gently between your palms and flatten them like a Patty.
How to cook Sugar Syrup:
Heat 3 cups of water and 1 cup of sugar in a pan over medium heat. When it starts to boil vigorously, gently slide in all the patties one by one from the side then cover the pan with a lid and boil for 5 mins.
After 5 mins, open the lid and flip the patties gently and again close the lid and cook for another 5 mins.
Remove from the heat and let it cool completely. After that drain each Pattie and press gently between your palms to remove excess syrup.
How to Contense the milk:
Meanwhile, heat a heavy bottomed pan with 3 cups of milk, bring it to boil over medium heat. Add sugar, cardamom powder, half of the nuts powder and saffron, keep on stirring until it becomes slightly thick.
Then add the drained patties and cook for 4 to 5 mins. which helps Pattie absorb the milk.
HOw to assemble Rasmalais:
Remove from the heat and let it cool to room temperature and then place it in the refrigerator for at least 2 to 3 hours.
Finally, garnish it with the remaining nut powder. Serve chilled rasmalai as a dessert!
By Santhi Therese
The Indian Claypot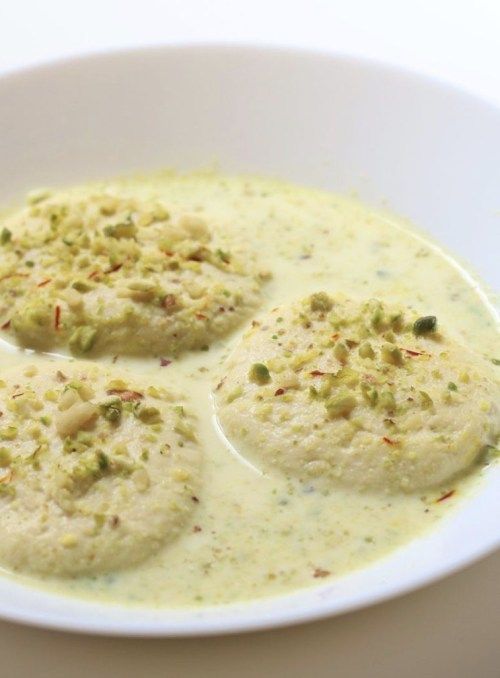 You may also like my other Diwali Sweets posts and recipes like Exploring the Rich Flavors of Popular Indian Sweets and Savouries, Javvarisi Semiya Payasam Recipe, Pasi Paruppu Halwa / Ashoka Halwa, Milk Cake Recipe, Pottukadalai / Fried Gram Murukku Recipe, Mango Sago Dessert, Restaurant Style Rava Kesari Recipe, Badusha Recipe, Kasi Halwa Recipe / White Pumpkin Halwa Recipe, Sweet Shakarpara Recipe / Kalakala / Diamond Biscuit, Moong Dal Murukku, Traditional Mysore Pak Recipe, Baked Chakli/Murukku, Green Gram Payasam/Kheer, Kozhukattai Recipe, Kara Boondi Recipe, Moong Dal Susiyam, South Indian Mixture Recipe, Pepper Kara Sev Recipe, Sweet Boondi .