Raspberry Bread
Delightful Raspberry Bread Recipe with Lemon Glaze and Health Benefits
Delightful Raspberry Bread Recipe with Lemon Glaze and Health Benefits
Raspberry Bread is a perfect accompaniment to your morning tea or coffee and can even make a healthy breakfast option. The addition of lemon's tangy flavor with a sweet glaze makes this dish simply irresistible. So, give this Raspberry Bread recipe a try and let us know your feedback in the comments section.
Raspberries, with their rich red color, sweet juicy taste, and high antioxidant content, are one of the most popular berries consumed worldwide. They are also known for their cognitive benefits and may help reduce cognitive decline related to aging. So, try to include raspberries in your diet in any form, be it a smoothie or dessert.
To make the perfect Raspberry Bread, we have some suggestions for you. Firstly, gently toss the raspberries with 1 tablespoon of flour to prevent them from sinking to the bottom while baking. Secondly, beat the butter and sugar until light, creamy, and fluffy on medium-high speed for 2-3 minutes. Lastly, you can store the Raspberry Bread in the refrigerator for 2-3 days, or serve it fresh on the same day.
Give this recipe a try and savor the delicious taste of Raspberry Bread with the added benefits of raspberries.
You may also my other raspberry recipes such as Raspberry Cupcakes, Raspberry Muffins, Panna cotta with Raspberry compote and baked raspberry pancake.
Raspberry Bread 2018-03-25 06:20:47
Raspberry Bread
Serves 6
Prep Time: 00:20
Cook Time: 01:00
Total Time: 01:20
Ingredients
195g (1&1/2 cups) all purpose flour
1 tsp baking powder
1/4 tsp salt
grated lemon zest of 1 lemon
1 cup fresh raspberries
1/2 cup (113 g) unsalted butter at room temperature
3/4 cup (150 g) white sugar
2 large eggs at room temperature
1 tsp vanilla essence
1/2 cup (120 ml) milk
1 tbsp 1 tbsp fresh lemon juice
2 tbsp white sugar
Instructions
Preheat oven to 180 degrees C.
Then butter or spray the bottom and sides of 9-inch loaf pan.
In a wide bowl, whisk together flour, baking powder, salt and orange zest until combined.
In a separate bowl, place raspberries. Remove 1 tbsp of the flour mixture and toss well the berries with the flour until coated.
In the bowl of an electric stand mixer or with a hand mixer, beat the butter until soft and creamy.
Also add sugar and beat until light and fluffy.
Then add the eggs one at a time, beating well after each addition.
Beat in the vanilla essence until just combined.
Turn the speed to low, then add flour mixture in 3 additions and milk in 2 additions alternately, starting  and ending with the flour.
Now gently fold the raspberries in the mixture by using a rubber spatula.
Pour the batter into the prepared pan and bake it for about 55 to 60 mins or until the bread is golden brown and a toothpick inserted in the center comes out clean.
Mix sugar with lemon juice in a small microwave bowl, and microwave it for 20 to 30 seconds or until the sugar dissolves.
After removing the bread from the oven, place the pan on a wire rack, then pierce some holes on the top of the loaf by using wooden skewers or toothpick and then brush with the lemon glaze.
Set it aside for 30 mins in the pan then remove the bread from the pan and cool it completely on a wire rack.
By Santhi Therese
The Indian Claypot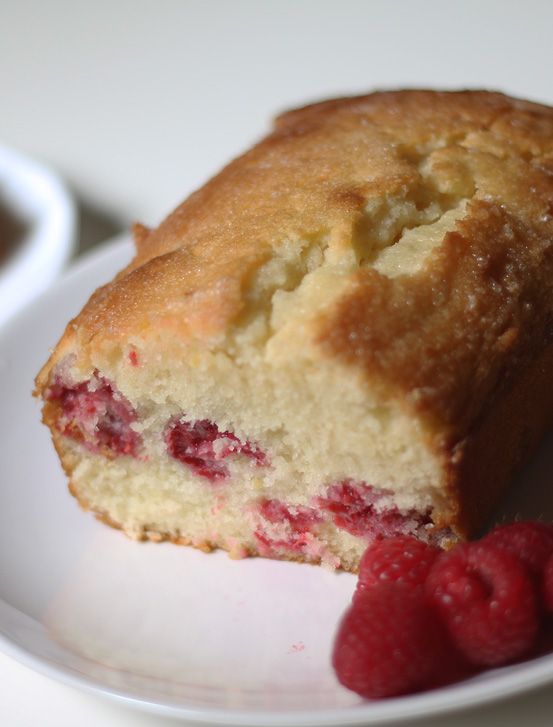 You may also like my other Healthy Snacks posts and recipes like Easy Bruschetta Recipe, Sweet Paniyaram with Idli / Dosa Batter, Oats Chocolate Brownie Recipe, Ragi Aval Sweet Kozhukattai, Instant Wheat Flour Sweet Appam, Mysore Bonda Recipe, Pottukadalai / Fried Gram Murukku Recipe, Wheat Butter Cookies, Fried Gram / Pottu Kadalai Urundai, Baked Chakli/Murukku, Green Gram Payasam/Kheer, Black Gram Laddu, Moong Dal Susiyam, Banana Oatmeal Cookies, Microwave Chocolate Mug Cakes, Homemade Peanut Butter, Vazhaipoo Vadai, Eggless Raspberry Pudding, Coconut Sweet Bun, Spicy Potato Buns .