Raspberry Lemonade Cupcakes
Looking for a healthy snack that's perfect for your little ones? Try making Raspberry Lemonade Cupcakes!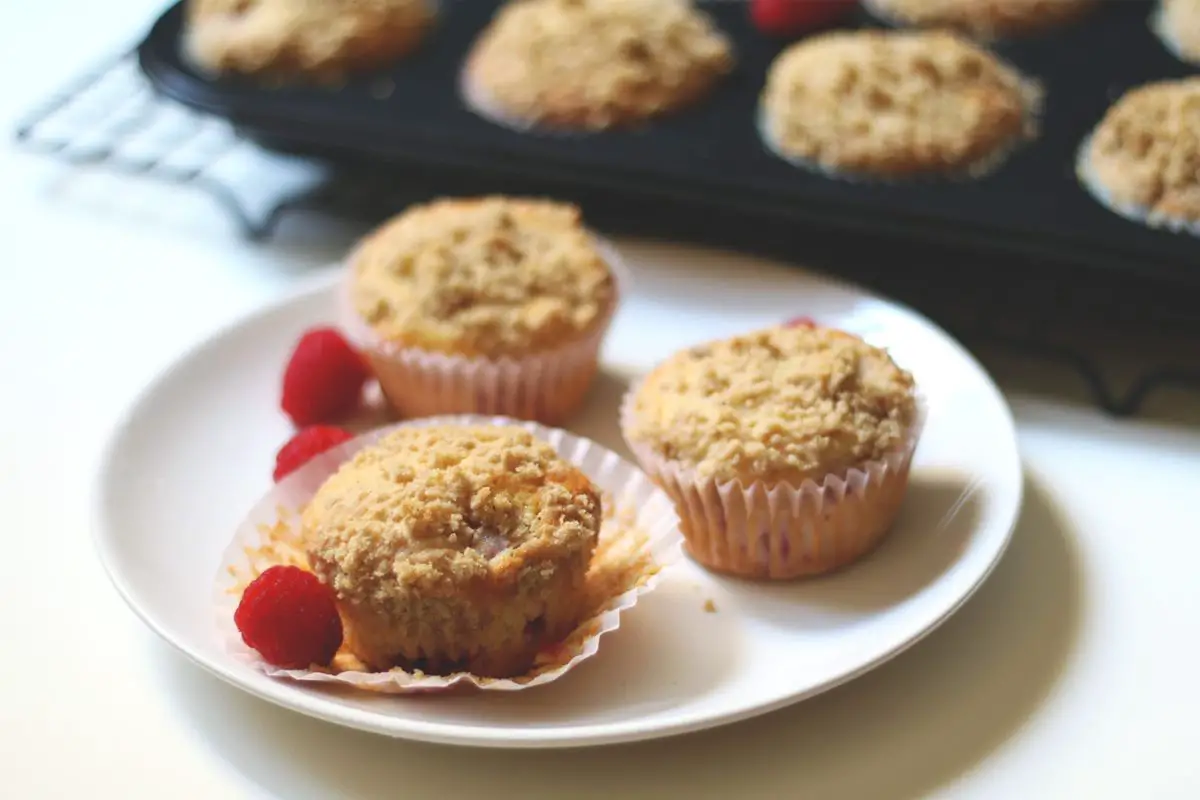 Looking for a healthy snack that's perfect for your little ones? Try making Raspberry Lemonade Cupcakes! These delicious treats are loaded with raspberries, which are packed with vitamins, minerals, and antioxidants. Plus, the crumbled toppings add the perfect touch of sweetness. Your kids will love them!
Here are some tips for making the perfect Raspberry Lemonade Cupcakes. First, try using homemade applesauce in the recipe. Simply clean, peel, core, and cut one apple into small pieces. Microwave the apple pieces with 2-3 tbsp of water for 2-3 minutes until cooked, then blend until smooth. Alternatively, you can use store-bought unsweetened applesauce.
For the crumble topping, use cold butter to get the perfect texture. And don't forget to top your cupcakes with fresh raspberries for an extra burst of flavor. Give these Raspberry Lemonade Cupcakes a try and let us know what you think in the comments!
You may also like Orange Cupcakes and Vanilla Cupcakes.
Raspberry Lemonade Cupcakes 2017-10-06 01:36:20
Raspberry Lemonade Cupcakes
Serves 12
Prep Time: 00:20
Cook Time: 00:25
Total Time: 00:45
Ingredients
195 grams (1&1/2 cups) all purpose flour
1&1/2 tsp baking powder
1 tbsp lemon zest
1/4 tsp salt
1 cup fresh raspberries
1/4 cup (55 grams) at room temperature unsalted butter
1/4 cup unsweetened applesauce
3/4 cup (150 g) sugar
2 large eggs
1/3 cup (80 ml) milk
1 tablespoon lemon juice
1 tsp vanilla essence
1/4 cup (65 g) all purpose flour
30 grams (2 tbsp) cold butter
2 tbsp light brown sugar
1/4 tsp cinnamon powder
pinch salt
Instructions
Preheat oven to 180 degrees C. then line a 12 muffin cups pan with liners and keep it aside. Clean and pat dry raspberries with kitchen tissues.
In a wide bowl combine together flour, baking powder, lemon zest and salt, mix well until combined.
In the bowl of your electric stand mixer or with a hand mixer, combine the butter, unsweetened applesauce and sugar and then beat for 1 minute at high speed.
Also scrape down the sides of the bowl by using a rubber spatula.
Then add eggs, one at a time and beat well.
Add lemon juice and vanilla essence, then beat just to combine. (the mixture will look curdled)
Then add the flour mixture in 3 additions alternately with the milk in 2 additions, beat just until combined ( It starts and ends with flour).
Then gently fold fresh raspberries into the batter.
Fill each muffin cup about two-thirds full with batter.
In a separate bowl, mix crumb topping ingredients together by using fork or hand until it becomes coarse crumbs.
Finally, sprinkle on top of the muffins equally and place it in the preheated oven,
Bake it for 20 to 25 mins or until a toothpick inserted into the center of the muffin comes out clean. Remove from the oven and place on a rack to cool completely.
By Santhi Therese
The Indian Claypot
You may also like my other Healthy Snacks posts and recipes like Easy Bruschetta Recipe, Sweet Paniyaram with Idli / Dosa Batter, Oats Chocolate Brownie Recipe, Ragi Aval Sweet Kozhukattai, Instant Wheat Flour Sweet Appam, Mysore Bonda Recipe, Pottukadalai / Fried Gram Murukku Recipe, Wheat Butter Cookies, Fried Gram / Pottu Kadalai Urundai, Baked Chakli/Murukku, Green Gram Payasam/Kheer, Black Gram Laddu, Moong Dal Susiyam, Banana Oatmeal Cookies, Microwave Chocolate Mug Cakes, Homemade Peanut Butter, Vazhaipoo Vadai, Eggless Raspberry Pudding, Raspberry Bread, Coconut Sweet Bun .