Raspberry Muffins
Looking for a delicious and healthy breakfast option? Look no further than these raspberry muffins!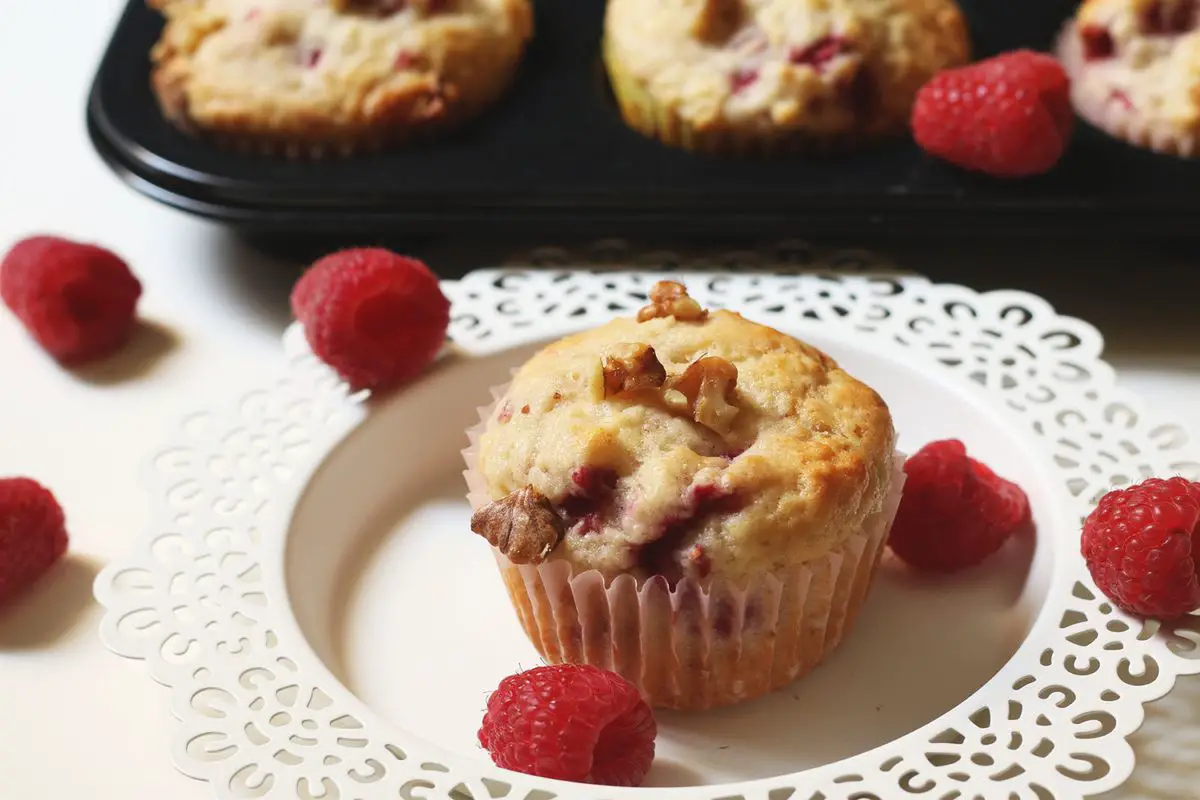 Looking for a delicious and healthy breakfast option? Look no further than these raspberry muffins! Loaded with fresh raspberries and walnuts, they're not only tasty but packed with vitamins, antioxidants, and fiber. Plus, the ellagic acid found in raspberries has been linked to cancer prevention, and both raspberries and walnuts are known to help improve memory power.
If you're having trouble getting your kids to eat raspberries and walnuts, try making them into these soft and sweet muffins. They'll gobble them right up!
To make these muffins even more irresistible, try using oil instead of butter and yogurt instead of milk. These ingredients will make the muffins moist and tender. And while fresh berries are best, frozen berries can be used without needing to be thawed first.
If you want to add a citrusy twist to your muffins, try adding a teaspoon of grated lemon or orange zest to the batter. This will give them a bright and zesty flavor that's sure to please.
So go ahead and give these raspberry muffins a try in your kitchen. Your taste buds and your body will thank you! And don't forget to share your comments below.
You may also like Carrot Muffins, Mixed Berry Muffins, and Blueberry Muffins.
Finally, you may also like my other healthy breakfast recipes like Homemade Granola Recipe, Ragi Aval Kozhukattai, Wheat Flour Sweet Appam, Ragi Paal Kozhukattai,  Whole Wheat Bread Recipe, Multigrain bread recipe, Healthy Bread Pizza, Whole wheat mixed berry bread, Lemon Blueberry Bread, Raspberry bread, Peanut Butter Recipe, Ragi Roti, Homemade Strawberry Jam, Soft Chapati recipe, Ven Pongal, Steel-cut Oats Porridge, Eggless Buttermilk Pancakes, Whole wheat pancake, Aloo Gobi Paratha, Turkey Frittata, Fruit and Nut Chocolate Bars, Stuffed Palak Paneer Paratha and Whole Wheat Banana Bread.
Raspberry Muffins 2017-06-07 05:20:49
Raspberry Muffins
Serves 12
Prep Time: 00:20
Cook Time: 00:20
Total Time: 00:40
Ingredients
Dry Ingredients:
2 cups (260 g) all-purpose flour
1/2 cup (100 g) white sugar
1&1/4 tsp baking powder
1/2 tsp baking soda
1/4 tsp salt
1 cup fresh raspberries
1/2 cup chopped walnuts
Wet Ingredients:
1, lightly beaten large egg
1 cup (240 ml) low fat yogurt
1/3 cup (80 ml) sunflower or canola or vegetable oil
1 tsp vanilla essence
Instructions
Preheat your oven to 180 degrees C. Then butter or line 12 muffin cups pan with paper liners.
In a wide bowl, whisk together the lightly beaten egg, yogurt, oil, and vanilla essence until incorporated and keep it aside.
In another wide bowl whisk the flour, sugar, baking powder, baking soda, and salt until just combined.
Then add fresh raspberries and chopped walnuts, mix gently.
Then fold the wet ingredients into the dry ingredients by using a rubber spatula, stirring gently until they are combined.
By using a spoon or ice cream scoop, evenly fill the muffin cups with the batter.
Then place it in the preheated oven and bake it for 15 to 20 mins or until a toothpick inserted in the center of a muffin comes out clean.
Transfer it to a wire rack and let cool for 10 mins before removing it from the pan.
By Santhi Therese
The Indian Claypot
You may also like my other Healthy Breakfast posts and recipes like Appam Recipe, Thinai Sakkarai Pongal /Foxtail Millet Sweet Pongal, Healthy Breakfast Recipe, Kara Kuzhi Paniyaram with Idli/Dosa Batter, Oats Chocolate Brownie Recipe, Healthy Aval/Poha/Red Rice Flakes Breakfast Recipe, Ragi Aval Sweet Kozhukattai, Ragi Paal Kozhukattai, How To Make Soft Layered Chapati, Soft and Chewy Granola Bars, Vendhaya Kali, Strawberry Apple Smoothie, Pasi Payaru Aval Pongal, Homemade Granola Recipe, Moringa Adai Dosa Recipe, Ragi Puttu, Green Gram Payasam/Kheer, Whole Wheat Bread Recipe, Kavuni Arisi Sweet, Banana Oatmeal Cookies .