Red Velvet Cake with Cream Cheese
This week, Love is in the air! It's Valentine's day, and what better way is there to show your love than to surprise your loved one with this delicious Red velvet cake.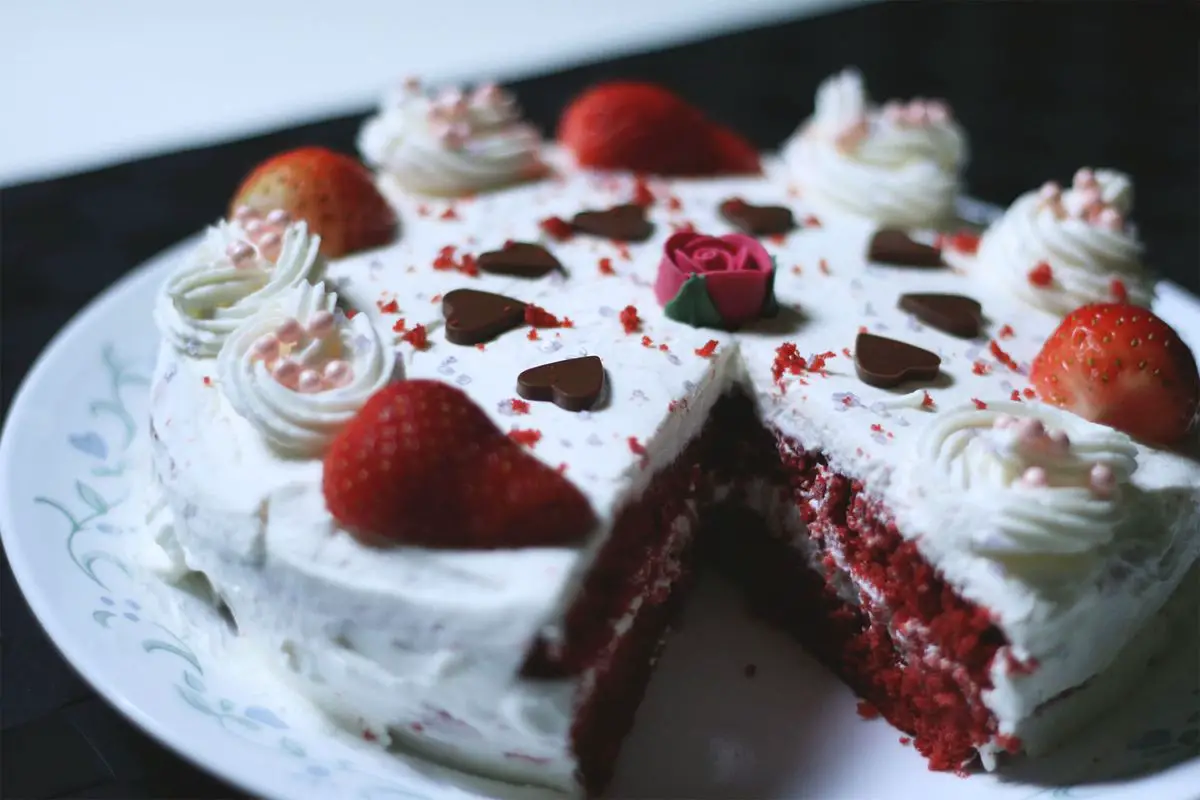 "It's Valentine's week and the air is filled with love! What could be a sweeter gesture to express your affection to your significant other than whipping up a gorgeous Red Velvet Cake? And if you're looking for a bite-sized treat, I've got you covered with my recipe for scrumptious Red Velvet Cupcakes. Head over to my blog for the full details and don't forget to share your thoughts and experiences in the comments section! ❤️🎂"
You may also like my other cake recipes Eggless Sponge Cake, Coffee Cake, Pineapple Cake and Lemon Yogurt Cake.
Red velvet cake has a mild chocolate flavor that makes it a perfect dessert for any occasion. Here are some key suggestions to help you make a mouth-watering red velvet cake.
Use Cocoa Powder: To bring out the chocolate flavor in the cake, try to use 1 tablespoon of unsweetened cocoa powder.
Use Buttermilk: The buttermilk gives the cake a moist and tender texture. If you can't find buttermilk, you can use buttermilk powder or make your own by adding 1 tablespoon of vinegar or lemon juice to 1 cup of milk. Stir well and let it stand for 10 minutes before using it.
Use Liquid Red Food Color: To get the signature red color, make sure to use a good quality liquid red food color. If using powdered food color, mix it well in the buttermilk.
Cream Cheese Frosting: The cream cheese frosting is the perfect topping for red velvet cake. You can spread the frosting with an offset spatula or knife, or pipe lovely swirls with a star decorating tip. To finish it off, crumble a piece of cake and sprinkle it on top of the frosting.
Follow these suggestions to make a yummy red velvet cake that is sure to impress your guests. Happy baking!
Red Velvet Cake with Cream Cheese 2017-02-03 04:41:11
Red Velvet Cake with Cream Cheese
Serves 8
Prep Time: 00:40
Cook Time: 00:30
Total Time: 01:10
Ingredients
130 grams all purpose flour
1/4 tsp salt
1 tbsp unsweetened cocoa powder
55 grams unsalted butter
150 grams granulated white sugar
1 large egg
1/2 tsp vanilla essence
120 ml buttermilk
1 tbsp red food color liquid
1/2 tsp vinegar
1/2 tsp baking soda
8 ounce cream cheese
1/2 tsp vanilla essence
1/2 cup powdered sugar
3/4 cup heavy whipping cream
Instructions
Preheat oven to 175 degrees C. Butter 8 inch round cake pan and then line the bottom of the pan with parchment paper and keep it aside.
In a wide bowl, mix together sifted all purpose flour, salt and cocoa powder until combined and keep it aside.
In a bowl of electric mixer (with paddle attachment) or with a hand mixer, beat the butter until soft about 1 minute.
Also add the sugar and beat until fluffy about 2 to 3 mins.
Then add the egg and beat well, scrape down the sides of the bowl.
Beat in the vanilla essence until just combined.
Meanwhile, mix together buttermilk and red food color in a measuring cup until incorporated and keep it aside.
With the stand mixer on low speed, alternately add the flour mixture in three additions and buttermilk in two additions, beginning and ending with flour until combined.
In a small cup, combine vinegar and baking soda and allow it to fizz and then quickly add this to the cake batter and fold it gently.
Immediately transfer this batter to the cake pan, level it with a help of a spatula and bake it in the preheated oven for about 25 to 30 mins or until a toothpick inserted in the center of the cake comes out clean.
Cool the cake in its pan on a wire rack for about 10 mins.
After 10 mins invert the cake on a wire rack and cool it completely and wrap it with cling film and keep it in the refrigerator for at least an hour or overnight.
In a bowl of electric mixer with whisk attachment or with a hand mixer, beat the cream cheese until smooth.
Add vanilla essence and powdered sugar and beat until smooth.
Then gradually add the whipping cream and beat in high speed until you get the right consistency to spread.
Cut the cake horizontally with the help of a sharp knife and spread the frosting in between the layers and at the top and sides of the cake.
Then decorate the cake with strawberries and with chocolate hearts as you wish.
Once you finished the cake keep it in the refrigerator immediately and consume on the same day itself or keep it in the refrigerator under 4-degree Celsius for about 2 to 3 days.
By Santhi Therese
The Indian Claypot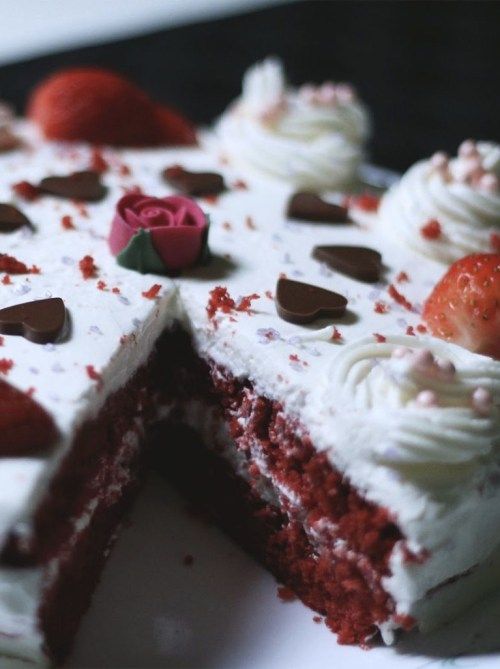 You may also like my other Christmas Cakes posts and recipes like Eggless Hot Cross Buns, Eggless Donut Recipe, Eggless Chocolate Cake Recipe, Eggless Ragi Chocolate Cake, Eggless Rava Cake, Eggless Banana Chocolate Cake, Eggless Strawberry Sauce Cake, Eggless Chocolate Cupcakes, Eggless Strawberry Cake, Eggless Apple Cake, Eggless Carrot Cake, Microwave Chocolate Mug Cakes, Eggless Orange Cake, Eggless Chocolate Marble Cake, Strawberry Streusel Coffee Cake, Christmas Plum Cake, Green Apple Streusel Cake, Meringue Cookies, Strawberry Fruit Fool, Red Velvet Cupcakes with Cream Cheese .