Restaurant Style Rava Kesari Recipe
Rava Kesari is a popular south-Indian sweet made from Semolina /Rava during the festive season.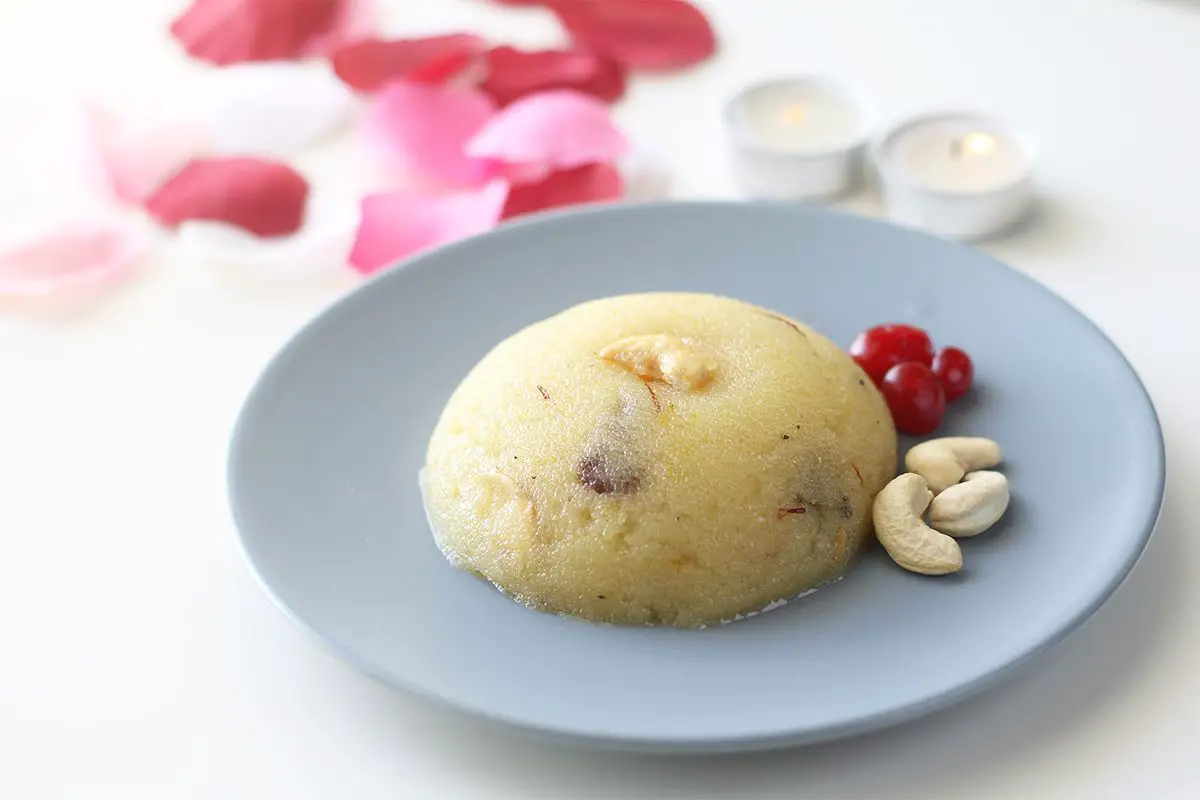 Rava Kesari is a popular south-Indian sweet made from Semolina /Rava during the festive season. The term Rava Kesari means semolina pudding that is flavored with saffron (Kesar). I always prepare Rava Kesari on special occasions like birthdays and wedding anniversaries for my family and friends. It is mainly prepared for breakfast during these days. So I wanted to share this restaurant-style Rava Kesari recipe with you all!
Furthermore, I would like to give some tips for making restaurant-style Rava Kesari. First of all, fry Rava/Semolina over low heat until a nice aroma comes without changing its color. It will take 4 to 5 mins. Secondly, Rava should be added only after the water reaches the rolling boil stage. (The Rava and water proportion are 1:3.5.) Keep on stirring after adding Rava, so that there won't be any lumps formed.
Thirdly, Rava should be cooked well before adding sugar because after adding sugar Rava won't get cooked and stay raw which spoils the taste and the texture.
Finally, I have used saffron for color, however, you can use yellow food color instead of saffron. But adding saffron gives some rich taste. Add this food color when the water is boiling.
Once Rava Kesari cools it will thicken. So if you want to cut it into pieces, then spread the Kesari in the ghee greased plate evenly. When it cools completely, then cut them into square pieces.
Lastly, you may also like my other Diwali sweets and savories recipes like Badusha Recipe, Moong Dal Murukku,  Traditional Mysore Pak Recipe, Milk Halwa, Rava Ladoo, Boondi Ladoo, Pineapple Kesari, Badam Burfi, Carrot Halwa, Pumpkin Halwa, Beetroot Dates Halwa, Badam Kheer, Rasmalai Recipe, Milk Peda, Gulab Jamun, Kalakand, Custard Halwa, Sweet Boondi, Kara Boondi, Butter Murukku, Thenkuzhal Murukku, Saffron Butter Cookies, Paruppu Vadai, Mixture Recipe and Urad Dal Vadai.
Restaurant Style Kesari Recipe 2021-04-17 04:03:21
Restaurant Style Rava Kesari Recipe
Serves 2
Prep Time: 00:05
Cook Time: 00:20
Total Time: 00:25
Ingredients
1/2 cup sooji/rava/semolina
3/4 cup sugar
1&3/4 cups water
25g ghee
25 ml sunflower oil
a pinch salt
a dash saffron
1/4 tsp cardamom powder
1 tbsp ghee
8 cashew nuts
10 raisins
Instructions
Heat a non-stick pan over low heat, add 1tbsp of ghee and fry cashew nuts until browned, then add raisins, fry until puffed and remove from the heat and keep it aside for further use.
In the same pan, add rava and roast until the nice aroma comes. It takes 3 to4 minutes. Transfer to a plate and keep it aside.
In the same hot pan, add water. When the water starts to roll boil, add saffron, 1 tbsp ghee and 25 ml oil.
After rolling boil stage, add the roasted rava and mix it well without leaving any lumps. Stir continuously to break up the lumps.
Then add a pinch of salt. It is optional.
Now the rava will absorb the water in the pan but it still not cooked well. So cover the pan with lid and cook for 2 mins over low heat.
Then gradually add sugar. As soon as you add sugar, the mixture becomes watery. Keep stirring continuously. It will start to bubble, so please stir carefully.
Then add the remaining ghee, cardamom powder, nuts and raisins and mix well.
When the mixture absorbs all the ghee, immediately remove from the heat and pour the mixture into the ghee greased bowl and cut it once it cools.
By Santhi Therese
The Indian Claypot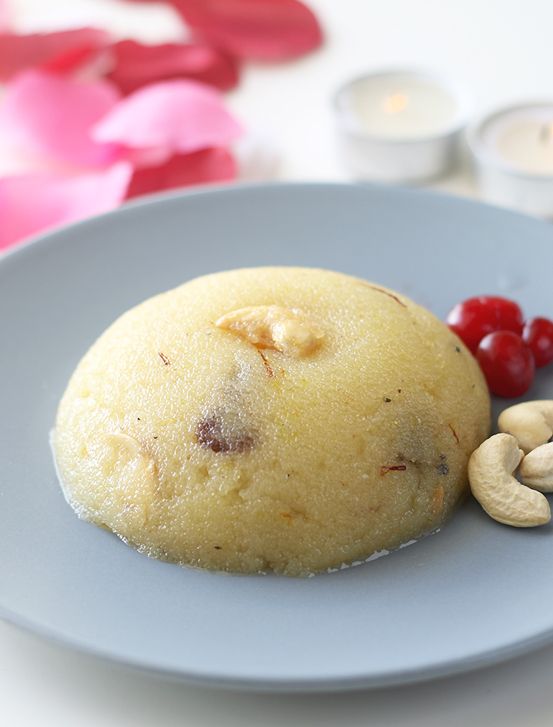 You may also like my other Uncategorized posts and recipes like Moong Dal Murukku .