Vendakkai/Okra Sambar
Looking for a delicious and flavorful South Indian dish? Try my mom's famous Vendakkai Sambar recipe!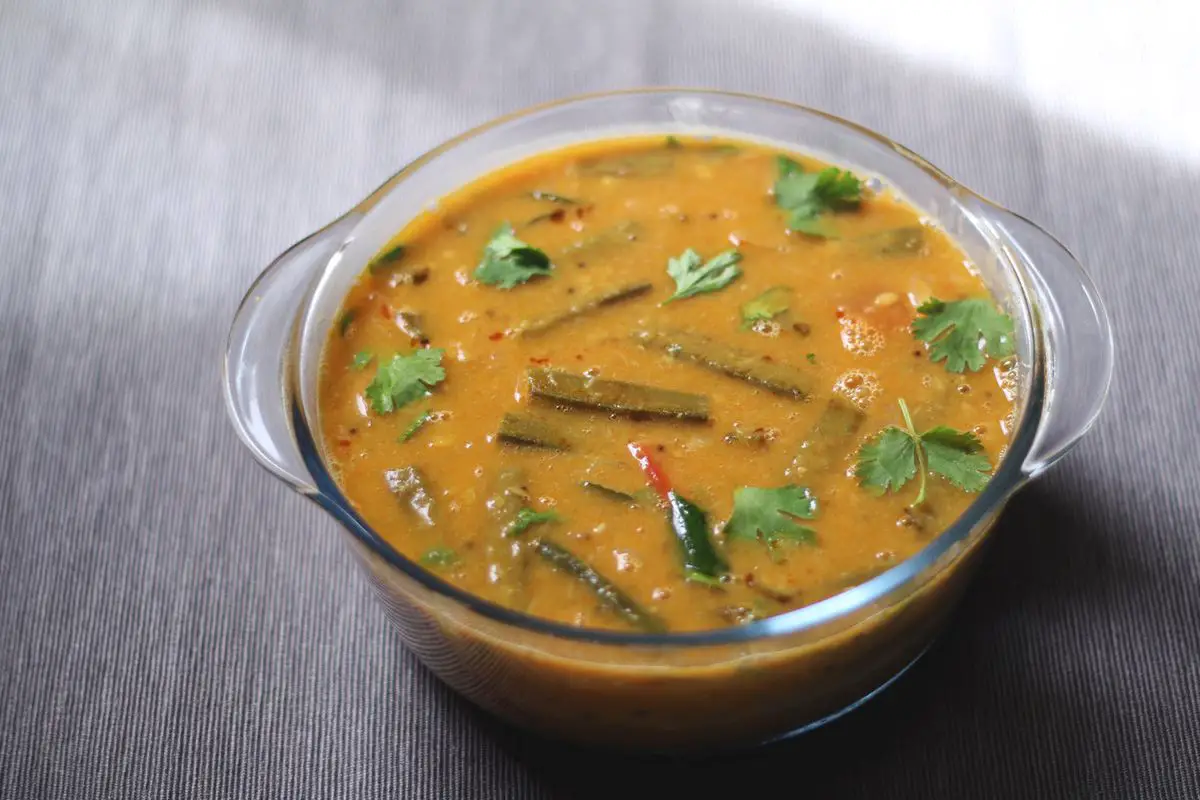 Looking for a delicious and flavorful South Indian dish? Try my mom's famous Vendakkai Sambar recipe! Although my mom is no longer with us, her recipe lives on and it continues to be one of my family's favorites. The aroma of this dish will fill your home and delight your senses. This traditional sambar is made with okra, tamarind, and a blend of aromatic spices that give it its unique flavor. It's perfect for a comforting and satisfying meal, and can be served with rice or idli. Give this recipe a try and let me know what you think!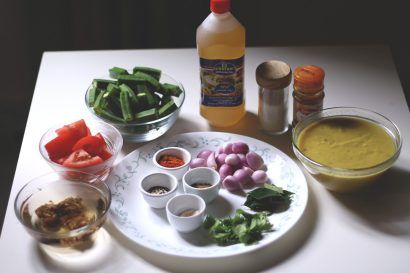 Looking to make a mouth-watering Vendakkai sambar? Look no further! Here are some easy tips and suggestions to make a delicious Vendakkai sambar that you and your family will love.
To start, make sure you clean and wipe the okra thoroughly before chopping it up. Then, dry roast or stir-fry the okra for 5-7 minutes before adding 1-2 teaspoons of ghee and stir-frying for an additional 3 minutes or until black spots appear over its ridges and the slimy texture disappears. The addition of ghee not only eliminates the slimy texture but also gives the sambar a wonderful aroma. Make sure to stir occasionally to avoid burning.
For an extra touch of flavor, try cooking the sambar with sesame oil. And finally, adding 1/4 teaspoon of red chili powder at the end will give your sambar a beautiful color. Serve with white rice, idli, or dosa for a delicious meal.
These easy tips and suggestions will help you create a Vendakkai sambar that will impress even the most discerning palates. Give it a try and let us know how it turns out!
You may also like my other south Indian recipes such as Paal kozhukattai, Urad dal vadai, Paruppu vadai, Sakkarai Pongal and Poori Masala.
Sambar 2018-02-28 07:46:18
Vendakkai/Okra Sambar
Serves 4
Prep Time: 00:10
Cook Time: 00:40
Total Time: 00:50
Ingredients
100g Dal
1/2 tsp Fenugreek Seeds
1/2 tsp Cumin Seeds
1/4 tsp Asafoetida Powder
1/8 tsp Turmeric Powder
1/4 tsp Sesame Oil
2 cups Water
300g Okra/Vendaikkai
1 tsp Ghee
10 to 12, chopped Shallots
1, chopped Large-sized Tomato
1&1/2 tsp, divided Red Chili Powder
1/8 tsp Turmeric Powder
As needed (2 tsp, divided) Salt
One small lemon size (15g) Tamarind
Few Coriander Leaves
1 tsp Mustard and Urad Dal
Instructions
Wash the okras properly, pat dry with kitchen tissue cut the edges and then cut into 2-inch pieces and keep it aside.
Then chop the onions and tomatoes.
Soak the tamarind in 1/2 cup of hot water until you start to cook.
Wash and drain the dal properly then soak the dal in a pressure cooker with water and other ingredients for about 30 to 60mins.
Then pressure cook it up to 4 to 5 whistles or until the dal is fully cooked and keep it aside.
Heat a pan with okra pieces over medium heat, dry roast or stir-fry the okras for 5 to 7mins.
Then add 1 to 2 tsp of ghee and stir-fry another 3 mins or until black spots appear over its ridges and the slimy thing disappears. Once done keep that aside.
Now heat a wide pan with oil over medium heat. When the oil heats add mustard seeds and urad dal, stir-fry until spluttering.
Then add chopped onions, asafoetida powder and curry leaves, fry till the onions are transparent. Then add chopped tomatoes and fry for a minute.
At this stage add the stir-fried okras and give a good stir.
Then pour 2 cups of water and bring it to boil.
When the water starts to boil, add red chili powder (1&1/4 tsp only), turmeric powder and 1 tsp of salt.
Cover the pan with a lid and cook the okras for 8 to 10 mins or until they are fully cooked.
Then add the cooked dal and mix well until combined. Add some more water, if needed. Cook for another 2 mins.
Meanwhile, extract the juice from the tamarind and filter it.
Pour this tamarind juice into the dal mixture, then add the remaining salt, 1/4 tsp red chili powder and give a good stir.
Close the pan with a lid and cook it for another 5 mins or until the oil separates and floats on the surface.
Now your tasty vendakkai/lady's finger/okra sambar is ready to use. Finally, garnish it with chopped coriander leaves.
By Santhi Therese
The Indian Claypot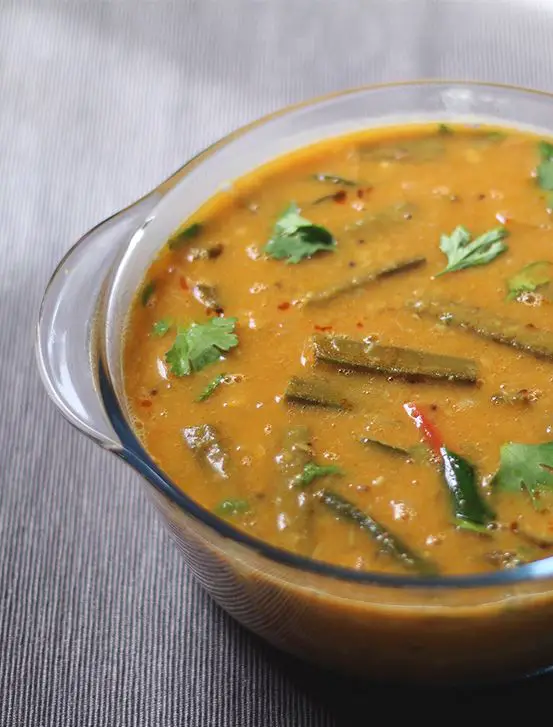 You may also like my other Spicy Recipes posts and recipes like Mutton Kola Urundai, Pav Bhaji Recipe, Homemade Gooseberry Pickle, Homemade Sweet Chili Sauce, Mutton Chukka, Kadai Paneer, Fresh Tomato Salsa, Potato and Cauliflower Stir Fry, Pan Fried Elephant Yam, Mixed Millet Bisi Bele Bath, Spicy Mushroom Pepper Fry, Mutton Chops /Lamb Chops, Tangy And Spicy Chicken Steak .