Shakshuka
Discover the delicious Tunisian dish that has taken the world by storm – Shakshuka!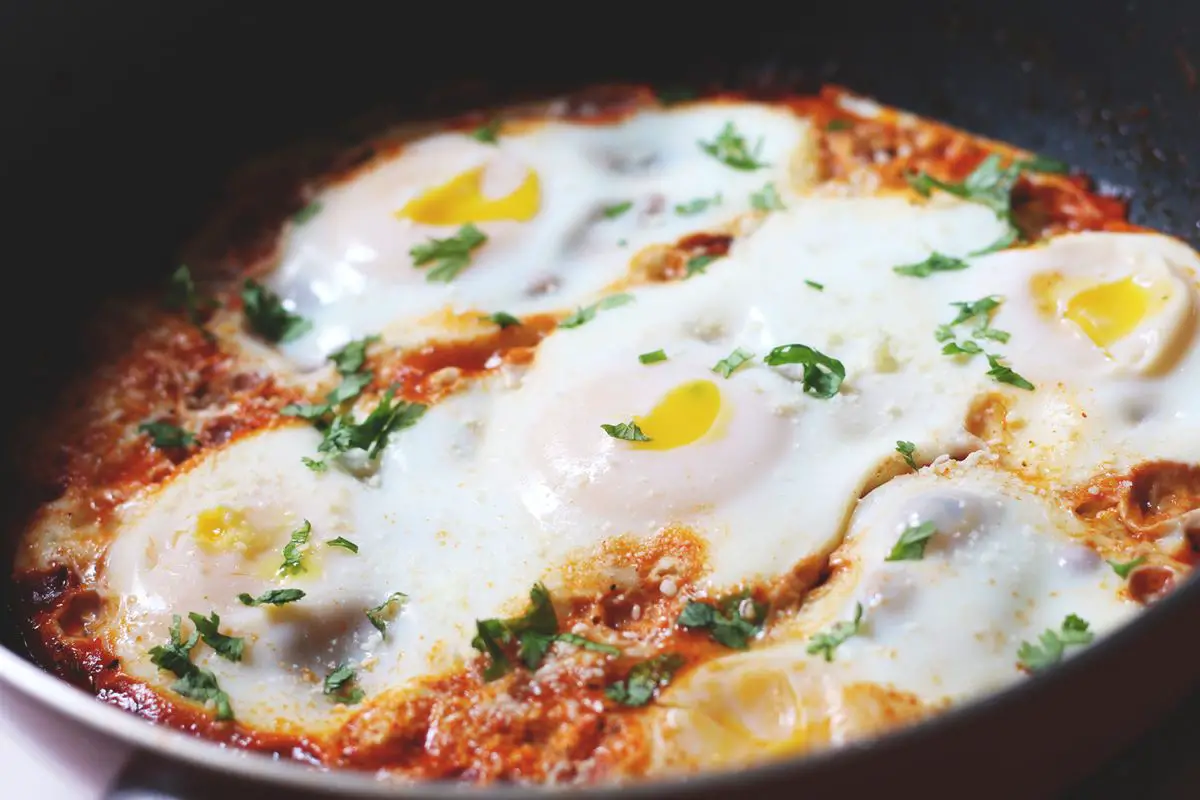 Discover the delicious Tunisian dish that has taken the world by storm – Shakshuka! This one-skillet dish features poached eggs in a tangy and spicy tomato sauce with rich aromatic herbs. Also known as shakshouka, it's a fantastic breakfast and brunch recipe that pairs perfectly with toasted butter buns.
Want to try it out for yourself? Don't worry – it's incredibly easy to make! Simply scramble eggs in a fresh, spicy tomato sauce to create a mouth-watering dish. But wait, there's more! Here are some tips to make your shakshuka even more amazing.
Start by using canned tomato slices with herbs, or fresh tomatoes and your favorite fresh herbs, like basil or parsley. Adjust the spice level to suit your taste and feel free to substitute crumbled feta cheese for the parmesan cheese. Plus, for best results, cook your shakshuka in an iron-cast skillet.
Finally, crack the eggs directly over the tomato mixture and cook for 2 to 3 minutes. Some people prefer their shakshuka eggs slightly runny or half-cooked, so feel free to experiment with cooking time.
Are you ready to try this amazing Tunisian dish? Give it a shot and let us know what you think in the comments!
You may also like Homemade Pita Bread, Hummus and Homemade Falafel Recipe.
Shakshuka  2017-11-03 02:55:24
Serves 5                                 
Prep Time   00:10        Cook Time   00:20        Total Time   00:30                      
Ingredients
5 eggs
1 tbsp olive oil
3 to 4 garlic pods, finely chopped
0ne small sized onion, finely chopped
1/2 cup finely chopped red bell pepper
1 green chili, finely chopped
0ne canned diced tomatoes with herbs (14 ounce)
1 tsp paprika powder
1/2 tsp red chili powder
1/4 tsp pepper powder
3g sugar(1/2 tsp)
1/2 tsp cumin powder
salt to taste
a generous dash of grated parmesan cheese
finely chopped parsley leaves or coriander leaves for garnishing          
Instructions
Heat a wide heavy bottomed non-stick pan or iron-cast skillet over medium heat, then add olive oil.
When the oil heats up, add chopped onion and saute until it begins to soften.
Then add chopped garlic and green chili, saute until nice aroma comes out.
Now add the chopped red bell peppers and saute until softened. It takes 5 to 6 mins.
Then add canned tomato slices with herbs, stir until blended.
At this stage, add all the spices, sugar and salt, stir well and cover the pan with lid continue to cook for about 7 to 8 mins over low heat until it starts to reduce.          
For Cooking Eggs
Crack the eggs one at a time directly over the tomato mixture (give enough space around the outer edge and one at the center).
Cover the pan and cook the eggs for 2 to 3 mins to taste ( many people like their shakshuka eggs slightly runny or half cooked).
Remove from the heat and garnish it with grated parmesan cheese and finely chopped parsley leaves.         
By Santhi Therese    
The Indian Claypot https://theindianclaypot.com/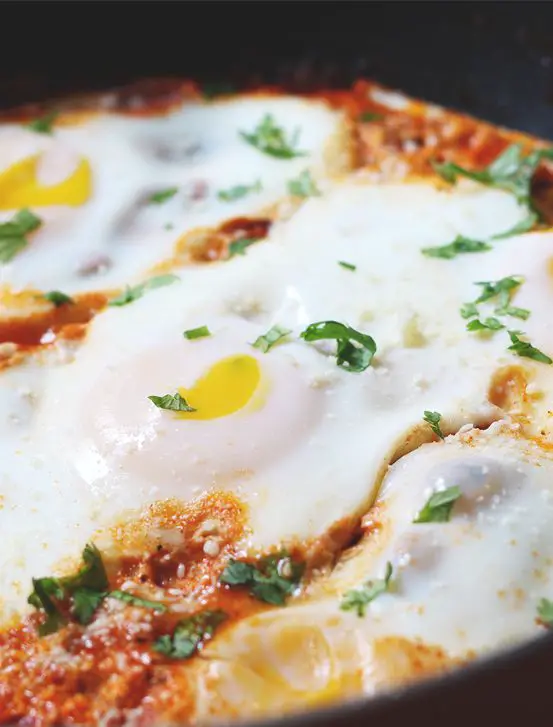 You may also like my other Healthy Breakfast posts and recipes like Appam Recipe, Thinai Sakkarai Pongal /Foxtail Millet Sweet Pongal, Healthy Breakfast Recipe, Kara Kuzhi Paniyaram with Idli/Dosa Batter, Oats Chocolate Brownie Recipe, Healthy Aval/Poha/Red Rice Flakes Breakfast Recipe, Ragi Aval Sweet Kozhukattai, Ragi Paal Kozhukattai, How To Make Soft Layered Chapati, Soft and Chewy Granola Bars, Vendhaya Kali, Strawberry Apple Smoothie, Pasi Payaru Aval Pongal, Homemade Granola Recipe, Moringa Adai Dosa Recipe, Ragi Puttu, Green Gram Payasam/Kheer, Whole Wheat Bread Recipe, Kavuni Arisi Sweet, Banana Oatmeal Cookies .