Strawberry Fruit Fool
Indulge in the Decadence of a Strawberry Fruit Fool this Valentine's Day!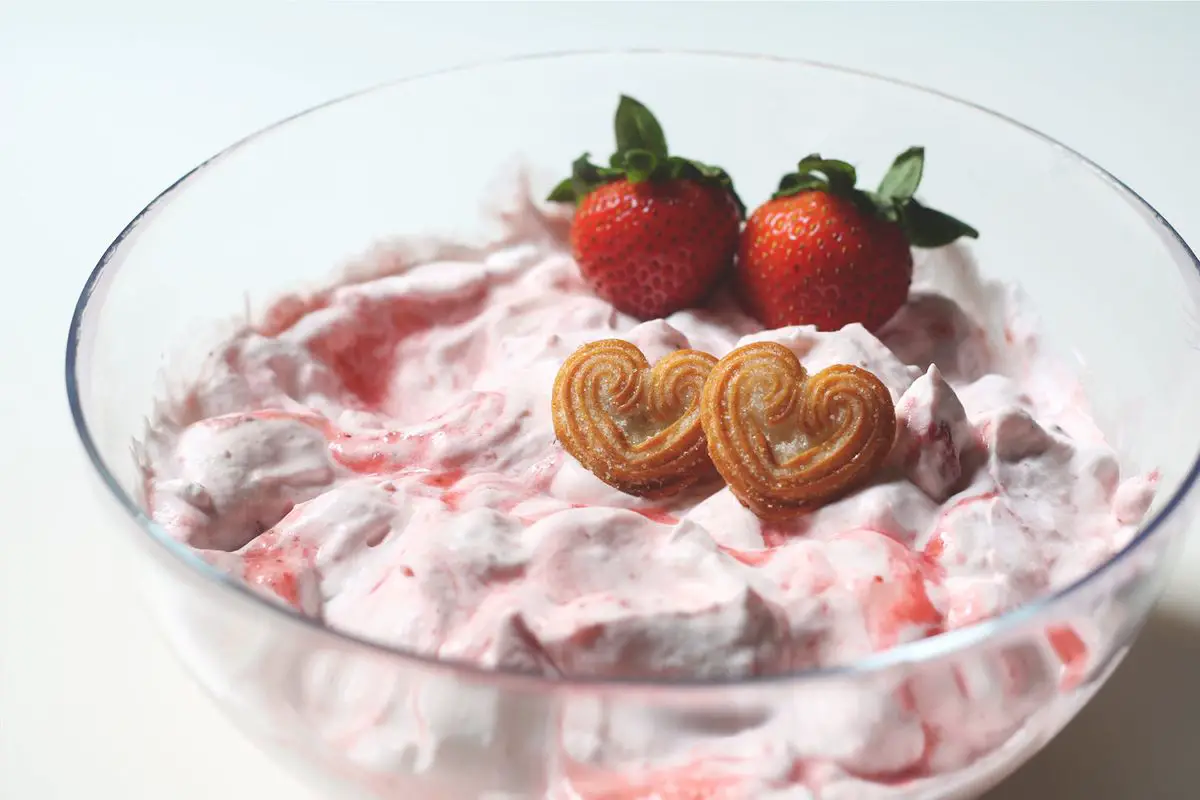 Are you looking for a sweet and romantic dessert to celebrate your love this Valentine's Day? Look no further, because the Strawberry Fruit Fool is here to steal the show! This classic English dessert is the perfect way to end your Valentine's Day dinner. With just three simple ingredients, you can create a dish that is both delicious and impressive.
The traditional recipe for a Fruit Fool requires stewed fruit to be folded into sweet custard, but modern-day recipes use whipped cream to make it even creamier and more indulgent. The word "fool" is derived from the French word "fouler" which means "to crush" or "to press", which perfectly describes the process of making this exquisite dessert.
To make this delightful treat, start by pureeing either fresh or frozen strawberries. Then, mix the puree with whipped cream to create a velvety and fruity concoction. Serve it in a glass or a bowl, garnish with fresh strawberries, and you're good to go!
So, treat your special someone to a delectable Strawberry Fruit Fool this Valentine's Day, and make sure to share your thoughts in the comments section below. Happy Valentine's Day!
You may also like my other Valentine's Day recipes such as Red Velvet Cake, Chocolate French Toast, Chocolate Icecream, Mango Pudding, Chocolate Cake and Red Velvet Cupcakes.
Making Fruit Fool: A Guide to Perfection
Fruit fool is a delicious dessert that can be made using various fruits like strawberries and raspberries. To make a perfect fruit fool, there are a few tips to keep in mind. Here's a comprehensive guide to making the best fruit fool.
Preparing the Puree:
To get the best results, it's a good idea to make the puree the day before you need it. This way, the flavors have time to enhance, and the mixture has enough time to thicken. Additionally, it's recommended to place the mixing bowl and the wire whisk attachment in the freezer for about 15 minutes. This helps keep the ingredients very cold, which will result in the whipped cream reaching its maximum volume when whipped.
Choosing the Right Fruit:
Fruit fool can be made using various fruits, like strawberries and raspberries. If you're using fresh fruits, it's essential to taste the mixture to determine the exact amount of sugar needed. This is because the sweetness of fruits can vary. If you want a stronger fruit flavor, simply add a little extra puree. Frozen fruits can also be used in this recipe.
Final Touch:
When you're ready to serve the fruit fool, consider garnishing it with fresh fruits and cute little heart cookies. This will add a lovely touch to your dessert and make it look even more appealing.
In conclusion, making fruit fool is a simple and straightforward process. With the tips outlined above, you're sure to make a delicious and impressive dessert that everyone will enjoy.
Strawberry Fruit Fool 2018-02-06 07:46:34
Strawberry Fruit Fool
Serves 4
Prep Time: 00:15
Total Time: 00:15
Ingredients
250g or 1 cup strawberry puree Fresh Strawberries
1/4 cup to 1/3 cup White Sugar
1 cup Heavy Whipping Cream
1 tablespoon Powdered Sugar
for garnishing Fresh Strawberries
few Little Hearts Biscuits
Instructions
Place the strawberries in a food processor and process until pureed.
Transfer to a bowl and stir in the sugar and place in the refrigerator for 6 to 7 hours or overnight.
Place mixing bowl and whisk in the freezer for about 15 minutes.
Whip the cream and sugar until stiff peaks form.
Fold gently in the strawberry puree by using rubber spatula, leaving some streaks of the cream.
Pour into the glass bowls, cover and refrigerate until serving time (upto 3 to 4 hours).
While serving, garnish it with fresh strawberries and little hearts biscuits or cookies.
By Santhi Therese
The Indian Claypot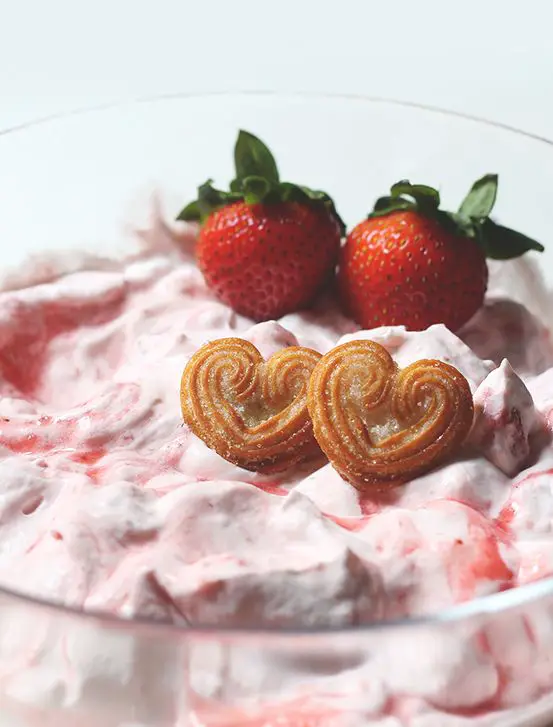 You may also like my other Christmas Cakes posts and recipes like Eggless Hot Cross Buns, Eggless Donut Recipe, Eggless Chocolate Cake Recipe, Eggless Ragi Chocolate Cake, Eggless Rava Cake, Eggless Banana Chocolate Cake, Eggless Strawberry Sauce Cake, Eggless Chocolate Cupcakes, Eggless Strawberry Cake, Eggless Apple Cake, Eggless Carrot Cake, Microwave Chocolate Mug Cakes, Eggless Orange Cake, Eggless Chocolate Marble Cake, Strawberry Streusel Coffee Cake, Christmas Plum Cake, Green Apple Streusel Cake, Meringue Cookies, Red Velvet Cupcakes with Cream Cheese, Chocolate Cake with Ganache .