Strawberry Smoothie Pops
Beat the Heat and Protect Your Body Against Aging with this Delicious Strawberry Smoothie Pops Recipe!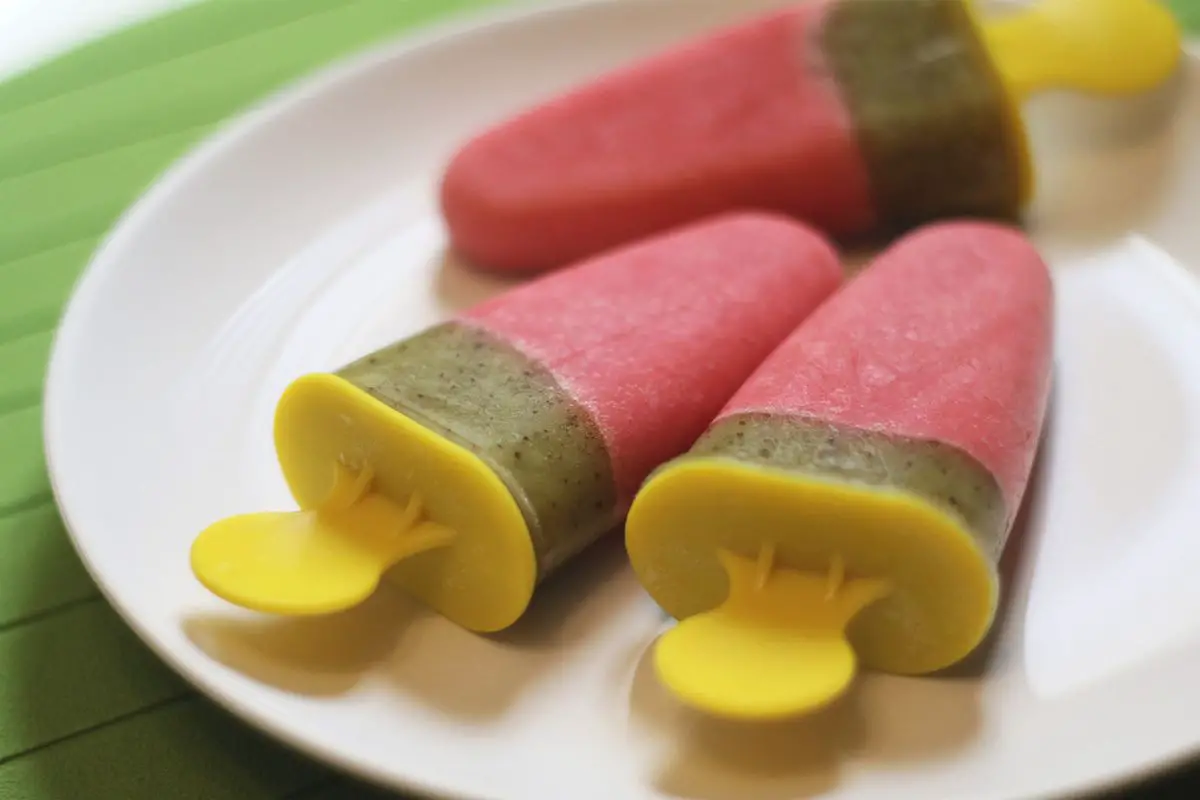 "Beat the Heat and Protect Your Body Against Aging with this Delicious Strawberry Smoothie Pops Recipe!
Looking for a fun and healthy way to keep cool this summer? Look no further than this easy-to-make Strawberry Smoothie Pops recipe. With the sweet and tangy flavors of strawberries and kiwi, these pops are sure to be a hit with kids of all ages!
But these pops aren't just a tasty treat - they're also packed with antioxidants that help protect your body against aging. And best of all, they're so simple to make! All you need are a few ingredients - your favorite fruits, yogurt, and a touch of sugar or honey - and a popsicle mold.
When making your pops, be sure to add a little extra sugar or honey, as freezing can mute the sweetness of the fruit. Then blend everything together and pour into your mold - it's that easy!
So why not give this recipe a try and share your comments with us? We can't wait to hear how much you and your little ones enjoy these refreshing treats!"
You may also like my other recipes Fruit Popsicles and Kulfi Ice Cream.
Strawberry Smoothie Pops 2017-05-03 06:21:03
Strawberry Smoothie Pops
Serves 6
Prep Time: 06:10
Total Time: 06:10
Ingredients
75 g or 1/2 cup Fresh Strawberries
1/2 cup Yogurt
2 to 3 tbsp or as needed Sugar
2 Kiwi Fruits
Instructions
Wash and then chop strawberries. Place the strawberries, yogurt and sugar in a blender, blend until smooth. Then pour it into the ice pop molds up to 3/4th of it and freeze it for 2 hours or until set.
Meanwhile, wash and remove the skin of kiwis. Then chop and place them in a blender. Also add sugar and blend until smooth. Then pour this mixture into the molds and close the lid. Again freeze it for at least 4 hours or until set.
Now strawberry smoothie pops are ready to serve. Enjoy!
To remove the popsicles from the mold, run warm water over the outside of the plastic holder and pull out while holding onto the stick. If you don't have the mold, then insert a wooden stick for the handle. If you use a wooden stick, then put plastic wrap on each popsicle, make a hole in the middle and insert the wooden stick, because the plastic wrap will hold the stick in place.
By Santhi Therese
The Indian Claypot
You may also like my other Ice Cream posts and recipes like Mixed Berry Fruit Popsicles, Strawberry Sorbet, Strawberry Creamsicles, Blueberry Cheesecake Ice Cream, Falooda Dessert Recipe, Creamy Blackberry Ice Cream, Kulfi Ice cream, Dark Chocolate Ice Cream, Fruit Popsicles, Mango Ice Cream, Easy Strawberry Ice Cream .