Veg. Schezwan Noodles
Are you looking for a quick and easy recipe that satisfies your cravings for something spicy and delicious? Look no further than Veg Schezwan Noodles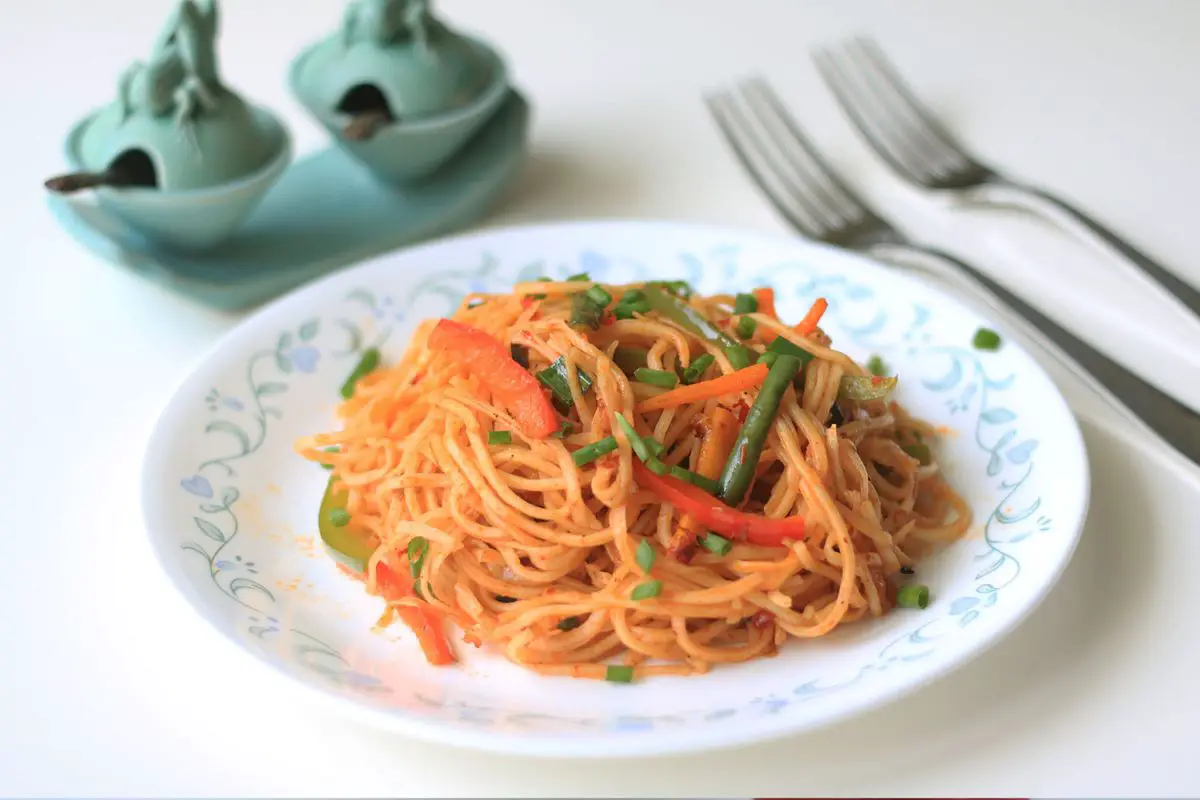 How to Make Delicious and Spicy Veg Schezwan Noodles at Home
Are you looking for a quick and easy recipe that satisfies your cravings for something spicy and delicious? Look no further than Veg Schezwan Noodles, a popular Indo-Chinese dish that is sure to please your taste buds.
Made with a special spicy chili garlic sauce, Veg Schezwan Noodles are similar to Veg Hakka Noodles, but with a unique twist. Instead of soy sauce, we use the fiery Schezwan sauce to give it that extra kick.
To prepare this dish, start by boiling your noodles according to the package instructions. While the noodles are cooking, stir-fry some fresh veggies like bell peppers, cabbage, and carrots in a wok or frying pan. Once the veggies are cooked to your liking, add in the Schezwan sauce and stir well.
Once the noodles are done cooking, drain them and add them to the wok with the stir-fried veggies and sauce. Toss everything together until the noodles are fully coated in the delicious Schezwan sauce.
In just a few simple steps, you can have a mouth-watering bowl of Veg Schezwan Noodles ready to enjoy. And the best part? This dish is incredibly easy to prepare, making it perfect for a quick lunch or dinner.
So why not give this recipe a try and let us know what you think? We'd love to hear your comments and see how you put your own spin on this classic dish.
I have already posted the recipe for the homemade schezwan sauce. You may also like my other Indo Chinese Recipes such as Gobi Manchurian, Chicken Hakka Noodles, Orange Chicken, Honey Glazed Salmon, Veg Fried Rice, Sweet and Sour Pineapple Chicken and Prawn Fried Rice.
How to Make Delicious Schezwan Noodles at Home:
If you're a fan of spicy and flavorful dishes, you'll love this Schezwan Noodles recipe. Made with homemade Schezwan sauce, this dish is sure to pack a punch.
But the fun doesn't stop there! You can also serve this spicy sauce with pakoras or potato fries for a quick and easy snack. Schezwan cuisine has become increasingly popular in recent years, with dishes like Schezwan dosa and Schezwan chili potatoes popping up in restaurants across the country.
To help you make the best Schezwan Noodles possible, we've gathered some tips to keep in mind when preparing this dish. Firstly, make sure to cook your noodles according to the instructions on the package or boil them in plenty of water until they're firm, but not overcooked. Once cooked, rinse them with cold water and toss them with a bit of oil to prevent them from sticking together.
Next, stir fry your veggies over high heat for just a minute or two to ensure they're crunchy and flavorful. Finally, adjust the amount of Schezwan sauce you use to your personal taste preferences.
With these tips in mind, you're well on your way to making a delicious and authentic Schezwan Noodles dish in the comfort of your own home. Give it a try and let us know how it turns out in the comments below!
Veg. Schezwan Noodles 2018-11-04 03:15:33
Veg. Schezwan Noodles
Serves 3
Prep Time: 00:10
Cook Time: 00:20
Total Time: 00:30
Ingredients
150g Hakka Noodles
1 cup (carrot, beans and capsicums) Chopped Veggies
1 tbsp Chopped Garlic
2 tbsp (whites and greens) Chopped Green Onions
3 tbsp Schezwan Sauce
1/4 tsp Pepper Powder
1 tsp Vinegar
2 tbsp Olive Oil
as needed Salt
Instructions
Cook noodles as per instructions given in the pack or boil noodles in plenty of water until firm or 3/4 cooked.
Heat oil in a pan or wok over medium heat. When the oil heats, add garlic and saute for few seconds or until browned.
Turn the heat to high, add green onions, stir-fry for 30 seconds.
Then add all the chopped veggies, stir-fry for another 1 to 2 mins or until half cooked. But vegetables should be crunchy.
Then reduce the heat to medium, add schezwan sauce, pepper powder and salt, give a quick stir. Also add the cooked noodles.
Then again turn the heat to high and keep on tossing or stir-frying the noodles until the schezwan sauce coats all the noodles well.
Then add vinegar and give a good stir.
Check the seasoning and add more schezwan sauce, pepper and salt if needed.
Finally, garnish it with some spring onions and serve hot.
By Santhi Therese
The Indian Claypot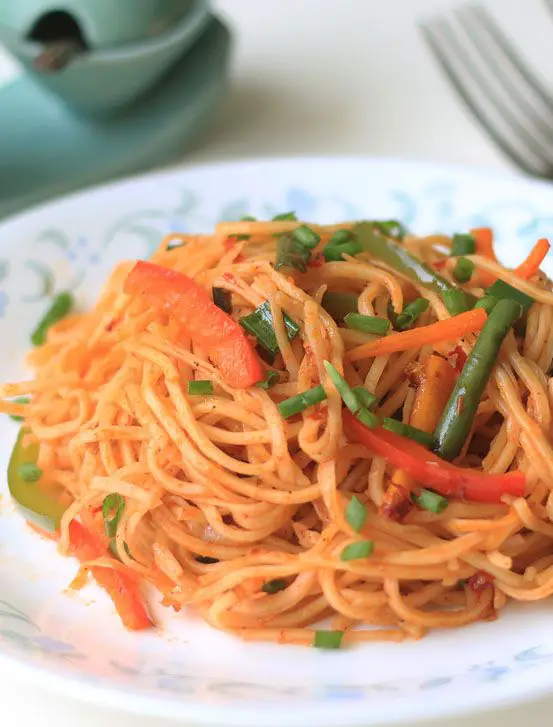 You may also like my other Indo-Chinese Cuisine posts and recipes like Schezwan Chicken, Tofu Manchurian, Chicken Schezwan Noodles, Veg Fried Rice, Chicken Hakka Noodles, Sweet and Sour Pineapple Chicken, Schezwan Sauce Recipe, Paneer Manchurian Dry, Veg. Hakka Noodles, Easy Cashew Chicken, Honey Glazed Chicken, Dry Gobi Manchurian (Cauliflower), Prawn Fried Rice, Orange Chicken .