Vegetable Biryani
Vegetable Biryani: The Flavorful and Colorful Indian Dish Perfect for Vegetarian Parties!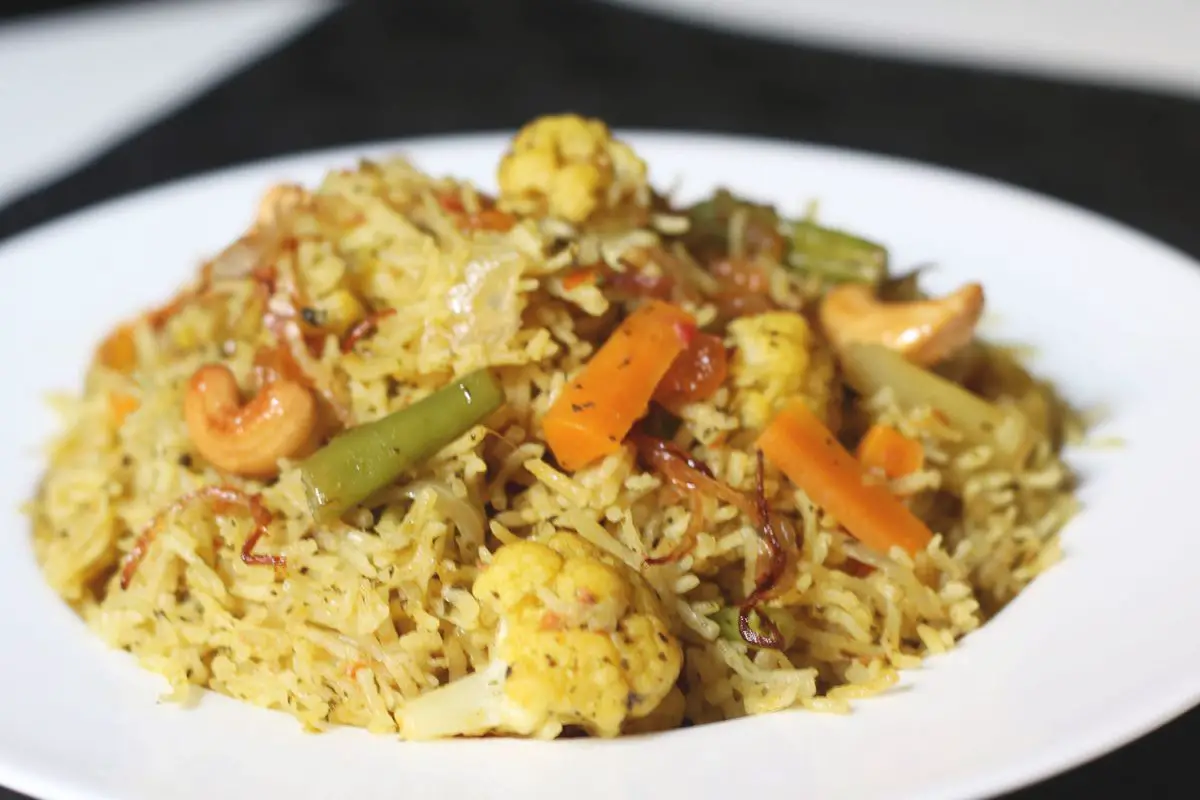 "Vegetable Biryani: The Flavorful and Colorful Indian Dish Perfect for Vegetarian Parties!
Are you looking for an easy-to-prepare and delicious Indian dish to serve at your next vegetarian gathering? Look no further than Vegetable Biryani! This dish is a crowd-pleaser that doesn't require much effort in the kitchen, yet still boasts fantastic flavor and a vibrant appearance. Serve it with a side of onion raita for the perfect meal.
Making the perfect Vegetable Biryani is simpler than you think. To start, soak your basmati rice for 30 minutes before cooking. This helps the cooking process go more smoothly and ensures that both the rice and vegetables cook evenly. You can also cook the dish in a pressure cooker for an even quicker meal.
When cooking the rice, pay close attention to the salt and spice levels. The mixture may seem saltier and spicier than normal, but don't worry - this will reduce as the rice absorbs the gravy during cooking. And for an added touch of decadence, try frying some bread slices in ghee and adding them as a garnish on top of the dish.
Try this tasty and effortless Vegetable Biryani today and let us know your thoughts in the comments section. Happy cooking!"
Vegetable Biryani/Pulao 2017-06-12 05:20:16
Vegetable Biryani
Serves 3
Prep Time: 00:10
Cook Time: 00:35
Total Time: 00:45
Ingredients
2 cups Basmati Rice
3 cups Water
1 cup Coconut Milk
1 medium sized Carrot
6 Green Beans
1 small sized Potato
1 handful Green Peas (frozen)
10 small sized Cauliflower Florets
1 large sized (100 gm) Onion
1 big sized (150 gm) Tomato
2 tsp Ginger and Garlic Paste
1/2 tsp Red Chili Powder
1 tsp Garam Masala Powder
1/4 tsp Turmeric Powder
1 tsp (divided) Salt
1 tbsp (I used olive oil) and 1 tbsp ghee or 2 tbsp oil Oil
2 Green Chillis
3 tbsp Mint Leaves
4 tbsp Coriander Leaves
1/2 tsp Fennel Seeds
3 Cloves
1 Cardamon
2 - 1 inch Cinnamon Sticks
1/2 Bay Leaf
10 Cashew Nuts
15 Raisins
1 tbsp of finely chopped Coriander Leaves or Mint Leaves
Instructions
Firstly, clean all the vegetables. Peel and then cut the carrot, beans and potato in 2 inches lengthwise.
Then blanch the cauliflower and keep it aside.
Then cut the onion lengthwise.
Place the tomatoes in a blender, blend until a smooth puree.
Then grind the ingredients given under "To Grind" coarsely without adding any water.
Finally, wash and soak the rice in 2 cups of water and 1 cup of coconut milk in the electric cooker vessel itself and keep it aside.
Meanwhile, heat a pan over medium heat, add oil and ghee.
When the oil heats, fry cashew nuts till they turn golden brown, then add raisins and saute for 10 seconds until puffed. Remove them from the pan and keep it aside.
In the same pan, also add one handful of onions and fry them till golden brown and keep it aside. These nuts, raisins and onions are used for garnishing.
Heat the remaining oil  and saute the ingredients given under ''To temper''until spluttering and add the remaining onion and fry till it turns golden brown.
Also add ginger and garlic paste and saute well till the raw smell goes away.
Then add mint, coriander and chili mixture and fry for one minute.
Place all the chopped vegetables and green peas, saute well for one minute.
Then add tomato puree and saute well till raw smell goes away(close the lid).
When the tomato gravy becomes slightly thick, add red chili powder, turmeric powder, garam masala powder and 1/2 tsp of salt. Stir well.
Turn the heat to low, and cook for another 5 minutes or until the gravy separates from the oil along the sides of the pan. Remove from the heat and keep it aside.
Meanwhile, switch on the electric cooker and cook the rice side by side.
When the rice starts to boil, add that masala and the remaining 1/2 tsp salt to the rice and mix well.
Close the lid and cook till the electric cooker switches to 'Keep warm'. It takes a maximum of around 10 mins. Every 5 minutes open the lid and mix the rice gently.
When it comes to the 'Keep Warm' switch off the electric cooker, leave it for another 10 minutes. Now the Vegetable Biryani is ready to serve. Finally, garnish the dish with reserved nuts, raisins, fried onions and coriander leaves.
Two Methods to Try
If you have an electric cooker, here's a simple method for cooking it:
Electric Cooker Method:
Place the ingredients for the Vegetable Biryani in the electric cooker.
Follow the manufacturer's instructions to cook the dish.
However, if you prefer to cook your Vegetable Biryani in a pan, here's another method to try:
Pan Method:
Soak the basmati rice in plenty of water for 20 minutes.
Drain the water after 20 minutes.
In the pan, add 2 cups of water and 1 cup of coconut milk.
Cook the Vegetable Biryani, following the recipe's instructions.
No matter which method you choose, the end result will be a delicious and flavorful Vegetable Biryani that will leave you and your guests satisfied. So why not try cooking it today?"
By Santhi Therese
The Indian Claypot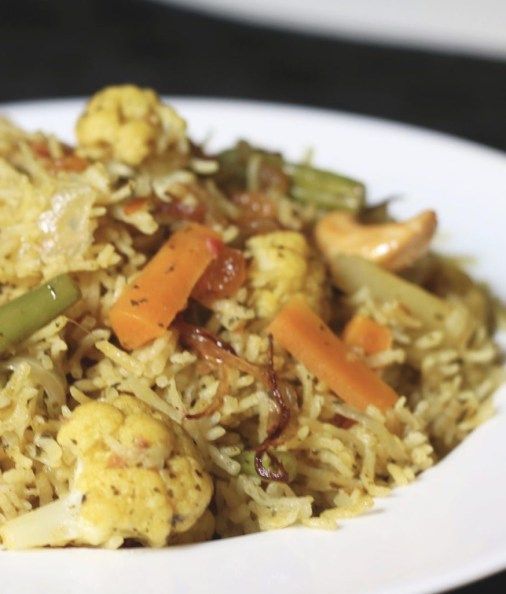 You may also like my other Biryani Recipes posts and recipes like Soya Chunks Biryani, Navratan Pulao, Prawn Biryani, Baby Corn Peas Pulao, Hyderabadi Chicken Dum Biryani, Mutton Biryani, Mushroom Biryani .