Vegetable Cutlets / Patties
Looking for a tasty and healthy snack or side dish? Vegetable cutlets are the answer!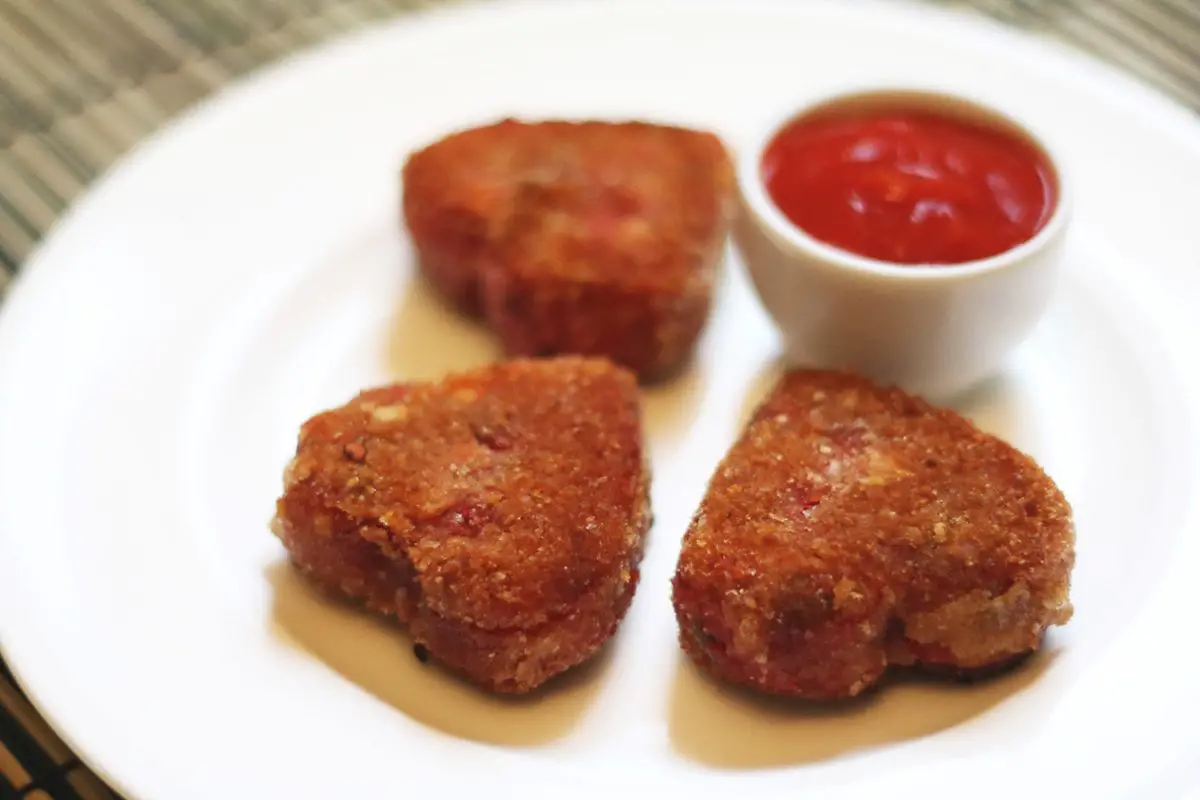 Looking for a tasty and healthy snack or side dish? Vegetable cutlets are the answer! These versatile treats are perfect for vegetarians and can be cooked in a variety of ways to suit your taste and diet.
To make the perfect vegetable cutlets, start by choosing your vegetables. You can use any combination of veggies, but potato makes a great base for binding. For added protein, try adding soya granules or paneer/cottage cheese.
Other great veggies to use in your cutlets include cauliflower, broccoli, and capsicum. To cook the veggies, simply steam them in a pressure cooker. Once they're cooked, mix them with boiled potatoes and shape them into cutlets.
These cutlets make a great tea-time snack or can be served as a side dish during a meal. They taste fantastic with tomato ketchup or green mint chutney. For a more substantial meal, try serving them as patties with cheese and lettuce to make delicious veggie burgers.
So why not give vegetable cutlets a try? They're easy to cook, healthy, and can be adapted to suit your taste preferences. Let us know in the comments how yours turned out!
If you are a non-vegetarian, then try this Tuna Cutlets as a healthy snack for your kids.
Vegetable Cutlets / Patties 2017-04-18 05:42:27
Vegetable Cutlets / Patties
Serves 8
Prep Time: 00:15
Cook Time: 00:25
Total Time: 00:40
Ingredients
For stuffing:
300 g potatoes
1/4 cup carrot
1/4 cup beans
3 tablespoons (1/4 cup) sweetcorn frozen
3 tablespoons (1/4 cup) green peas frozen
1/4 cup beetroot
1 small sized onion
1 finely chopped green chilly
1 inch fresh, grated ginger
1/2 tsp red chili powder
1/4 tsp cumin powder
1/2 tsp garam masala powder
salt as needed
2 tsp oil
For Cutlet:
2 tbsp all purpose flour
4 tbsp water
3/4 cup, divided bread crumbs
3 tbsp oil for shallow fry
Instructions
Steam cook all veggies in a steamer or in a microwave oven for about 3 to 5 mins until cooked.
Heat a pan with 2 tsp oil over medium heat, when the oil heats, add chopped onion, green chili and grated ginger and fry until they turn into light pink.
Also add steamed veggies, grated beetroot and salt, mix well and cook for 2 to 3 mins.
Then add red chili powder, cumin powder, turmeric powder, garam masala powder and mix well. Turn off the heat and transfer it to the wide bowl and let it cool for 5 mins.
Then add mashed potato and 1/4 cup of breadcrumbs and mix well until well combined.
Divide the mixture into 10 to 12 equal parts.
Then shape each part into a ball and flatten it or shape it into hearts by using a biscuit cutter.
Meanwhile, in a small bowl, combine together 2 tbsp of all purpose flour and 4 tbsp of water and mix well.
Place remaining 1/2 cup of breadcrumbs in a small plate.
Dip each Pattie in flour batter and roll in breadcrumbs to coat fully and keep it aside.
Do the same for the remaining also.
Meanwhile, heat a nonstick pan with 3 tbsp of oil over medium heat, then place 5 patties at a time and fry until they turn golden brown.
Flip and fry other side also. Then transfer them to a plate over kitchen tissue.
Notes
If you don't have hot and spicy bread crumbs, add 1/4 to 1/2 tsp paprika or chili powder and salt as you needed.
By Santhi Therese
The Indian Claypot
You may also like my other Healthy Snacks posts and recipes like Easy Bruschetta Recipe, Sweet Paniyaram with Idli / Dosa Batter, Oats Chocolate Brownie Recipe, Ragi Aval Sweet Kozhukattai, Instant Wheat Flour Sweet Appam, Mysore Bonda Recipe, Pottukadalai / Fried Gram Murukku Recipe, Wheat Butter Cookies, Fried Gram / Pottu Kadalai Urundai, Baked Chakli/Murukku, Green Gram Payasam/Kheer, Black Gram Laddu, Moong Dal Susiyam, Banana Oatmeal Cookies, Microwave Chocolate Mug Cakes, Homemade Peanut Butter, Vazhaipoo Vadai, Eggless Raspberry Pudding, Raspberry Bread, Coconut Sweet Bun .