Fruit and Veg Yogurt Salad
Add a Burst of Color and Health to Your Summer with a Refreshing Yogurt Salad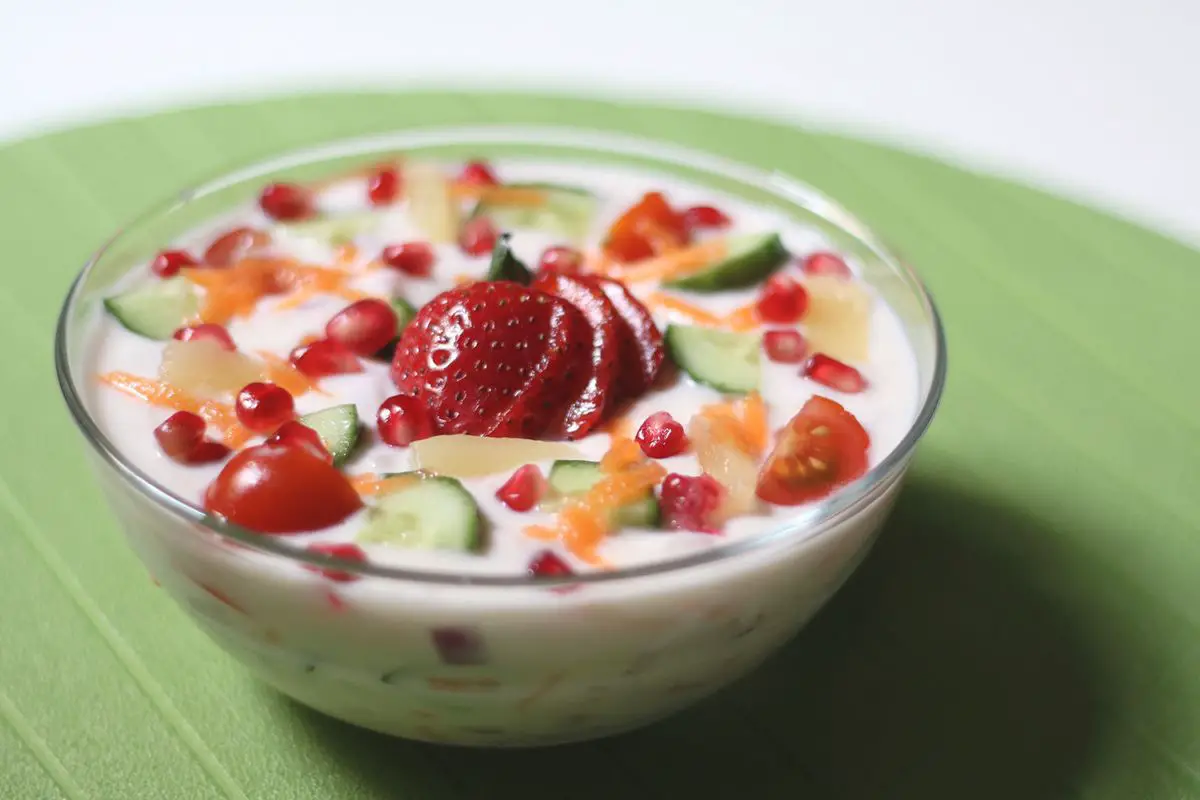 Add a Burst of Color and Health to Your Summer with a Refreshing Yogurt Salad
Summer calls for colorful treats, and what better way to indulge than with a healthy and delicious salad loaded with vitamins and minerals? This yogurt salad is the perfect way to cool your body after indulging in spicy dishes like Biryani and others.
Packed with fresh veggies and fruits, this salad is a hydrating and refreshing option for those hot summer days. Plus, it's so creamy and yummy, you'll forget you're even eating something healthy!
If you want to try making this yogurt salad at home, here are some tips to get you started. Firstly, salads are always a healthy choice, but this yogurt salad is especially great for keeping your body hydrated and cool during the hot summer months. You can customize it by adding any salad veggies or fruits that you prefer. Finally, for an extra-rich flavor, try using Greek yogurt in your recipe.
Don't let the summer heat get you down. Indulge in this delicious and healthy yogurt salad while the hot weather lasts! Have you tried making your own yogurt salad at home? Share your comments and let us know your favorite ingredients!
You may also like Beetroot Salad and Green Apple Salad.
Fruit and Veg Yogurt Salad 2017-05-26 05:44:28
Fruit and Veg Yogurt Salad
Serves 3
Prep Time: 00:10
Total Time: 00:10
Ingredients
2 cups Yogurt
1 medium sized Cucumber
2 small sized Carrots
4 Cherry Tomatoes
1 small sized Red Onion
1 finely chopped Green Chili
3 Pineapple Rings (canned)
1/4 cup Pomegranate Seeds
2 Strawberries
as needed Salt
Instructions
Clean all the fruits and vegetables properly.
Peel and grate the carrots.
Chop the onion, chili, cucumber, tomatoes and pineapple into small pieces.
In a wide bowl, whisk the yogurt well until smooth and creamy.
Add salt (1/4 tsp to 1/2 tsp) as needed and mix it well until combined.
Add all the veggies and fruits in the yogurt and mix it gently.
Add pomegranate seeds and garnish it with strawberries.
By Santhi Therese
The Indian Claypot
You may also like my other Healthy Salads posts and recipes like Healthy Green Apple Salad, Greek Salad and Dressing Recipe, Strawberry Romaine Salad, Strawberry Spinach Salad, Healthy Chicken Salad bowl, Beetroot Salad, Chicken Salad with Dijon Mustard Sauce, Brain Boosting Fruit Salad, Carrot Moong Dal Salad .